10 Great Books About Goth Fashion
Grab your Siouxsie and the Banshees tapes, and your Marilyn Manson artwork. A former goth discusses the best books about goth fashion.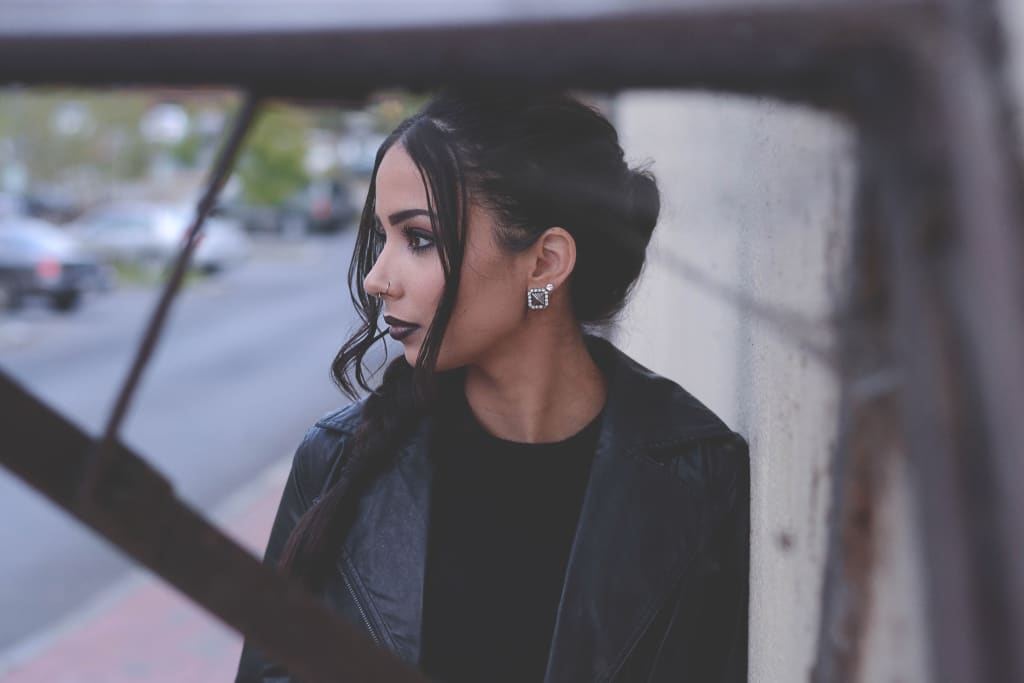 "They say "Why are you dressed like it's Halloween?You look so absurd, you look so obscene!"Oh, why can't I live a life for me?Why should I take the abuse that's served?Why can't they see they're just like meIt's the same, it's the same in the whole wide world."—Ministry
Back in high school and college, I was a goth.
Actually, I wasn't just a goth. I was cringe-inducingly gothic, complete with Wednesday Addams-style dresses, black hair, black eyeliner, and stompy Demonias on my feet. I ate, slept, and breathed goth culture. Voltaire would have been proud.
My gothic style wasn't just for show. It was my attitude. I clung to goth culture the way others cling to religion. Eventually, I grew disillusioned with it and found my love of electronica.
Though I no longer wear Elegant Gothic Lolita (EGL) clothing or black lipstick, I definitely still retain a good knowledge of goth culture. If you're curious about friends dressed in black and how they put outfits together, books about goth fashion can help you out.
Valerie Steele really brings out the beautiful side of darkness in her book, Gothic. This guide gives you an in-depth look into the history of gothic fashion, how it became so popular, and how goth rockers like London After Midnight helped bring this style to the forefront.
Along with getting a field guide to different types of goth fashion, Gothic: Dark Glamour looks into how goth fashion inspired mainstream designers like Alexander McQueen and John Galliano. Anyone who wants to see the impact of goth rock on the world needs this book.
Natasha Scharf's take on goth culture is equally in-depth, and actually looks at the subculture in a holistic way. The Art of Gothic looks at goth fashion, music, and culture—and then figures out how it evolved to the current wave it's at.
Scharf's book is a good reminder of why goth is dead, as well as why goth will never die. I mean that in the best way possible, and once you read this book, you will understand why that's such a huge compliment.
Though there's still a pretty strong goth culture in high schools and colleges throughout the world, the real heyday of goth fashion was the 1980s.
Most style historians will tell you that this is the era that goth fashion was really born. Some Wear Leather, Some Wear Lace is one of the very few books about goth fashion on the market to discuss this at length.
Featuring real photos and interviews of the post-punk underground and goth scenes, this book gives you a real gritty glimpse into the very subculture that goth is based from.
Fascinating? You bet your coffin-shaped bag, it is!
If you're looking for books about goth fashion that go well beyond the norm, you need The Goth Bible. This isn't just a book about goth fashion or the history of the subculture; it's literally a book that shows you how to be a goth.
Everything from common goth hobbies to dealing with a darker dating scene is established here. Moreover, The Goth Bible makes a serious point of dispelling the stigma that goths face thanks to media stories and public misconceptions about the culture.
This is a great book for anyone curious about gothic style, or anyone who just so happens to be a goth. Even if you're not a "fashion person," you'll find it an interestingly spooky read.
Are you looking for books about goth fashion, minus all the music-related stuff in tow? Or maybe you're trying to figure out how to dress like a goth without looking terrible? Goth is a good pick for you, then. Rather than focus in on how bands like Bauhaus made goth fashion more popular, Chris Robert's book tends to focus in on the stylistic evolution of the fashion.
Beautiful illustrations, insightful remarks about the rise of "goth chic" and excellent guides for anyone who wants to rock a darker look are what make Goth one of the better books for fashion designers who want an edgy source of inspiration.
Voltaire is a guy who's part comedian, part toymaker, and part goth-style singer. He's basically as child-friendly as the goth subculture gets without being a kitschy little gag gift.
You might actually recognize him as the guy who wrote "When You're Evil" or that "Brains" song from The Grim Adventures of Billy and Mandy. He's been a favorite in the goth community for a while, mostly due to his tongue-and-cheek take on goth culture.
What Is Goth? is his own book about gothic fashion, life at the goth club, and just being a goth. It's hilarious, honest, and sometimes, just a little too real.
If you've read other books about goth fashion, then you probably already know a little bit about the goth subculture's history. You might also know a general gist of how the subculture rose to the undying status that it has right now.
Goth: Vamps and Dandies breaks things down decade by decade, and it's actually really amazing. Gavin is the type of fashion historian that you have to hold in high regard, if only because of his ability to make fashion come alive.
That being said, the whole book is very goth-friendly, even if you know the way the culture started. Anyone who's ever fantasized about chilling in the Batcave back in the day will appreciate Goth on a whole new level.
Gavin Baddeley does it again, this time with Goth Chic: A Connoisseur's Guide to Dark Culture. This book isn't entirely about goth style, but rather, focuses on the elements that often inspires goth designers to create the awesome gear they make, as it is one of the hardest styles to pull off.
This culture-oriented style book will help new babybats understand how to make the best outfits they can for the style they can afford, using influences from goth culture. It's a great pick like that.
Not all books about goth fashion focus on American and British scenes. Gothic and Lolita is an extremely photo-heavy book that focuses on the goth scene of Japan.
More specifically, it focuses on EGL and Sweet Lolita goth styles—two different forms of Lolita fashion that are very rarely seen in the United States. These styles are known for Victorian dresses, babydoll-like appearances, and hyper-feminine appearances.
This is a deep cut that's very rarely, if ever, presented on TV shows or movies in the US. If you're looking for serious inspiration for your next cosplay, or just want to see what goth looked like in 90s Japan, Gothic and Lolita is a must-see.
Japanese Goth is another one of the books about goth fashion in Tokyo, but unlike Gothic and Lolita, this photo book shows the full span of punk and goth in Japan.
Whether you're a visual kei fan, an EGL aficionado, or just curious to see what punk looks like in Harajuku, this book will be sure to please in the best way possible. Street fashion never looked so damned good.
trends
About the author
Skunk Uzeki is an androgynous pothead and a hard partier. When they aren't drinking and causing trouble, they're writing articles about the fun times they have.
Reader insights
Be the first to share your insights about this piece.
Add your insights