What Are the Requirements for Joining the Marine Corps?
These are the ten basic requirements for joining the Marine Corps that you should be aware of when considering recruitment.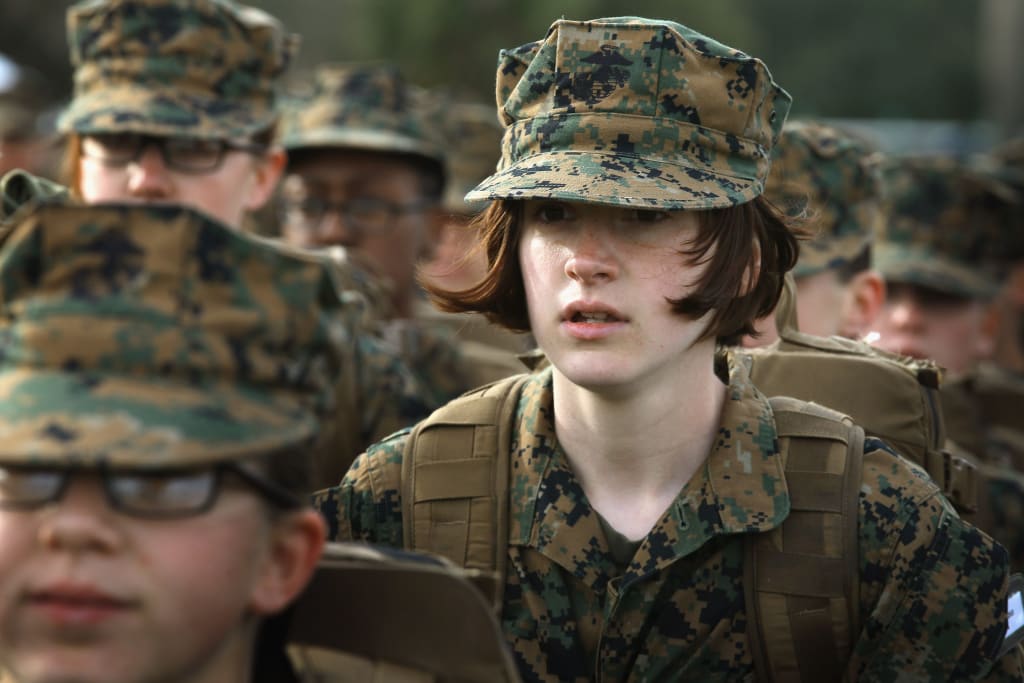 The requirements for joining the US Marine Corps are not extensive or complicated. However, when considering this path in life, it's important to become acknowledged in the first steps toward doing so.
With ten steps in the requirements for joining the Marine Corps, most of the bunch will be easily checked off your list. Below is the list that stands between you and your path toward "one of the most elite fighting forces in the world."
US Citizenship
Citizenship is one of the first requirements for joining the Marine Corps as any interested person is required to meet. You must have a US citizenship to be recruited.
Or, you must have been legally admitted to the states for permanent residence with immigration and naturalization documents.
Physical and Mental Standards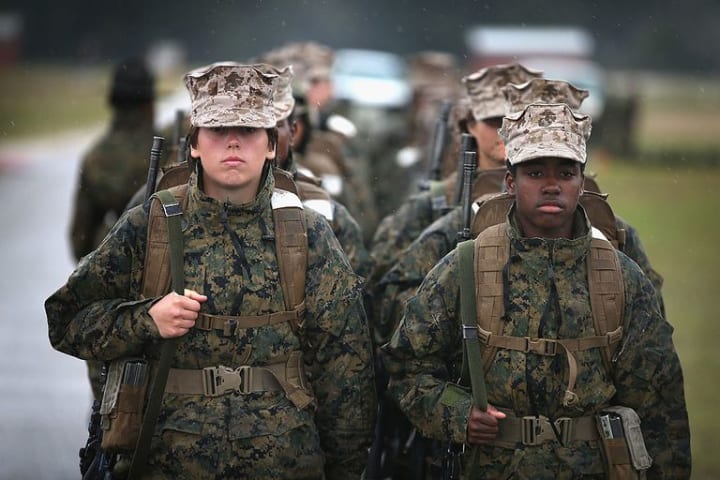 A medical exam must be passed to meet the requirements of the Marine Corps. As one of the most crucial requirements for joining the Marine Corps, it is important to prove your general health.
After this is met, you must also meet a height and weight requirement. For men, the height requirement is 5'0'' to 6'8'' while for women it's 4'10'' to 6'8''. Weight regulations are 100 lbs to 255 lbs for men and 90 lbs to 227 lbs for women.
Also, any diseases or conditions that are life-threatening will likely disqualify you from serving.
Age Requirements
If you are between 17 and 29 years of age, you meet the age requirements for joining the Marine Corps. However, if you are 17 years old, a parents' signed consent form is required. Also, while joining, the person must be younger than 28 during the time of commissioning.
Education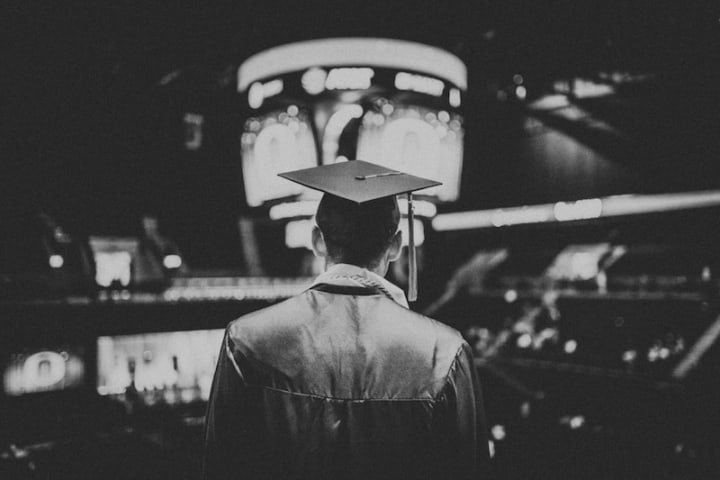 The education requirements for joining the Marine Corps remains to be a completed high school diploma, and proof thereof.
There are exceptions for people who have obtained a GED, but the requirements for a score on the ASVAB test are higher than for someone who has obtained a diploma. Compared, a recruit with a diploma needs a score of 32, while a recruit with a GED would need 50.
Armed Services Vocational Aptitude Battery Test
To measure the recruit's aptitudes, the Armed Services Vocational Aptitude Battery Test is required to be passed.
Each individual must complete a total of 10 tests, all requiring knowledge of word knowledge, paragraph comprehension, mathematics, science, auto and shop information, reasoning, mechanical comprehension, electronics comprehension, and coding speed. Each test is scored to combine into three scores for academic ability, verbal, and math.
Maintained by the Department of Defense, the test is given at over 14,000 schools. There are also a plethora of practice tests online to gauge your strengths and weaknesses before taking the actual test.
Why is this important? The test is a way to rank your qualification for military occupational specialties. That means that your scores not only meet your requirements, but improves your chances of getting your desired job while deployed. Preparation and studying are key. Anyone eligible for enlistment may take the ASVAB Exam.
Military Entrance Processing Station Medical Exam
A passed Military Entrance Processing Station Medical Exam, or MEPS for short, is one of the top requirements for joining the Marine Corps.
As one of the most important steps toward becoming qualified for serving, any recruit for the United States Armed Forces must pass the MEPS Exam. As a way to screen your preparation for this path, the test will include a plethora of different procedures and tests.
This includes a height and weight measurement, hearing and vision exam, urine and blood test, drug and alcohol test, muscle and joint maneuvers, physical exam, interview, and any required specialized tests.
What to bring? You must carry your Social Security card, birth certificate, and driver's license for proof of identity. Plus, you must remove any piercings and bring any eyeglasses or contact lenses.
Women's Eligibility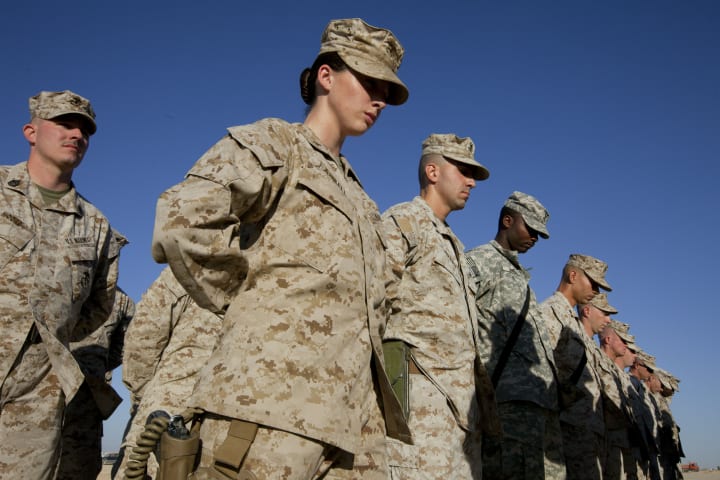 There are a few differences in the recruitment process for women. Women are eligible to enlist in all of the occupation fields. However, there are some exceptions of combat arms specialties. These include tank and amphibian tractor crew members, infantry, or artillery jobs.
Also, a pregnancy test is required during the MEPS exam. Aside from this, the recruitment process is the same as men's.
Criminal Background Check
A criminal background check is one of the requirements for joining the Marine Corps, as any felony convictions will restrict you from joining. Also, there may be even stricter regulations depending on the Marine Corps title that is desired by the recruit. This also goes for desired MOS titles.
Recruit Training
A 13-week training program is required to be completed to become a Marine. These basic training sessions are taken place in either San Diego or South Carolina. This is a way to find the men and women who are unsuitable for the Marine Corps.
These weeks will include physical fitness training, military skills and knowledge, weapons training, and following a strict and disciplined lifestyle.
Officer Training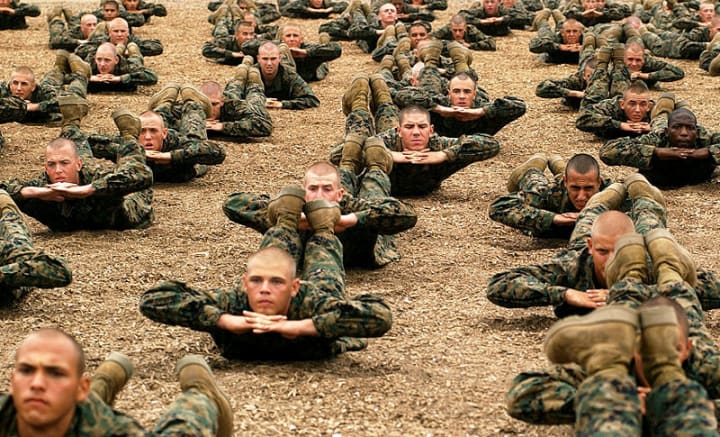 As a way to screen recruit's character, physicality, and mind, Officer Training takes place at the Officer Candidates School or the Platoon Leaders Class.
As one of the requirements for joining the Marine Corps Officer path, this can be done instead of Recruit Training for prospective officers. The program is a training in leadership as a way to strengthen not only intelligence, but communication, survival, and tradition.