Online Jobs for Disabled Veterans in 2018
Finding online jobs for disabled veterans isn't easy. We created this list to help place you or your loved one with a job you can do.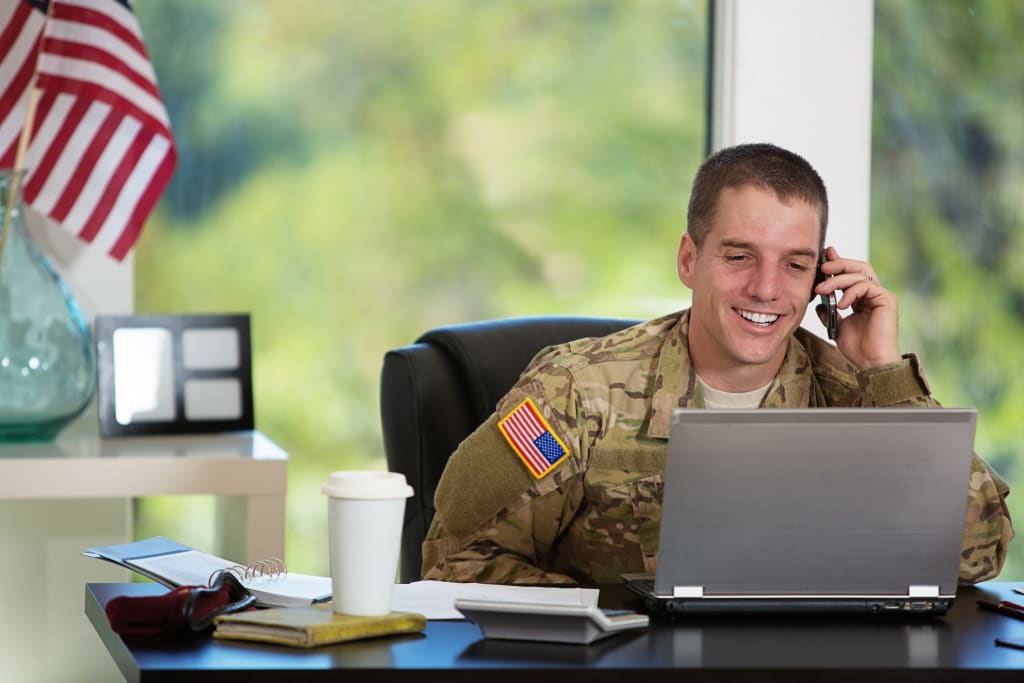 You worked hard to join the Armed Forces, and did all the rough stuff of basic training. You fought valiantly to defend the country you cared for and loved so much.
Unfortunately, something happened while you were serving. It could have been an IED, a broken bone, or just strained muscles from overwork. You're now disabled and can no longer fight as part of your job. So, now what? You've got to look at work at home positions.
It's an issue that many veterans have when they return home from their journeys. It's so common, there are plenty of stories that deal with the "disabled hero" trope. Many vets can't actually leave or commute due to the injuries they sustained in battle.
Thankfully, it's 2018 and that means there are plenty of online jobs for disabled veterans who want to work from home. If you've been having a hard time finding them, this list can help you get paired with a great job sooner rather than later.
Blogger
If you are looking for one of the more commonplace part-time online jobs for disabled veterans and homebound people, then look no further than the blogosphere. Companies all over the country are in need of quality bloggers and writers for their marketing needs.
To get this job, you will need an online portfolio that shows that you're capable of writing interesting and engaging content. You will need to go onto sites like ProBlogger to find gigs, and it will take a while to get yourself established.
However, with some work, you can make a living writing and by being a blogger. Who knows? You might even end up with fans of your own!
Telemarketing
Gone are the days when telemarketing firms meant that you would need to commute to an office. Many firms are now doing a strictly "work from home" model that make them perfect online jobs for disabled veterans.
Most telemarketing firms will require you to have a little bit of experience and a computer capable of handling telemarketing software that they use. That being said, the only qualification you really need to be successful at telemarketing is an ability to sell and get along with people.
Tele-Consultant
If you love the idea of chatting on the phone but detest the idea of having to sell goods to random strangers, why not get a position as a work-from-home consultant?
Major companies like Aetna and Apple have started to outsource their customer service positions to people who work from home. These positions can involve anything from advising people on tech-related issues to customer service, to health consultations.
Most companies that are doing the telecommuting consulting route will require you to have some experience in customer service or any other field their consulting will involve. Even so, the wages are great and you might find it to be a great way to make ends meet without the commute.
Online Tutors
A surprising number of veterans loved the experience of teaching fellow soldiers how to survive, and if you miss being able to teach, we've got some good news for you.
Major education firms like Pearson are known for hiring tutors that work from home. Though a teaching certificate and college degree is needed, it's one of the most engaging and well-paid online jobs you can get.
Graphic Designer
Are you tired of being seen as a "grunt" by others? Choosing a creative job like graphic design is a great way to avoid more typical online jobs while also giving yourself an outlet to let your imagination run free.
To become a graphic designer, you will need Photoshop or similar graphics software. You also will need an impressive portfolio that shows that you know how to use Photoshop.
Like with blogging, getting clients will be the hardest part. Even so, graphic designers can make as much as $50,000 a year after several years in the industry.
Data Entry
As far as online jobs for disabled veterans go, few are as classic as this one. It's amazing how many companies need people who are fast typists for data entry jobs, and as a result, often will end up being on a constantly-hiring basis for them.
All you need to get a good data entry job is a decent typing speed, a good ear, and the tech required to enter all the information onto a computer program.
Translator
The United States Armed Forces is known for offering military members the opportunity to learn new foreign languages, and if you're a disabled veteran, that can be one of the best things you received from your military tenure.
Multinational corporations are often in dire need of bilingual individuals, especially when it comes to languages that aren't commonly spoken by Americans. If you know Arabic, Mandarin, or other similar languages, chances are that you can get hired immediately.
Accountant
Accounting and bookkeeping are two jobs that are always in high demand, and also remain very well-paid. If you are great with numbers and don't mind taking a course or two, you might be able to qualify for online jobs that are focused on giving accounting services to others.
Generally speaking, finding a position that allows you to be a work-from-home accountant won't be too easy unless you have years of experience. That being said, if you have military experience as an accountant, they will likely accept that as proof of your qualification.
Medical Transcriptionist
It's not surprising to hear that a lot of military jobs involve transcription and record-keeping. If you're looking for online jobs for disabled veterans that require an impressive knack for fast typing and recording data, then you might want to consider becoming a medical transcriptionist.
Transcriptionists will need extremely good hearing and fast typing skills. Those who are successful at landing a job can expect a salary from $30,000 to $45,000 once they get hired.
Virtual Recruiter
Did you work in the US Armed Forces as a recruiter? If so, you already know how to schmooze and get people interested in a career change. Those skill can actually translate into a brand new career that you can work from home.
There are plenty of online jobs for disabled veterans that involve recruiting people to new companies. Considering the importance of people skills, it's easy to see why many people believe this to be one of the best jobs for disabled veterans out there.