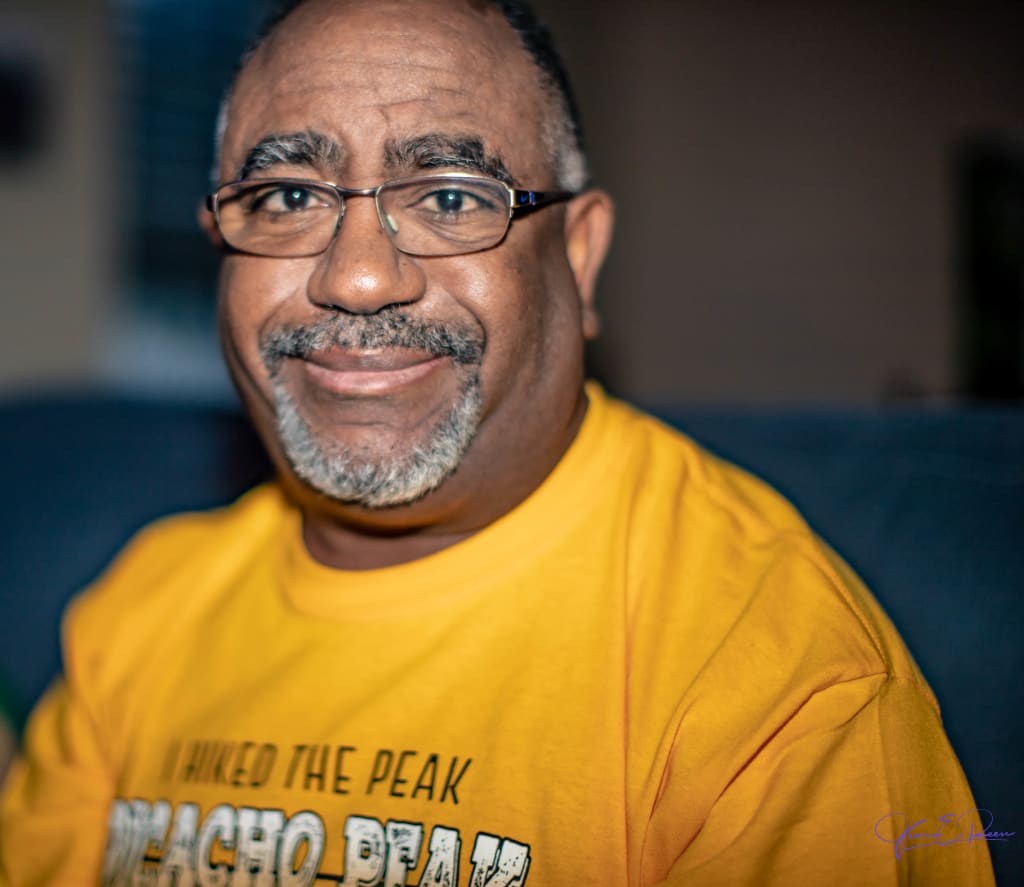 No Regrets
By
James Reese
I was home getting ready to celebrate my day when they showed up. They asked me to pack my bags it was time to go. I did as I was told and within minutes I was whisked away from my home to an undisclosed location in Columbus. Come that morning I was sworn into the US Navy as a reservist at first . . . it was something I needed to develop. I was a ward of the state with no father figure to guide me, but thanks to my great aunt who took me in and raised me, she gave me a choice of paths to choose from. Either go right which was a path that led to no good just like my cousins who ended up in jail, or I could have gone to the left and ended up six feet under. I however chose to stay on the straight and narrow path that led me to become the first in my immediate family to go to college. I sadly admit that I got kicked out for not asking for help, knowing that I would need it. I returned home to work and saved my money to return . . . I refused to give up. Did I regret it? No.
But as the school year was set to start, I had to take the money I managed to save for my education to help a family member who had gotten in trouble in another state. I had to use it to help said family member out of the state they were in by midnight or they would spend a considerable amount of time in jail. I didn't want to, but I was persuaded to do it or I would have been disowned by the family. So, I did it: I sent my money to help my family member. The next day I went down to the recruiter's office at the Federal Building. I came from a family who served this country mainly in the Army. I however, went to the Navy which was a slap in the face to some old heads, but I didn't care. The recruiter, a short light skinned Black man who wore glasses, welcomed me in. I took the entry test and scored high enough to qualify to be a Hospital Corpsman.
I was sworn in at the MEPS (military entrance processing station) office the next morning after my birthday. I was then taken to the airport where they put me on a plane. It was my first plane ride, a twin prop. I didn't know what to expect for it was my first time. We took off and my insides were turning. As we made the one-hour flight back to my hometown of Cincinnati for a brief layover we ran into turbulence. The plane bounced around like a ragdoll. And my heart of course had jumped out of my body run down the aisle screaming to get off that plane without me. Shortly after, the plane landed and I would have transfer to another plane, a much bigger one than the one I had just gotten off of. So, I boarded a Boeing 767 to San Diego where I would be met drill instructors who whisked a group of us off to RTC.
It was there I learned the ways of the US Navy and watched as I grew up from a young man into a man, even though I spent most of my time doing marching parties at night when I should have been sleeping. After graduating from basic training, I moved over to Balboa Park to the Naval Hospital San Diego where I did my A-school training. A true test of how far I had come from my high school and college days was staring me in my face now. I had to see if I was ready to ask for help when I needed it. I was not going to back down from a challenge, at least not now. I made it through A-school which built my confidence immensely. Now I was back on an airplane home to check in with my reserve unit and after a year or so I decided I still needed more growth so; I had thought about switching to the Air Force having been disappointed in the Navy.
My reserve unit commander refused to let me switch. He kept blocking the Air Force recruiter at every turn. So, I decided to contact the Pentagon seeking their assistance with my matter, a sign that I was changing my old ways. I was informed that if I applied for active duty and was turned down, I could switch branches, but that still wasn't enough for my commanding officer. I ended up calling the Command Master Chief of the Navy and informed her that my CO wasn't cooperating with me. She ended up chewing out my CO, who, in the end, had me doing garbage detail until I left. I was accepted into the US Navy TAR program which allowed me to be active duty, working at reserve stations. I had options between Naval Air Station Willow Grove, PA, NAS Glenview, Ill, NAS Adak, AK and NAS Washington, DC. They would never tell me where NAS Washington was, so I picked NAS WG instead.
To my surprise I hated being in Philadelphia which was the nearest big city mainly because, at that time I was there, the crime in the city of Brotherly Love was through the roof. I couldn't understand that, being that they called it the city of Brotherly Love. I had felt safer in Washington, DC than I did in Philly. Oh, by the way after I chose NAS WG, they finally told me where NAS Washington, DC was it was at Bolling Air Force base in SE DC. I was mad as hell because I would have gone there in a heartbeat. I eventually got out of the Navy after having thoughts of suicide. I returned home for a brief moment where I attended the local university for two years. It was during that time that I learned about my father's side through his sister. I also learned about a sister no one on my father's side who no one had seen since she was a baby. I set out to find her and find her I did. She was upset with our father who had a knack of pissing off the women he met. He refused to go see her believing that God would bring her to him which caused her to take it out on us. We would eventually grow and work on having a brother-sister relationship.
I decided to return to my first university because we had struck a deal. They would let me back in on the condition that I pass math . . . my arch-enemy at the time. And after two semesters I was kicked out again with Mother Nature's help of course. When spring came after the big winter storm that hit us early, I left Ohio, I had no regrets, I packed up my car to head back to California where my cousin was stationed at the Naval Post Graduate School in Monterrey. Along the way I made stops in Oklahoma to visit with my father's brother on my journey. New Mexico is where my journey seemed to stop temporary when I hit a pothole pulling off the interstate to rest. I wasn't aware that I had punched a hole into my oil pan at the time some thirty miles east of Albuquerque in a town called Moriarty. That's when I learned of the damage, I had done to my car which cost fourteen hundred dollars to fix, and which I didn't have. I sold my car to the mechanic, then made my way to gas station to catch the bus, I missed the last bus to Albuquerque. So, a couple of local guys offered to take me over to the city and without hesitation or thinking about it I jumped in their car.
I had almost decided to stay in Albuquerque when I was offered a job at Sunport Airport, the international airport. I turned it down because my heart was set on getting to California, but I have no regrets. But finding work would prove to be a challenge I never expected. I mean I couldn't get work in a fast-food restaurant because of California's economy was in the toilet. After trying for months and doing temp work, I was able to save up enough money to head up north to my current home Seattle. A city I had studied for ten years prior to my decision to go there. My ultimate dream was to attend law school, however, that didn't happen. I chose out west to get away from my hometown which I felt was a ball and chain making me feel like I had to cut off that chain to break free of the hold Cincinnati had on me. I did have to make a return there. I got a job as soon as I got off the bus, and started to save every penny I earned to go back. I returned to Seattle by summer's end and I must say that I have no regrets for what or where my life has gone so far.