"Night Drive"
Random anecdotes from my multitude of nocturnal travels.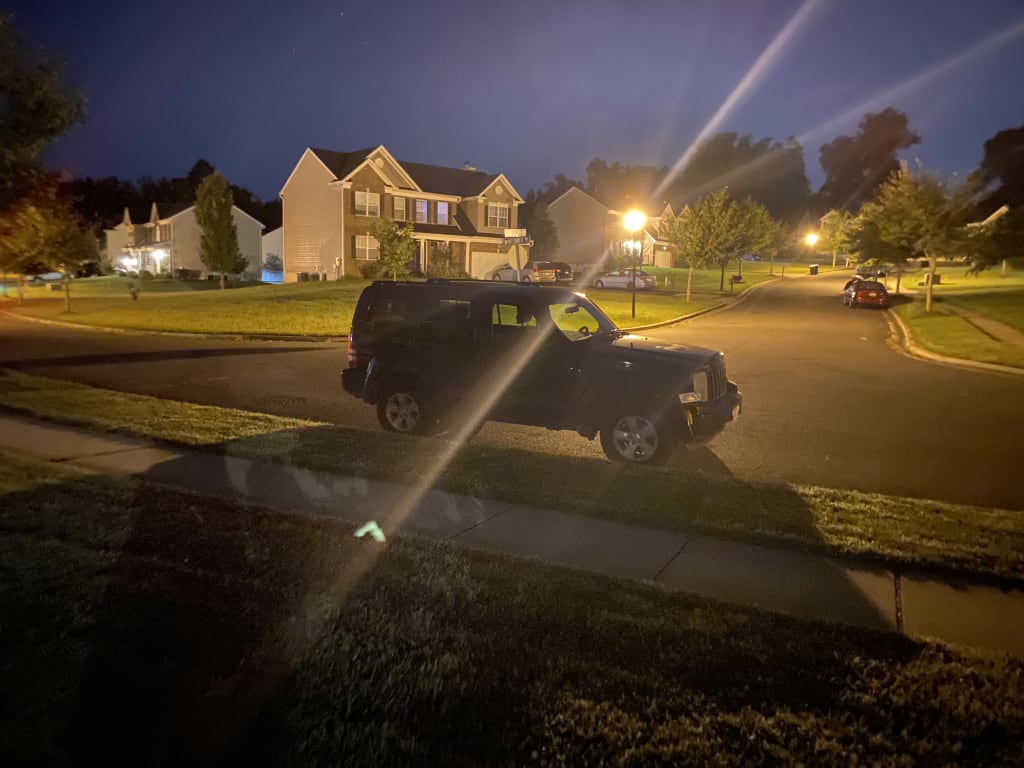 The other night in front of my home.
The title of this 31st piece by me is taxed from Ari Lennox's song on her 2016 classic, PHO. Getting straight to the chase yet again:
1.) I once drove to the Washington state border with Canada, on a whim, accompanied by a couple of Battle Buddies. I don't remember much about that night, save tremendously bad vibes from the fly honeys we linked up with.
2.) Speaking of which, if memory serves me right, another pair of Battles and I made the ~50 mile trek from our base, Ft. Lewis (now known as Joint Base Lewis-McChord [or JBLM for short]) to Seattle to randomly search for house parties one evening that I imagine had to be on a weekend. There was a bitter argument about who could be better suited as the driver; tho, I was the only sober soldier in my truck at the time, and I "[wasn't] finna be explaining to the platoon sergeant why one of us got a DUI with a sober Battle riding shotgun."
3.) Another random Night Drive- I happened to be leaving the commissary, I believe, and completely lost control of my Isuzu Rodeo in the middle of the closest intersection. "It was at that moment that [I] knew [I] had screwed up"; and that I'd never again buy a truck without four wheel drive.
4.) "Hey, you guys know Dunkin? You gotta know Dunkin; I know you know him! *Pause for dramatic effect.* When I'm dunking these [expletives] in your [expletive] mouth!!"- A fallen Battle with the initials D.B. We once rode around Tacoma(?), WA with me and a couple of other Battles while telling versions of that terrible joke to random pedestrians (RIP).
That completely lovable guy actually damaged his hand on the last iteration by banging it against my car door while yelling the punchline and hanging out the window. In our defense, we took turns telling that joke while club hopping too.
5.) I'm pretty sure that the guy who totaled a gov't truck one night while rear ending me and a different set of Battles had to be texting and driving. I don't remember much about the convo at the time or how we all got back to our respective barracks afterwards; tho, I definitely felt certain someone was looking out for us.
6.) I believe that it was the very same night that I bought my first car, wherein I made a bad judgment call and ran a red light. To make matters worse, I distinctly remember seeing a random flash that I was convinced meant I could expect an incontestable fine coming in the mail. I never received it tho.
7.) I once had to completely rely on my Vehicle Commander (VC) to guide me on a night mission while I was still driving Strykers (armored personnel carriers [APCs]) for the Recon platoon during my one and only deployment. Somehow, my thermal imaging had become unplugged (I would never implicate the Battle who I believe did it), and my Night-vision Optic Device (or NODs as we called them) was not getting the job done.
8.) Speaking of deployment, we almost fell off a bridge one night right after celebrating New Year's Eve. I was reading my Bible in the back of the Stryker and still don't know much about the incident; tho, everyone in the truck was certainly shaken up after we narrowly dodged a terrible fate.
9.) I mentioned this in an earlier post about my time in the service, tho I'd like to reiterate- I got pulled over for suspected DWI after a night on the town, without a single sip of alcohol or a tiny toke of anything passing my lips. You wanna talk about a bamma being roasted for the rest of our thankfully short ride back to the barracks?
10.) Last, tho certainly not least- I was once given a ride home at night by a former BFF (yes, I know); and we got caught at a red light on a two lane street near the subway station in our hometown (Prince George's county [or PG for short]), where he scooped me from. When I tell you that some random driver ran the light so smoothly, we thought we were wrong for waiting on it to turn green! We laughed about that incident for years.
***
While I've indubitably had many an intriguing night or dozens on the road, these are just several that immediately come to mind. Safe travels.