My Life in the Military
Chapter 1. Going to War.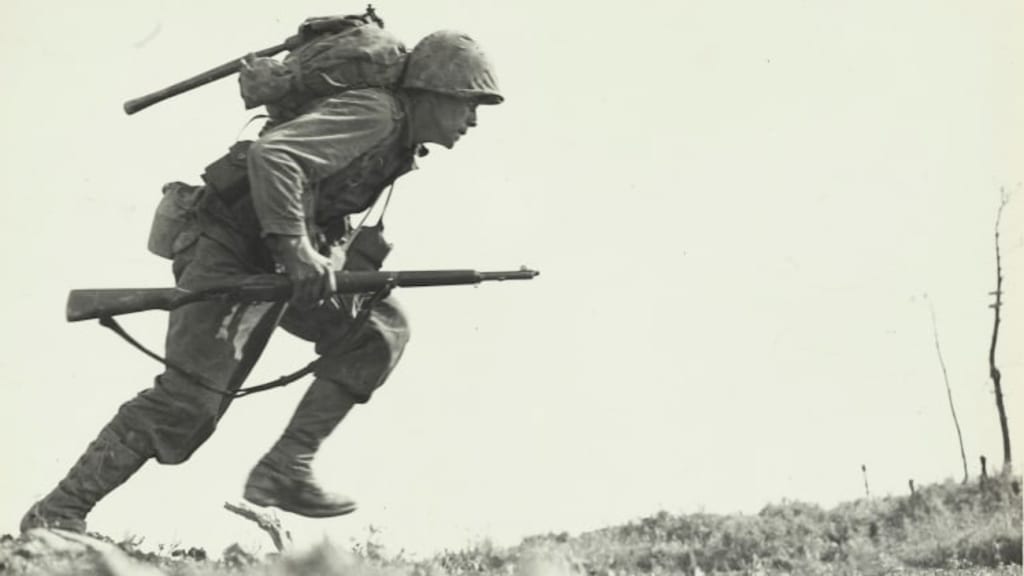 The date was February 7, 1965. I just had my 20th birthday, and the day after I was called into war. There I was, in a foxhole with a pistol on my side, and a M16 both with only 100 rounds. All of the sudden I could hear a mortar coming down right towards me. I got out of the foxhole just in time for the mortar to hit. I ran into cover, trying not to take a bullet from the enemy. I was in cover behind an old tractor. I ran for at least 20 yards. At that time, I didn't see someone with a hatchet coming for me, but at the last minute I pulled out my pistol, and shot him right in the middle of his Adam's apple, and I could hear him choking on his own blood for 30 seconds before he died. That was my first ever kill in the military, and I didn't really feel that good having to kill, and watch as he started bleeding out right in front of me, but I knew I had to kill or be killed. At the end of my first day at war, I was still a little shocked that I had to kill someone, but I knew he wanted to kill me, so I just started drinking till the memory of what I did wen't away. That was the end of my first day at war.
We had to sleep ether in sleeping bags or just under a tree. Hidden from an enemy. One person was our lookout, while the rest of us slept. It was cold out, but we did what we could to sleep. Before I went to war I had been in the military for eight months, but nothing prepared me for what I saw and did that day. After we all woke up, we all met back up with our squad leader, and I got more ammo for my pistol and M16. Then we all headed out to kill more enemies and find the hostages. As we were walking one of our guys stepped on a bomb covered in the grass, and got his right leg blown off at the knee, and before we could get a medic, he died. Then a few of our other guys got shot, so it was only me and one other person.
We got up to the top of a hill where we could see the hostages via an old rifle scope. I pulled out a high powered sniper rifle, and shot one of the enemies right in the back of the head, and the other one came after me with a knife, but I pulled out my knife and stabbed him right in the eye socket. After he died, we went down and freed the hostage, but our mission was not over yet. We had to get them all to the evac site to be picked up where we first started. That was a few good miles away, and we had about 20 or so enemies, and two tanks in the way. When we got up to where the enemies and the tanks were, we could not do it alone. We had to call in an air strike. Right before we did, an enemy bullet from a high-powered rifle hit and shorted out our radio, so there we were. All alone to fight 20 men and two tanks. We each had plenty of ammo, but only one sticky bomb. I took out one tank and five men, and my buddy took the rest. I got shot in the arm, but we barely did it!
It was getting dark so we all just slept in our sleeping bags in cover so we didn't get shot. It was about midnight before we got woken up by the sounds of nearby gun fire. I got into cover. As I did, I got spotted by one enemy guy, so I slit his throat. My buddy just killed two other guys that night. Then we just walked back to base that night. The only thing I had for dinner was an apple and some water. It wasn't much, but it was late so I didn't want to eat a big dinner. We all had to get up at four AM, and it was already one AM.
I was up at 3:30 AM that morning—I didn't get much sleep. I kept on wondering how my family back home was doing. I have a beautiful wife with four kids; two girls and two boys. I haven't been home in almost a year, and my kids were growing up fast and I was missing it, but I had a job to do. I still had a while before I could even think about going home to my wife and kids. My leader said we had to go. It was about seven AM, and we were heading out. We were out in the middle of nowhere, walking when we got ambushed by four men. We killed all of them, then we started walking again. We were walking for miles and miles, then we got to our second squad's site. Sadly, they got ambushed two days earlier, and all of them died. The only reason why we were there was to get whatever supplies they had on them. Guns, ammo, food, and a radio to call in air strikes. We also picked up all six-dog tags from our fallen solders. After we got everything together, we headed back to our camp, but on our way, there was a sniper up on a hill shooting at us. There was only one guy in our squad that was an expert marksman. Our guy shot and killed him from 450 yards away. Our guy picked up his ammo and sniper rifle, and we all went back to our site. When we got back, we heard that two of our guys were killed in action. That night we were just sitting around eating our hot meals of rice and beans. I went to bed early, so I wouldn't be so tired in the morning. We had a big day ahead of us. We had to get up at five AM so we could walk ten miles to the next city to take it over from the enemy. It was not going to be easy since they had one sniper on every roof, four tanks and 25 to 30 men on the ground. We had a hard fight on our hands. We had five expert marksmen. Two in the trees and two on the ground, and one hidden behind an old out house. The battle lasted for three hours. We both lost a lot of men, but of course we came out on top. After everything was over, we gathered up all of the enemy supplies left over, then the town was free once again. In the middle of the battle, sadly there were women and children lost, but we knew that it was a bad part of war. We headed back to base after it was all over. We had to kill some enemies on our way back. We had someone step on a IED, and it killed him. When we got back, we all had to clean our guns, and get our ammo ready for the next day. When we were done, me and a couple guys started drinking and playing poker with a deck of cards that we picked off the dead enemy. We drank and played poker till about midnight, then went to bed. We had to get up at five AM again. We had to get up early every day.
The next morning, we got up and headed out with our supplies and our guns to the next town where there were at least 40 men. No tanks, but four guys had RPG's. Our expert marksmen took out all the men with RPG's. All 10 of us took them all out with their own RPG's. We then went to the empty town, but we didn't see a sniper up in a tower, and I got shot in the left arm. My buddy took his sniper rifle, got into cover, and took him out. I went to the medic, and he got the bullet out of my arm. It was getting dark out, but we found a good place to sleep for the night. It was an old house that no one lived in. Our buddy cooked us up some good chili. For the next ten minutes, I sat on an old couch cleaning my gun. the next morning, we left the old house, and walked ten miles to the enemy base. There were about 100 or so men, seven tanks and two attack helicopters. We had another good fight on our hands.