Must Watch Navy SEAL Movies
Get a little patriotic with your Amazon Video list with these must-watch Navy SEAL movies.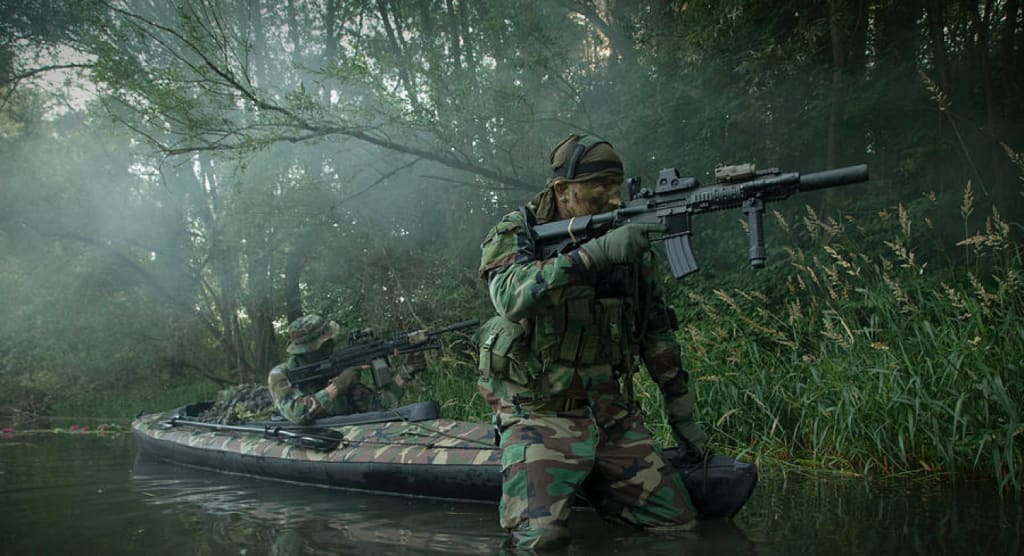 The Navy SEAL program is one of legend. No one trains harder than them, no one is stronger than them, and they're considered to be the very best special forces team in the world. Is it any surprise, then, that so many movies have been made about this elite fighting force?
Sure, military movies have always been popular, but these Navy SEAL movies will blow you away. If you don't know why SEALs are great, you must watch these Navy SEAL movie to get a better idea.
Most people think of Navy SEALs, and immediately imagine a team of chiseled, strong men who are capable of doing just about any Herculean task given to them.
G.I. Jane turns this concept on its ear by showing the struggles of a female senator who wants to join the Navy SEALs. In this film, a politician makes a point of showing that girls can play just as hard as guys, too.
Though it definitely is inspirational for everyone, female recruits will very likely be able to identify with G.I. Jane in ways most others will not. It's a great movie, especially if you want a little more girl power in your movie queue.
Perhaps the most famous Navy SEALs of all time are Seal Team Six — the team that is credited with hunting down Osama Bin Laden. Seal Team Six is the movie that's based off this legendary crew, and tells the story of how they gained their legendary reputation.
This Hollywood take on the mission that took down one of the most famous terrorists of all time might not be fully accurate, but it will be one of the most gripping, pulse-pounding, and thrilling roller coaster rides you'll see.
One of the biggest criticisms of the Seal Team Six movie was that it was sensationalized. Truthfully, there are other Navy SEAL movies out there that capture the incredible effort they made to take down Osama Bin Laden without the classic "Hollywood" spin.
Another popular option for Navy SEAL fans who want to see this slice of history is Zero Dark Thirty. The movie details what the SEALs had to do to take down Bin Laden, and also shows the decade of work that led up to the capture mission, too.
However, it's worth pointing out that both movies seem to have inaccuracies. So, if you're looking for historical accuracy, it may be better to look for a strict documentary featuring those who knew Team Six instead.
Those of us who remember American Sniper already know that this is one of the best Navy SEAL movies to have ever been made. This hard-hitting documentary shows the intense training that Navy SEALs get, as well as the emotional toll that four tours in war will take.
Based on a real Navy SEAL's story, American Sniper is brutally honest about war and how much soldiers really sacrifice in order to keep Ameria safe. That being said, there were some debates on the accuracy of the film, but it has a lot of elements that almost every military member can agree with.
Who said that Navy SEAL movies had to be hard-hitting dramas? The Pacifier is a family movie made by Disney, that shows a hardened Navy SEAL in a new role as a babysitter... and honestly, there's some truth to this.
Though Navy SEALs are tough, they're still human, and the craziness of civilian life will still be something they have to handle. After all, life isn't all about war, right?
If you're looking for a lighthearted family movie featuring a Navy SEAL, you'll enjoy The Pacifier.
If The Pacifier was a bit too lighthearted and ridiculous for your taste, but you still want some surrealism while watching Navy SEALs in action, you might want to check out the campy-yet-fun Navy Seals Vs. Zombies.
Not all Navy SEAL movies have to be serious, but this one is definitely all about the ridiculousness of the zombie genre. After all, most of us who do have zombie emergency plans would turn into bags of Undead Chow the moment Z-day actually happened.
The SEALs, though? They'd survive and probably save the day — and this movie shows what that would look like.
A special forces team was sent to Colombia for a mission, but things quickly deteriorate. Due to a vicious attack on both the SEALs and the local Colombian forces, the Navy SEALs are being accused of violence by the Colombian government.
Behind Enemy Lines: Colombia follows the survival of America's greatest — and will have you rooting for the SEALs every step of the way. Can they survive in this hostile jungle? Oh, you know they can!
Few Navy SEAL movies are as powerful and offer as much credit to the team as this one, and once you see it, you'll understand why Navy SEALs are so cool.
About the Creator
Riley Reese is comic book fanatic who loves anything that has to do with science-fiction, anime, action movies, and Monster Energy drink.
Reader insights
Be the first to share your insights about this piece.
Add your insights