Most Popular Tactical and Personal Defense Equipment on Amazon
In need of emergency equipment when camping in the middle of nowhere? Then you should get your hands on any of these most popular tactical and personal defense equipment for emergencies and other situations.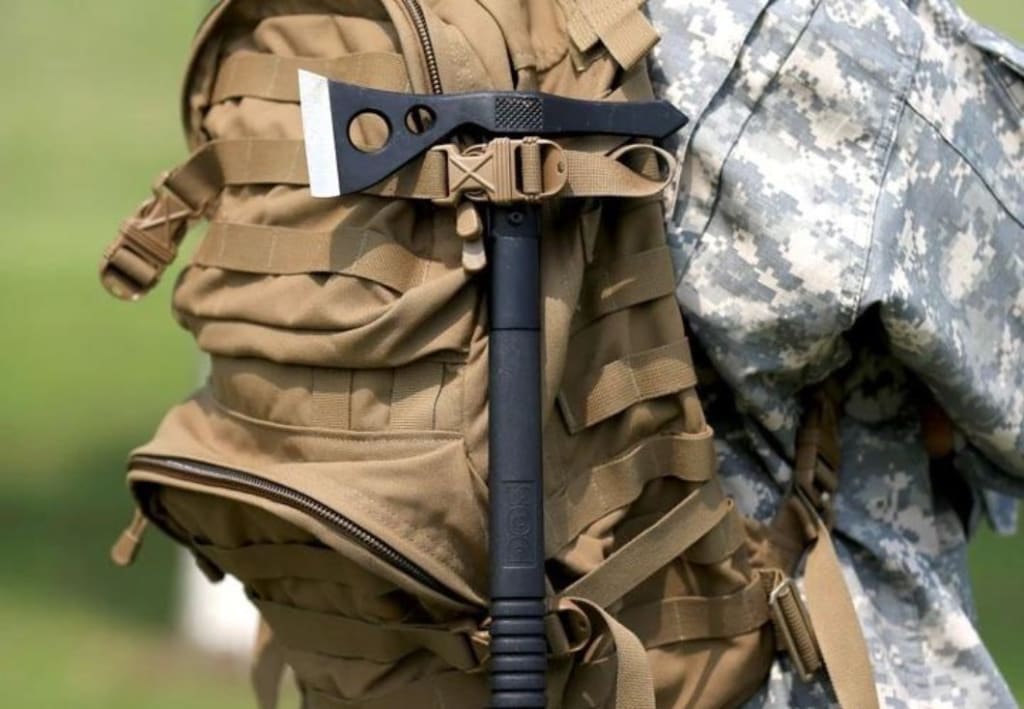 I've gone camping a few times before but only in local areas where it wasn't too serious. I've always wanted to camp and even hike in the middle of forests to gain that real camping experience. You know, drive out really far and settle in the middle of nowhere. I see that as true camping because you'll only be relying on nature. However, when you do go out there, you're going to need some tactical equipment. There is equipment out there that is designed to guide and help you in environments where you don't have much reliability.
You're also going to need personal defense equipment in case something bad happens and you want to protect yourself. Even if you're simply hiking, you should carry tactical equipment to keep you safe. If you want the most popular tactical and personal defense equipment, check out these tools that have helped so many people and can help you out whenever you're outdoors, too.
Pepper spray is one of the most popular tactical and personal defense equipment you need even when you're not camping because of the great positive reactions within the 2,777 reviews. So many people always keep pepper spray on them to prevent getting attacked. It's one of the best ways to keep a dangerous individual away from you. When you notice a threat, spraying pepper spray towards the person's face will stall them for a long period of time and this is the perfect chance to get away.
Sabre is known to be the number one pepper spray brand that's trusted by police and consumers across the globe. Since it's so powerful, it can spray up to 10 feet range with 35 bursts. You can simply clip this pepper spray to your belt, pocket, or keep it inside of your bag to constantly keep you safe.
Knives should only be used for crucial emergencies like getting into a car accident and having to cut the seat belt, using it to cut clothing off of people in need of CPR, and any other desperate situation. Knives are also really helpful if you're camping. I've personally used this knife for cutting open anything that would be difficult with my bare hands.
"Nicest knife I've bought off amazon yet. Take it with me everywhere and it's stayed pretty sharp through its use," Matthew said, giving a customer review.
This knife by Smith & Wesson is an ideal tactical knife that's very reliable in many situations. It features jimping (notches on the spine for gripping), and a serrated blade, which is a type of blade that's a toothed blade used on saws. It's quick and very easy to access and the blade is always secured with the liner lock so it won't slip open. If you're lucky, it's something cool you can find a military surplus store too.
A tactical backpack is definitely one of the most popular tactical and personal defense equipment whenever you're heading out into the wilderness through its four and a half star rating and 73 percent positive reviews. Where else are you going to store your belongings and important equipment that you need to carry along with you? You can't carry just any regular backpack. You need a tactical backpack that features pockets, storage room, and a lot of space for your necessities, making it one of the best military tactical backpacks.
I know so many people who own this backpack, including myself. I never head out for a hike without it. REEBOW GEAR's tactical backpack is constructed from super durable nylon fabric and it's water-resistant. This backpack has heavy-duty zippers, utility-styled cord pulls, side and front-load compression system, and much more. It's also very lightweight which makes this ideal for hiking, long walks, and camping; it won't be a burden on your shoulders. It's never a burden on me whenever I hike up mountains.
Every single person who goes camping must have a flashlight on them. If you camp without a flashlight... how are you roaming the grounds at night? This doesn't mean use your phone's flashlight, because that will kill your phone's battery. You need a much stronger flashlight when camping and hiking at night.
The Weapon Mount Tactical Flashlight by Streamlight is one of the most popular tactical and personal defense equipment and the perfect tactical flashlight that you need for any night outdoor activities. This flashlight provides an 800-lumen blast for intense lighting whenever walking outside in the middle of the night or even clearing a room and searching an alley. It features wide beam pattern lights that light up areas you're not directly pointing the flashlight at.
"Very easy to put on, extremely bright, switches are perfectly placed and easy to operate. Absolute must have," Richard said in customer review.
Don't you wish that your headphones worked much better at blocking out sounds when shooting or even working, traveling, and any time you want pure silence? Instead of buying expensive headphones that can't block out all noises, you need molded earplugs that go right into your ears, shapes to the inside of your ears, and completely tunes off all sounds—like Decibullz's Custom Molded Earplugs.
Whenever you're outside to practice shooting, the noises of guns can really startle you. Even when we're the ones shooting, the noise gets us every time! That's why so many people turn to these molded earplugs to perfectly block out all loud, harsh sounds. 52 percent of the 2,103 reviews rated them 5 stars! They easily and quickly fit into your ears and capture their exact shape. Since it perfectly molds to your ears, they'll never hurt or fall out. You first have to boil the thermoplastic molds, allow them to cool down a bit, and shape them precisely in your ears. If you don't get the perfect fit the first time, you can re-mold them again with the same process.
I know some of us can't stand a backpack on our shoulders because we believe that it's weighing us down when climbing mountains and reduces our freedom to move around. Backpacks aren't for everyone and those are the people who should consider fanny packs. Since you're going to need to carry your belongings with you whenever heading out on a boat for fishing, a fanny pack can easily store your most important belongings around your waist. You'll have more freedom this way all while keeping your things close to you.
DALIX's fanny pack is certainly among the most popular tactical and personal defense equipment because it's lightweight and has enough storage room to keep what you need with you safe. This fanny pack features a three-zippered pocket with adjustable poly-web strap and a plastic snap buckle that will never loosen on you.
"Love it, handy dandy at work, and the beach. There's plenty of room for the phone, cigarettes, wallet, tools etc. A + indeed!" James said in customer review.
Wouldn't it be better to carry less in your backpack but still provide yourself with the tactical equipment you need to handle the wilderness? I've found the ideal tool that can help you out in so many situations... and it's just a bracelet. Atomic Bear's Cobra Survival Bracelet is one of the most popular tactical and personal defense equipment with a four-star rating and 65 percent 5-star reviews that you seriously need today. This awesome, single bracelet features five survival gear essentials.
This bracelet includes a flint steel to start a fire, a reliable compass, a loud emergency whistle, an emergency knife, and 12 feet of military-grade paracord. Yes, all of these are featured in one lightweight bracelet that you can easily wear anywhere you go! This bracelet can fit both small and large wrists, which means your kid who's in boy/girl scouts can have one too. Pair it with the best tactical combat boots and you're ready for anything when out in the wild.
Many of us wear sunglasses during the day to protect our eyes from the harsh UV rays. However, what about wearing night glasses? When we're driving at night, the bright headlights from the cars driving the opposite direction can harm our eyes and even stop us from clearly seeing the road. There's actually a pair of glasses that can help us see clearly when driving in the night and even block out the sun's UV rays.
BLUPOND's Night Driving Glasses features yellow tint lenses designed for HD clarity and safety enhancements to make your street vision more advanced than your regular eyesight. They're ideal for protecting your eyes from the harsh environmental elements like headlights and even the sun's rays during the day. These glasses are constructed from the strongest material including very durable metal and reinforced hinges with polycarbonate shatterproof lenses and a protective coating. You can wear these great-looking pair of glasses during the day when the sun is bright out and even at night to give you a more clear vision when driving.
"Great glasses for nighttime! Fit perfect and comes in a very nice case!" Stuart Murray said in customer review.
No, one of the most popular tactical and personal defense equipment out there isn't a "string." This paracord has an outstanding five stars and 95 percent positive customer reviews! It's super helpful in many incidents and situations like rigging your sails, securing your tent, and even creating a hammock. There are many tent kits that don't include a durable and sturdy cord to keep your tent well put. This is one of the main reasons why you need a proper paracord to help maintain your tent even during certain weather conditions.
The paracord by TOUGH-GRID is a tough cord that can withstand so many situations when you're outdoors and in need of a cord to keep your boat from sailing off or a hammock to hold your weight. It's 100 percent nylon and is an essential tool if you're heavily involved in outdoor activities.
Lastly, this product should be used for appropriate reasons and emergencies only like breaking into or out of a car door after an accident, chopping up wood, and anything else that doesn't involve harming a person or an animal. A tomahawk is certainly among the most popular tactical and personal defense equipment that you need whenever heading out in the middle of the wilderness to camp. It's perfect to chop wood for a fire, cut really strong cords, and anything else that's tough and you need to cut through.
The tomahawk by SOG is very lightweight compared to the many tomahawks on the market, has a 420 stainless steel ax blade, and it's much easier to carry around. The black sheath is included along with a snap closure and a belt loop attachment. The two-inch blade has a black finish hard case and a glass-reinforced nylon handle to grip for better control.
"I really like the feel and balance. Very good quality for the price. Works like a champ on small logs, and still fun to throw once the work is done," J.Y. Killer said in customer review.