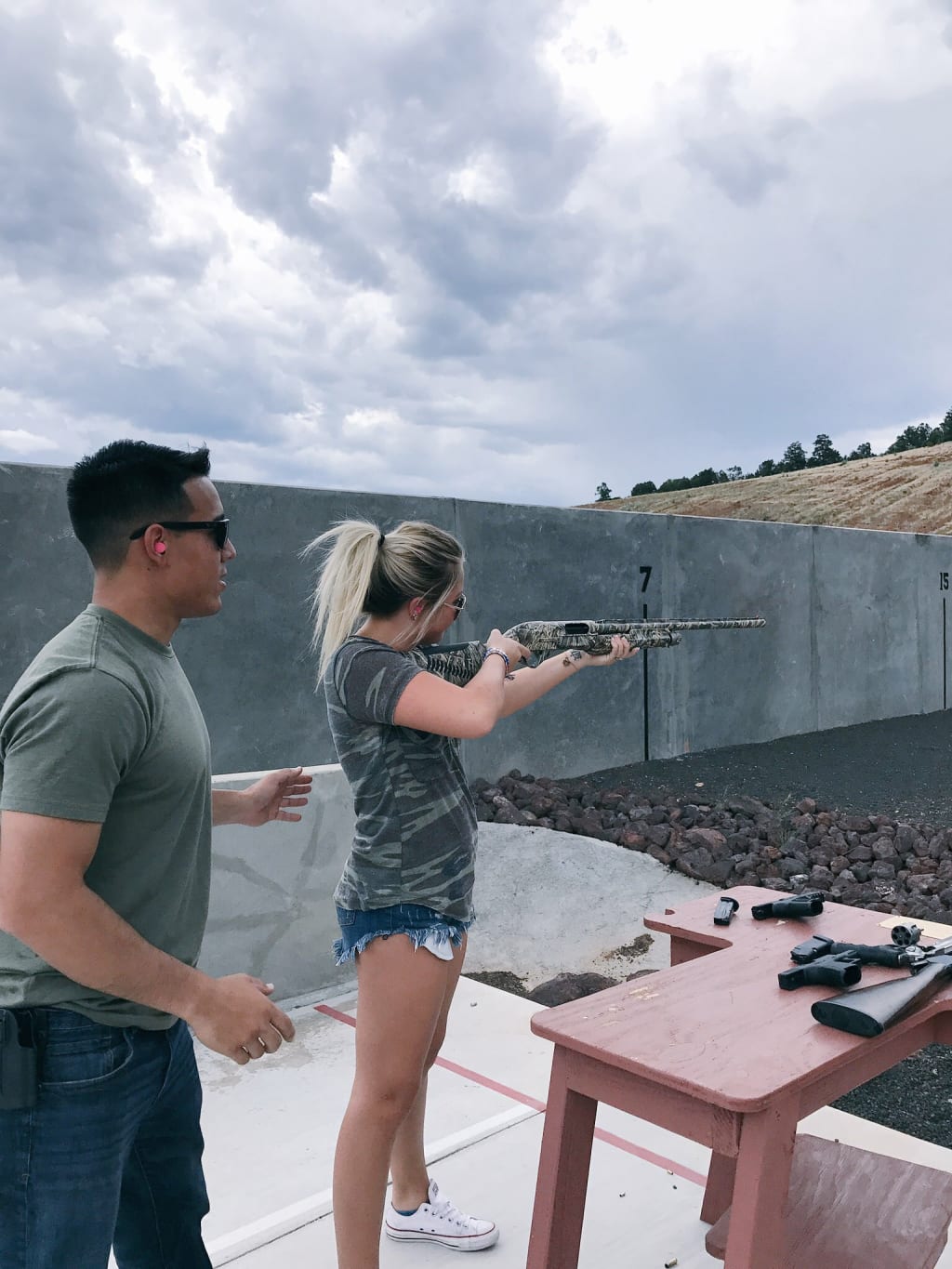 Well, March 10, 2017, is where it began. Met the love of my life and I didn't know it yet. Went to a friends party and found out it was for him, he was home on leave, a soldier; soon to be my soldier. He was there for a month, in that time span, we learned so much about each other and realized we finally met "our person." We have this festival in Arizona: "Country Thunder." The last night there, it was pure magic, the beginning of us. Since then, we've been together. Being in nothing but toxic relationships, I went in with an open mind and realized what long distance is like. I didn't know what to expect or feel...but mixed emotions.
As time went on and continues to progress, we continue to make it work, I visit at least once a month. Long distance is hard, but long distance with an attractive, successful soldier, knowing deployments happen and possible temptations when not together, that's hard. Over time we continue to learn more and more about each other. We have become best friends, each other's teammate, each other's future. With distance comes trust, different time zones, and the hardest, creating memories without each other. Communication is key, and distance definitely tests that in all aspects. But the love is what keeps us strong. We aren't perfect by any means, we have insecurities, me more than him...And it takes a toll, but we understand each other, accept each other for our flaws, our good traits, and much more.
In the next year, we are supposed to truly begin life together: me moving, marriage, creating a home, distance from family. He recently got a promotion, which is beneficial for us to help our future as one. With the new job title comes more responsibility, meaning more time to focus on his career, and more compromising in our relationship. This lifestyle is not for everyone, I've definitely had my doubts and insecurities, and still do, but he's the love of my life and completely worth it. He has helped me move forward with every past experience and is completely patient (most of the time) with how I handle feelings and instances from my past. I'm so grateful for him and the man he is and has become from his career.
My person, he's a soldier, a hero. He chose to make something out of his life. He works so hard to better himself continuously and does try to help our future be more than we imagined. Because of him, and how genuine he is, I've learned that not all people are the same, that all guys are NOT the same. The fact he's in such a particular, difficult, and time-consuming career and continues to put effort towards us and myself, shows me how lucky I am.
I'm new into the military, I've always imagined and wished for a military man as my forever spouse because of a movie: Dear John. Let me tell you, some pieces of that movie I completely relate to and see in a different way than before I met him and because he is my partner. I never imagined I would actually be with such a man, a genuine, kind-hearted person, who is selfless most of the time with certain people, a hero. Because of God, we both feel so thankful and do thank him numerous times throughout the day.
Religion: growing up for me, we didn't go to church, we lost family members in a rapid time span, one after another; being so young, I learned a lot. My little sister is the one that encouraged my parents and us as a family to find God in a religion. Of all the options, we couldn't agree 100 percent, but Catholic is what we chose to pursue. Alex, on the other hand, some of his family is Mormon, many of his friends growing up were too, but he is Christian. Because of that, even though they both have similarities and beliefs, we haven't gone to church together. Granted, we both haven't gone to church in quite some time. We don't pressure each other, but I feel if we find God in our own ways and continue to believe, that's what is going to continue to help us and strengthen our bond. I do hope that one day we go to church and put God first completely. Why? Because we believe God, or the "higher power," helps make everything happen that we experience. It is my belief that thanks to him, I am with "my person."
Reader insights
Be the first to share your insights about this piece.
Add your insights