Deployment Playlist for the 'Alternative' Army Spouse...
Goths, Punks, New Wavers, and Other Weirdos Welcome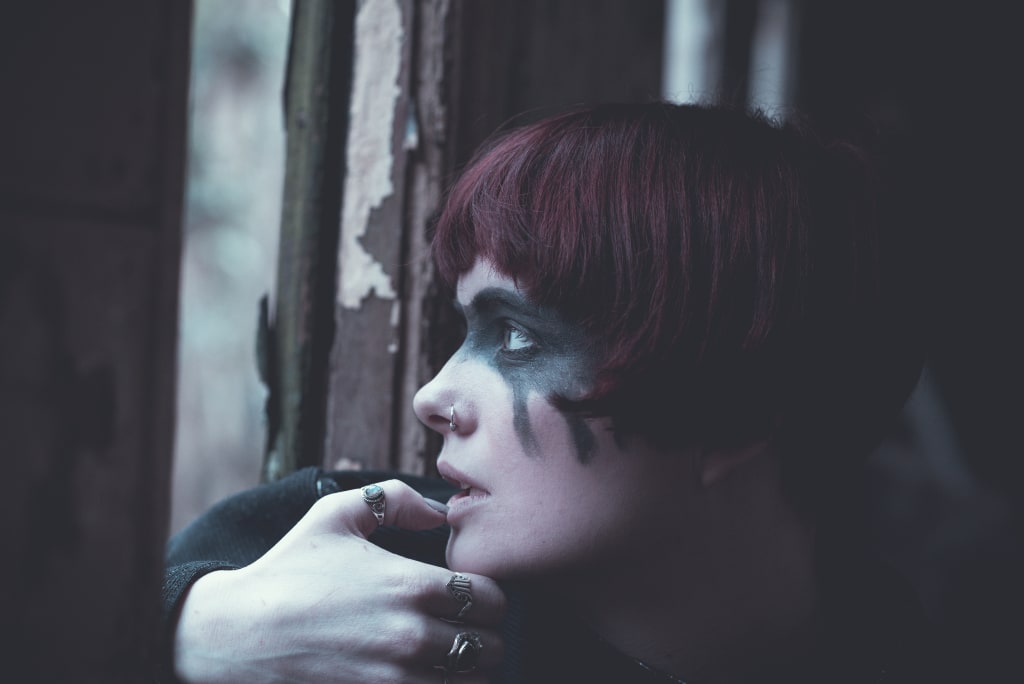 Life is oh so gloomy....
Now that I'm done with what is hopefully the worst of my crying episodes over my husbands absence in our dark and lovely home with Robert Smith and PJ Harvey blasting; I've compiled a list of songs for the Army Wife who isn't quite the Betty Draper type...(and believe me, there's a lot of those on the "military spouse social club committee") or whatever.
If you're like me, you're not going to have anything in common, let alone even know HOW to relate to those women other than "my husband is overseas/deployed/training/etc." To be honest, that's just not enough to produce a solid friendship for me. But, I'm going a bit off track here and while there are plenty of "deployment playlist" ideas all over Pinterest, there's nothing for the lady who is more Lily Munster than she is June Cleaver. Out of the kindness of my little black heart, I've opted to share said playlist with other wandering ghoul gals out there.
So, light those votive black candles, turn out the lights, drink coffee/wine/whiskey while lamenting your loneliness until it's time for your husband (or wife) to come home, and put on those records!:
1.) PJ Harvey: 'Send His Love to Me'
I mean, this playlist just wouldn't make sense without PJ's lamenting her lovers absence. While the song might imply that she's been abandoned, in it brings to mind several women over the centuries who have been waiting for their men to come home from war. To me, it's a true anthem for those terrible feelings that crop up with being a military spouse that no one else can understand.
2.) PJ Harvey: 'C'mon Billy'
PJ is amazing at expressing heartache and love. While this track can also be taken as an abandoned woman (with a child no less) pining for her lover, the relation lies in the very fact that she's singing for him to come home to his family...and "tomorrow might never come."
3.) Lana Del Ray: 'Summertime Sadness'
Despite her popularity, Lana reigns among the pop stars as the most visibly pained in our lifetime. I can honestly say that she is one of the few modern singers I adore while at the same time she makes you feel like dying (metaphorically speaking of course.)
This track I added to my list because I literally experienced summertime sadness due to my husbands departure during the warmer seasons. When I was first searching for my musical therapy via other military wives blogs (only to find LOTS of shitty country music) Lana was the first to come to mind. And I balled my eyes out the first night I was alone at our kitchen table. Bravo Lana, bravo...
4.) Lana Del Ray: 'Blue Jeans'
Again, this track could be taken as a man walking out on his lady. But if you really listen, it's a man going off to make things better for both of them, and Lana aching over what sounds like a brief separation. However, she vows to be at his side and support him no matter what happens. The line, "Then they took you away" seems to support the theory that the man isn't abandoning her.
In the end, she promises to love him til the end of time, while loyally waiting for him. The basic mantra of every military wife.
5.) The Cranberries: 'When You're Gone'
Nothing hurts more than when one of your childhood idols dies...My husband and I were due to see the Cranberries for their upcoming tour last year, then well...RIP Dolores.
This song rings true for those of us that hitched with our soulmates. When you're not together, everything is chaotic, crumbling, and you feel like you can't function even though you are (somehow.) This track probably sums up the entire separation periods that the army brings with it. Everything carries on, and some days are easier than others. I've had days at work where I just run to the bathroom and sob...to be blunt, everything just sucks.
6) Nick Cave and The Bad Seeds: 'I Need You'
Though this is a newer Nick Cave track from the latest album Skeleton Tree which chronicles the tragic death of his son, no other Nick Cave song spoke to me during my husbands absence quite like this one. The title of the track speaks for itself, though there are (without a doubt) plenty of Nick Cave tracks that could easily work for this list. Like PJ Harvey and Lana Del Rey, Nick tugs at your emotional strings like no other. Grab that box of tissues, and feel free to sob.
7) Lykke Li: 'I Follow Rivers'
For those of us that would follow our service men (and/or women) if we could, there's Lykke Li...
8) The Marvelettes: 'Please Mr. Postman'
I mean, what deployment list would make since without this classic? The Marvelettes were the only artist I agreed with and borrowed from other military spouse blogs/deployment lists.
9) The Smashing Pumpkins: 'With Every Light'
Billy expresses well the feeling that comes with trying to have a positive outlook through a dark, difficult time. He alludes to a love so powerful, that it will burst through a storm, into the sunlight. Reaching heaven after some sort of personal hell. From "It's almost over, No more war and no more soldiers," to "Away for waiting for another day," makes this track beautiful but also a little eerie.
10) The Cure: 'Love Song'
The Cure was playing when my husband and I met, so it would only make sense to have them on my list. Another spooky-good, dark track that expresses the beauty of true love and having your soulmate at your side (or in the case of army spouses, temporarily torn from them.)
Sing it Fat Bob.
11) Christian Death: 'The Blue Hour'
Rozz Williams was probably the last true King of Goth. Specifically Deathrock, and with him, the entire scene more than died out cold. Unless you're the spawn of the previous goth generation (like myself,) true goth/deathrockers are very nearly nonexistent. But, we are not here for a history lesson in sub-genres and subcultures.
Rozz touched on the very feeling of loneliness and internal death that seems to come hand in hand with military wife life (HA!) While the feeling is complex to describe, there's something Rozz touches on in the Blue Hour that seems to echo hauntingly in your soul. (That's kind of what he does anyway...)
12) Joy Division: 'Atmosphere'
There's a lot of dead individuals on this list (Dolores O' Riordan, Rozz Williams, now Ian Curtis)...I promise that wasn't on purpose. However, that's pretty fucking goth.
*Ahem*
While Atmosphere doesn't quite do it lyrically for separation via the army, the music itself does enough to get the feeling across. Ian's voice coupled with it haunts you in the most speculator way. Making you ache as you appreciate the art...
13) Wolfsheim: 'It's Hurting for the First Time'
Honestly, what more could I say? Leave it to Germany to give us Peter Heppner's soothing voice that seems to make you feel okay that you're hurting so much and so deeply. That's a skill.
So there you have it! The alternative deployment playlist for those spouses waiting in your bat caves for your servicemen/women. Feel free to use this list as an inspirational base for your own playlists and share! I can't be the only goth army wife out there...
Have Fun!