Best Tactical Gloves to Protect Your Hands
Keeping your hands safe, clean, and entirely comfortable can't be of concern when in major training, or even battle, so choose from the best tactical gloves to keep both your mind and fingers at ease.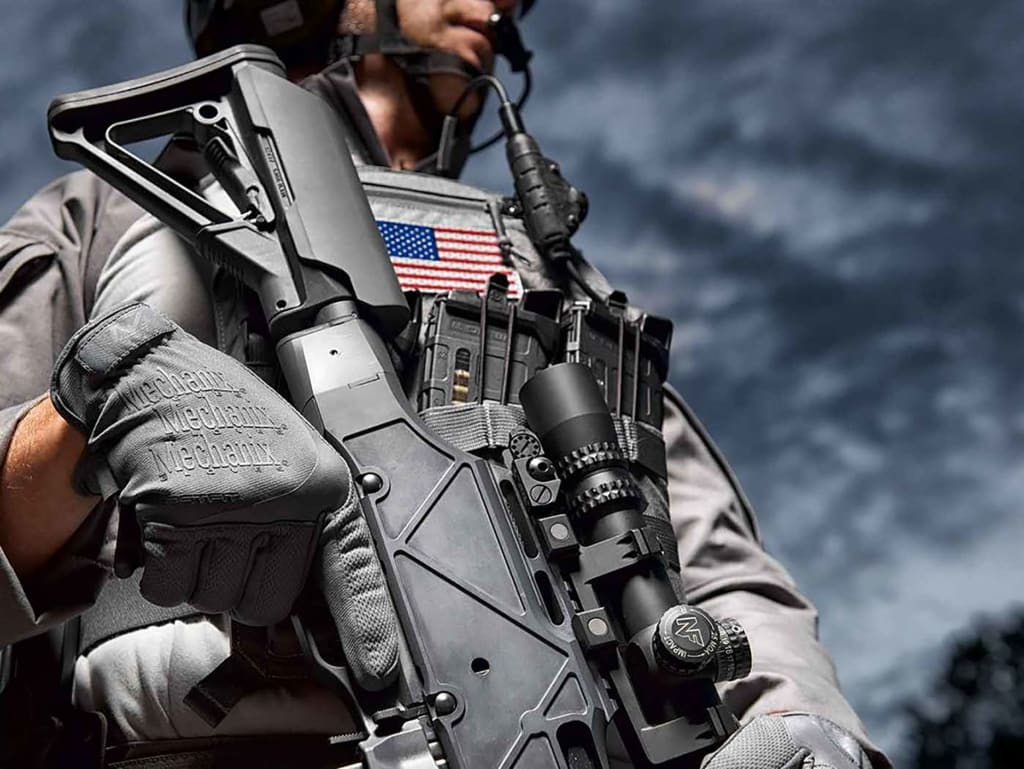 You may say to yourself: "I don't need them," and that's all well and good until you catch a splinter on one of the several different climbing walls, or burn the inside of your palm on any ropes and ladders amid intense training. I thought the same damn unfortunate idea when first being shipped to basic, and boy do I wish I had one of these with me my first weeks. "It was hell" would be an understatement, to say the least, but there's a silver lining to my mistake: warning you all not to do the same (and, in the process, discovering for myself the best gloves to save my pretty hands from harm).
They may not look very different from the next, but I assure you they all come equipped with a variety of different components that will help in loads of combat scenarios; they are an essential item for every army basic training packing list. To add, they're also not all meant solely for military purposes, as any number of them could be used in simple gardening, or any other form of manual labor. Now back home, I love to use my tactical gloves for almost everything, such as chopping wood, fixing the plumbing, and even catching footballs in the backyard. That's versatility if I've ever seen it, and all of the following share that. Otherwise, they wouldn't be the best.
Made with 100 percent leather and goatskin, 5.11's tactical gloves are heavy duty with accessibility. All the fingertips are made with special seamless construction, giving them compatibility with touch screen technology; plus it's made to fit comfortably with a full cuff and velcro enclosure.
These can be worn for practically any occasion, especially field activity. They're both durable and fitting, making them a popular staple among tactical gloves. The fact that you can text and send emails with them also helps, but I find the leather feel on the palms and the movability of the fingers are this product's major talking points.
Appearing almost like something Batman would wear, the Magnums by CamelBak are some of the coolest looking tactical gloves. The protective layers on your fingers, in addition to the overall design of the gloves, adds an aptly protective yet maneuverable fit.
Since they're made with a variety of the best materials, these tactical gloves have the softest interiors, while the outside almost feels like a turtle shell. Though they're perfect for hunting, Magnums are also lightweight and are barely felt when worn.
The m-pact coyotes are obviously built more for durability and overall hand protection; that's the Mechanix way. Manufacturing some of the most praised and awarded tactical gloves on the market, Mechanix Wear knows a thing or two about thermoplastic rubber (TPR) and knuckle guards, which the M-Pacts come equipped with.
If those features weren't enough, Mechanix also added dual internal layers to the fingertips and D30 palm padding to protect your hand from anything. There's also a convenient nylon loop, so you can store your best pair of tactical gloves almost anywhere you please.
It may take a while to believe it's actually Under Armour, but this elegant pair of tactical gloves sports a variety of cool aspects. It may not be as durable as others, but you can't ignore its looks and comfortability.
Form-fitting wrists, synthetic leather palms, contoured hard knuckles, and backhand ventilation panels all add up to one of the best tactical gloves. Manufactured with a streamline fit, sheepskin leather, and silicone in the palm, these gloves are made to ensure comfort, breathability, and a strong grip.
For those who are true fans of the best tactical gloves, Ironsight is a name you're sure to know. These gloves are well-respected, heavy duty, and durable in all kinds of messes. There's a bunch of facets to them, like slip free grip pads, dexterous synthetic leather, and quick drying technology.
Their Precision Grip construction is what highlights these pair among best tactical gloves. With superior tactility on top of an outlasting material that's reinforced for complete protection, Ironsight tactical gloves are sure to be helping hands on any major project, or even combat training.
Hands down the most protective tactical gloves available, Blackhawk's S.O.L.A.G. are equipped with numerous features that will protect your hands in all aspects of battle. These are made specifically for the battlefield, manufactured with knuckle guards, upper leather layering on the fingers, and an easily secured velcro wrist.
You won't have to fear when wearing these, as Blackhawk knows tactical wear. The assault gloves fit perfectly on the hand, and are also reinforced to ensure your hands remain protected from all dangers.
Oakley may be more popular in the sports and ballistic military sunglasses department, but don't forget they are leaders in crafting products that blend comfort with durability. Perfect for landscaping and many other hard labor jobs, Oakley's tactical gloves have a flexible construction that is meant to provide extreme safety for hands.
The coyotes are made specifically for tough jobs and tasks. Rubber exhaust ports on the mesh zones with synthetic leathering imbues them with the perfect balance of breathability and a natural fit.
Tactical doesn't always have to mean extreme protection. Showcased by these simple, yet sophisticated tactical gloves by First Tactical, movability and touch are important necessities. Made with convenience and comfort in mind, these gloves have a range of sweet additions to them.
Touchtac fingertips allow you to use your touch screen phone or tablet, while the snag proof stretch fabric gives them a perfect fit when worn. The attached loop and hook also makes them the easiest tactical gloves to store when not used.
For any kind of outdoor needs, Freetoo tactical gloves will provide a snuggly fit that's rugged and breathable. Even in the most hot and arid conditions, you won't have to dread sweating profusely inside these gloves as they're made with odor-free materials and vent designs.
My favorite part about these tactical gloves is the dual-layer synthetic leather palm. While it protects you from all harm and discomfort, the anti-skid grid also ensures I never lose my hold on the top-rated tactical tomahawks.
These gloves offer a mix of high quality materials and interesting components. On the palm is a digital texture that provides the most sophisticated durability to your grip, plus the gloves have four way stretch material that adds dexterity.
The knuckle guard is made from carbon fiber plating, while the fit itself can be securely fastened with the hook and loop tabs. Stop ignoring the health and safety of your hands when you could be protecting them in style and comfort.