10 Tactical Folding Knives for Survival & Self-Defense
Whether you're an adrenaline junkie who prefers to live outdoors, or an active military member, having the best tactical folding knives can be of great importance.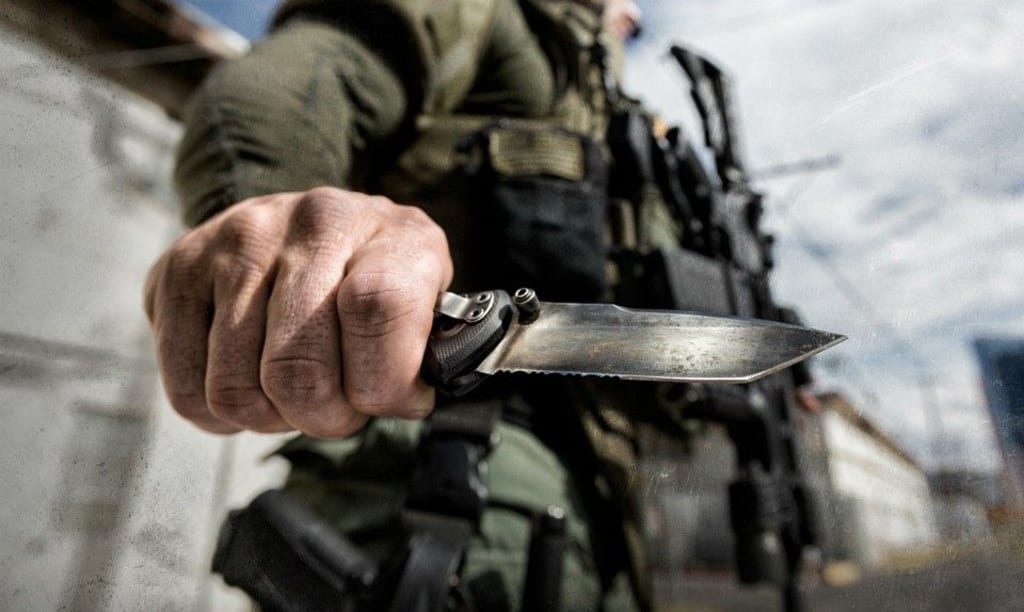 Whatever your situation is, whether you want to join the military, you're an active member of the military, or just in the market for survival gear, you'll want to look into the best possible equipment you get. Tactical folding knives are some of the popular pieces of tactical defense equipment and can be extremely important.
There are countless models and brands out there, all of differing quality, functionality, and price. Fortunately, I have gathered the best brands and models and disclose them to you so that you will be informed and make the best decision for your own personal situation.
The Bedlam 860 gives you options. Benchmade offers a version with a partially serrated blade and one with a regular plain blade. Both styles are rust resistant and hold an edge well. However, the true hero of this blade may be the G10 handle. It's durable and designed to be used in a wide range of temperatures. This makes it perfect for those serving around the world in radically different climates.
If you're an avid user of your knives and dull or damage them quickly, then this would be your best bet. Benchmade's offers a lifetime warranty and a service to keep your knife in prime condition. If your knife requires any type of repair or sharpening, Benchmade will fix it.
One of the only tactical folding knives with a built-in LED flashlight, the SLPB2 is ideal for low-light environments and situations. Additionally, if you are in a low-light area and want to feel divine, simply say "Let there be light," and use the magnesium firestarter built within the knife. You will now have an abundance of light and a taste of what almighty power feels like. If all else fails and you cannot produce light, there resides a high-pitched whistle inside if you are lost somewhere and can't find your way back to civilization.
There's just something about titanium that makes everything built with it seem so cool. I mean, it's titanium! The steel blade is encased in a titanium handle, making it one of the hardest and sleekest tactical knives on the market. The Sage2 can handle any wear and tear or rough environment you put it through and come out the other side unscathed, even military ones. Ninety-six percent of the Amazon reviews score it with four or five stars, citing the surprisingly low-weight and razor-sharp edge as the other main benefits. There are a lot of positives about this knife but we can all agree the titanium handle is the best.
One of the smaller tactical folding knives, Böker offers an extremely portable option for those who overpack and don't have enough room for anything. The Boker Subcom F is only four and a half inches long and weighs a mere two and a half ounces. It can fit in your back pocket, on a lanyard, or any other convenient spot you need it to be. I know it might seem too small and hard to use, but the grip is carefully designed with index ramps, ensuring its grip and ease of usage. So if you want a quick-action knife that you can fit in your pocket, this would be your best bet.
The Blur, Glassbreaker definitely has one of the cooler names, and it is made by Los Angeles Dodgers pitcher Clayton Kershaw! Okay, maybe not the second one, but the name remains cool. The partially serrated blade cuts through tough fibers with relative ease and the SpeedSafe opening provides smooth, one-handed blade deployment.
Designed exclusively for rough, outdoor use, Kershaw made sure this knife had a high-quality blade that was easy to use. The one-handed blade deployment and Trac-Tec grip on the handle can be used by beginners with not much experience handling tactical knives. So if you're getting ready for your first deployment, this is a great first knife to get you more comfortable with them.
Yes, Spyderco really seems to know what they're doing when it comes to tactical folding knives. While being one of the more unique-looking knives, the Assist was made for the specific function of rescue. The design of the handle and the blade was actually created by a Swedish firefighter.
Primarily used by rescue professionals, this knife will help cut seatbelts, ropes, and any other tedious fibers that can trap or malfunction at the worst of times. The knife you could use for everyday carry, it's best-suited for dealing with unexpected emergency scenarios. Which sadly, occur far too often in the military world.
Spyderco and Böker, they just have it figured it out. The Boker Plus is more traditionally designed than the Spyderco preceding it but has some unique features of its own. Ergonomic finger grooves are what will keep it snug and secure in your hand while you're cutting, and the two lanyard holes allow it to be transported easily.
The blade is where it gets interesting, containing a partially serrated blade that's slightly longer than the plain blade and tip. When using tactical knives for survival and self-defense, one of the most important aspects is how well it stays in your hand. If the worst-case scenario should occur, the anti-slip texturing give this Böker design a leg up.
Designed for self-defense and specifically for military and law enforcement personnel, SOG's tactical folding knives are designed with black glass-reinforced nylon. That translates to them being lightweight, well-balanced, and easy to carry. The GRN handle is made up of stainless steel liners, so it's tough enough to handle any rough treatment or usage. Bottom line, this knife has everything you would be looking for if you will be in a semi-dangerous or chaotic environment.
Perhaps the sleekest and most aesthetically-pleasing tactical knife, the 0095BW by Zero Tolerance makes you want to have it on looks alone. Made with high-end steel, the blade's razor sharp is guaranteed to last, is scratch-resistant, and is encased in... You guessed it, a titanium handle! The pocket knife can do it all and then some, a jack of all trades that can be utilized to its full potential by those who are serving overseas or full-time camping/hiking enthusiasts who are never indoors for long. However, it is on the pricier side, so be sure to check to see if you can buy it at your military surplus store.
That's right, Smith & Wesson don't solely make firearms, they also dabble in tactical folding knives. Cheaper than you would be expecting from a high-quality brand like Smith & Wesson, the SWBG1 Border Guard 2 is a fantastic blade. Designed with the name in mind, it guards and protects.
The 4.4-inch blade is nearly as long as the 5.6-inch handle, giving you a good amount of steel surface. The lightweight aluminum handle gives it proper balance and makes it easy to use. Smith & Wesson is one of the bigger names in self-defense for various reasons, their brand is a rock-solid as they come.