10 Gifts for Newlywed Military Wives
Stepping into the role of military wife can be hard, but getting her one of the perfect gifts for newlywed military wives can prove exactly how much you support and care about her.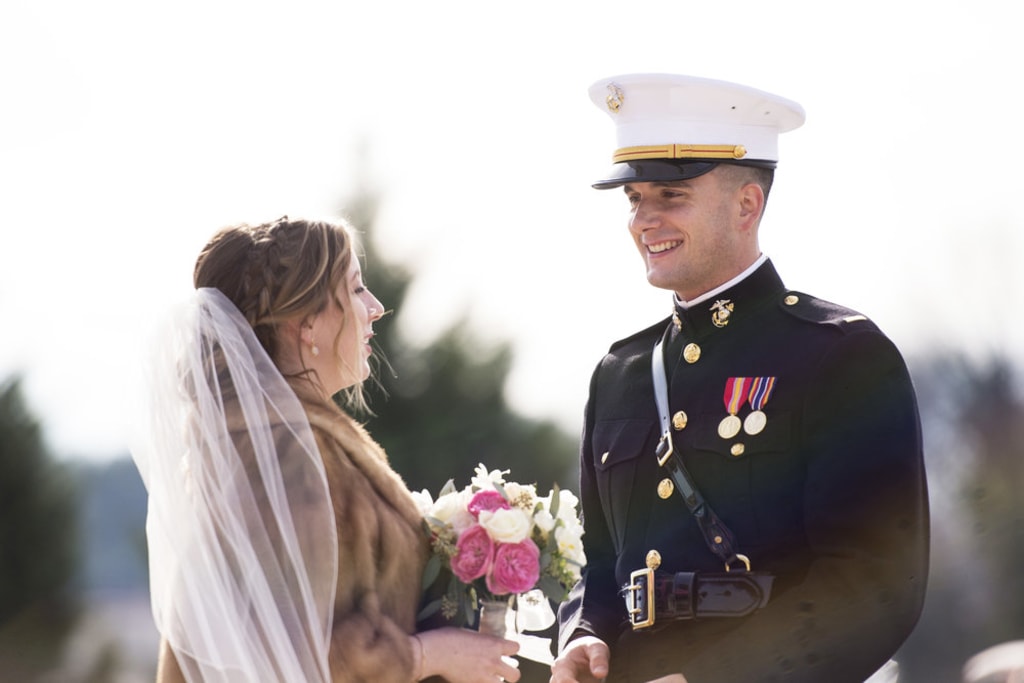 Source: Spoken Bride
If you're like me, you're getting to an age where you realize that all of your friends are getting married; and trust me when I say I would have never guessed that most of them are marrying guys in the military. To be honest, it's not for me. What I do know though, is that with every deployment I see my friends' husbands embark on, I realize how difficult it is on them as newlyweds. Being there for someone is one of the best things you can do as a friend, but sometimes you want to do something more for your best girl. So, what better way to do that than with a few thoughtful gifts for newlywed military wives?
Something that I have learned from one of my best friends, who is an Army wife, is that a personalized sign can make a really great gift idea. It shows her that she is special, but also reminds her about her spouse and how much he means to her. And the best part is that the sign can be of anything! Whether you choose the last name of your friend and her spouse, or a sentimental message reminding her of their bond (like the one I bought for my friend), she is sure to love it.
Being a military spouse can be a difficult endeavor, especially if it's the first deployment experience they've gone through. That's why a great gift idea for this person could be a journal. Journals provide people a space where they can write down their thoughts and feelings, and is especially useful for military newlyweds whose spouse has been gone for so long and so far away. A great alternative to just a plain journal is a themed journal. My best recommendation is The Five Minute Journal. I love giving this particular journal as a gift because it has the person focus on the positive things in their life, which will be a great way to uplift her whenever she has some down time or feels alone.
A bracelet is one of the best gift ideas for military wives if the newlywed friend in your life likes jewelry. Whether you go with something simple or something you can customize, there is something out there that will certainly your friend's style. The ones I have given as gifts in the past have all been "military life" related. This is the exact bracelet I purchased for my friend, Amy, who is an Army wife. It came gift wrapped and there are many drop down options on the site if you want something to give your friend something a little more generic. Amy absolutely loved hers though, and now she has something to show off her commitment to a military man whenever she's out and about (other than her wedding band of course)!
This gift may be specific to my personal relationship with my two friends Jake and Shauna, but they collect keychains from all over the world when they have time together in between deployments. It has been something that they have done since they began dating. I thought it would be a great idea to get them both a matching keychain set as a small part of their wedding gift. They liked them so much, that Jake took his half overseas with him. My advice: When in doubt, get her a keychain!
The most frequently used gift idea that I like to give to my friends is a spa basket, as it is versatile and useful, especially if you need something like a holiday gift in a pinch. A lot of the things we talk about during our "girl chats" are related to how busy they all like to stay in an effort to distract themselves from the stresses of being in a military family and away from their husbands. One thing I really embrace as a person is a little bit of TLC every once in a while. So, a purchased or DIY spa basket is the perfect way to bring the spa into their busy lives. So many of my girlfriends have been over the moon about receiving spa baskets from me. One of my favorite scrubs that I have made for my DIY baskets (and for myself) is a peppermint salt body scrub. It smells amazing, and can be helpful if you have a cold or get headaches. Plus, it beats getting them a gift card.
This idea comes from my sister who has been married into the military life for over 12 years. We spoke not too long ago about the best gift ideas for women who have a military spouse, and she agreed with most of my endeavors, but none more so than a gym membership. After being married for only six months, her husband was deployed to Iraq for nine months. She said the best gift she ever received during that time was Beachbody at home workout classes (she recommended PiYo). With it, she was able to keep up with her fitness goals and keep herself totally occupied while her husband was away.
Books are always a great gift in my opinion, especially if the subject hits close to home; but this idea didn't come from me (again, I know). One of my closest friends from high school, Robby, actually bought this gift for his wife when they were first married to help ease her into the military lifestyle she was just thrust into. The book he chose was recommended to him by a member of his squadron, who also gifted the book to his wife. The book is called, You Are Not Alone: Encouragement for the Heart of a Military Spouse by Jen McDonald. It offers advice for military spouses who will inevitably go through some rough times with long deployments, difficult transitions, and other challenges they may face. This can help with working through the long nights and offer readers inside perspective about how to overcome trying times.
A deployment calendar is a small way to show your friend you're thinking about her and the long journey of deployment that is ahead. A year long deployment calendar helps her stay alert while she is counting the days until her military spouse comes home, and gives her something to look forward to every day (even if it's as small as ripping a page off a calendar). It has cute little sketches and makes the waiting a little bit easier.
It is NO secret that all of us girls in my friend group love to gossip and sip on a glass of Moscato. It is a great way to help those girlfriends who are trying hard to crush that military life relax and unwind. One of my favorite things to gift are sets of themed wine glasses. From cat lovers to campers to moms... someone has printed something on a wine glass that will appeal to the newlywed military wife in your life. In addition to getting cute glasses though, get your bestie a wine club membership! The one that I have used in the past has been with Cellars Wine Club, and it turned out to be a great gift. Everyone I've given this as a gift to has absolutely loved it, and we all benefit from them during our "girl-talk nights." I highly recommend these two gift ideas for the wine-loving military wives in your life.
This option is a little more extreme, but it doesn't have to be! Even a day trip can be just what your newly-married friend needs. Either way, it can help take her mind off the stresses of her day-to-day schedule, or even just ease the waiting of her hubby coming home. I haven't done this many times, but I can say that when I did, it paid off.
The best example I can give for this last option is a vacation I surprised my friend, Monique, with. She had been married for maybe three months at that point in time, but was in the middle of a year-long deployment stretch with her boyfriend-turned-husband. They were married while he was on a two-week leave, and there was really no opportunity for anything fun like a honeymoon. She was sad about it, but didn't want to say anything; so, a group of us all went in and planned a wine tasting tour to Walla Walla (a wine country trip you need to add to your bucket list if you haven't already). She was ECSTATIC! We made sure everything was out of her hands while she went to one of the most beautiful places in the world to celebrate her recent nuptials with all of her best friends. Even though her husband wasn't able to be there, we wanted to make sure she felt special and appreciated.
Planning a vacation to take with your best girlfriend doesn't have to be crazy expensive, it could just be a night in a hotel watching "chick flicks" and drinking wine, or it can be more extravagant. Whatever you choose, just make it all about her and have a great time with it—she will appreciate the effort you put forward!
If you are like me, gift giving can sometimes be a task, but gifts for newlywed military wives are out there. Each are ensured to let your bestie know that you're thinking about her and her newfound journey into military life.
Reader insights
Be the first to share your insights about this piece.
Add your insights