10 Best Gifts for Military Wives
The best gifts for military wives will ease minds at home, as well as overseas.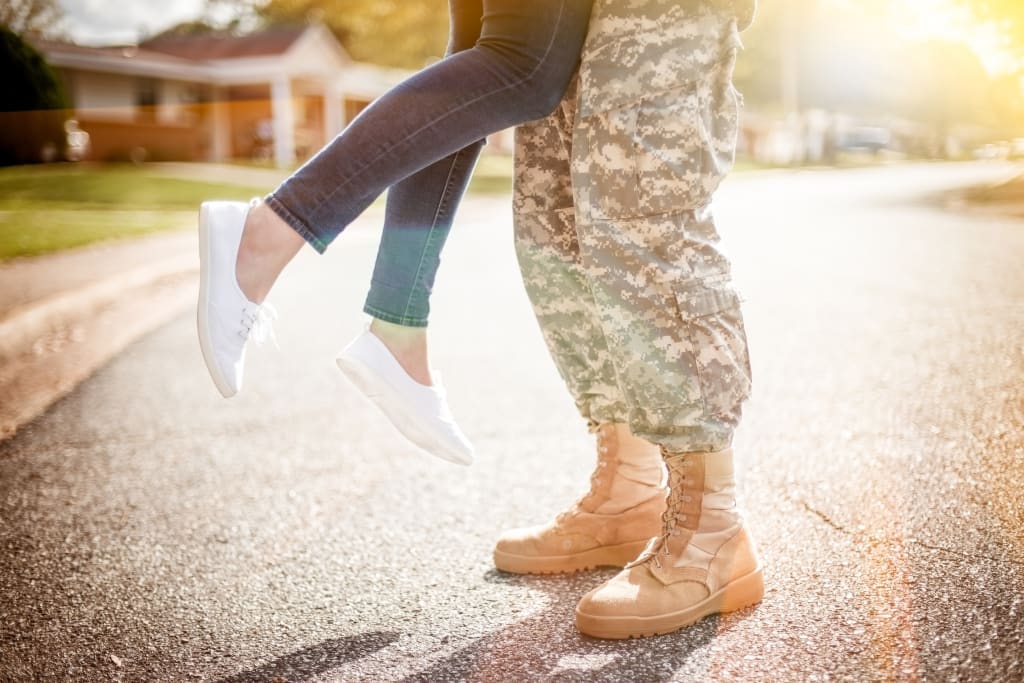 When it comes to marrying the love of your life, there is a certain layer of magic that comes with knowing you'll have a partner by your side through thick and thin. However, the promise of standing side by side when you are a military couple will have its own challenges. The months of separation while a husband is out on duty can bring on lonely days. While being a military wife comes with its own share of magic, it always helps to feel the support of your loved ones. Whether their husband is in the next room or is a world away serving our country, these are some of the best gifts for military wives. Give them that extra reminder that their love is always with their military spouse. Little reminders of support truly go a long way.
Whether your man is coming home in one day or one month, the waiting game played by those in military life is full of anticipation. Time is based on perception, and while many rock a watch on their left wrist, one tip for new military wives is to keep things manageable, if not just for their own mental health. This bracelet helps do that with its message of "one day closer." Gift this to the military wife in your life to encourage her to draw on her inner strength as she awaits the time she can greet her soldier with open arms. This simple yet classy cuff is a gentle reminder to the day that is destined to come.
If you're looking for a funny and practical gift for a military wife, this mug will most definitely get its use. It's only natural to want to show off your spouse whenever possible, and remember them fondly at every opportunity. This mug lets the military wife feel that much more proud when she is sitting around in the morning and enjoying her cup of coffee, ruminating on all the good times they have already had and all the good times they'll have upon the service member's return.
Consider home decor when searching for the perfect army wife gift, because one of the signs you're a military wife is definitely how loud and proud you show your support. This sign sums it all up from a lifestyle point of view. There is a lot of love to help carry a military family through the many months and miles spent apart. From the cherished video calls during deployment to the dog tags worn around the soldier's neck, this sign is another way to keep love close to home. It also shows visitors a peak into what their daily life entails as a military wife. After all, home is where the heart is; and from a military or service member's perspective, home can be anywhere.
We're all too familiar with the "Mr. and Mrs." products from mugs and pillow cases. Sure, they make for an easy gift, but they often lack a personal touch. You might as well be giving the military wife you know a gift card if you're not going to try to kick it up a notch. These mugs do exactly that by covering the topic that truly matters. Distance might divide people physically, but love is the connecting force that makes it worth the struggle. This mug gift set says it all. This is perfect for the military wife who likes to enjoy a morning cup of coffee, but needs a little care package all her own.
This bamboo cutting board, engraved with all the ingredients that make up the perfect military wife, should be a new staple when it comes to kitchen decor or practicality. Regardless of how you use it though, this gift boasts a fun-loving sense of humor that only a military family can relate to. When it comes to serving the country or a staple dish, it's all about serving with pride and love.
We carry our keys with us everywhere we go; and while we might lose them every now and then, they always have a way of appearing right when we need them. Being in a relationship with a man on duty can feel a lot like losing your keys. No matter the distance, this is the perfect trinket to hang off a cell phone case or house keys to remind a military wife that her heart is right in the palm of her hand.
Imagine getting this as a care package on duty, knowing your wife at home is sleeping on the other half of the same whole. Sure, the guys would rip into you, but you'd be sleeping soundly imagining the day you return from duty with this and your wife in your arms. Now, for military wives, this reminds me of the charm bracelets we would get with our best friends when we were younger. Get this pillow pair for the military couple in your life, buy it for one another before you ship off, or gift it to yourself and your significant other who is already overseas. No matter the distance, two hearts will always be one.
It's not easy going months without your partner in crime, but the trials will make the heart stronger. Get this for your friend or family member to show them your support. This military spouse journal is the perfect outlet for writing out thoughts and feelings during moments of doubt or longing.
Listen, deployment isn't easy for either party, and sometimes all a military wife wants to do is have a glass of wine to calm her nerves. That's exactly what this most awesome of gift ideas will allow the struggling military spouse to do. There are a number of customizable options for this glass, regardless of which military family member is the wine drinker of the squadron, and each purchase of this stemless wine glass supports the National Military Family Association. That's something to celebrate, isn't it?
Knowing how to stay connected with your military wife while deployed is difficult, but giving and receiving letters overseas can bring much needed relief and a sense of comfort for a someone actively deployed. Equipping the military bride with an arsenal of tools to help her reach her husband and remind him of home will be one of the best gifts for military wives the couple could ever need. Handwritten notes provide a personal touch to well wishes, especially considering the miles those letters travelled to get into the palm of a soldier or lover's hand. Wouldn't it be an honor to be one of the people the couple thanks at the end of their tour of duty by giving them this awesome gift?
Reader insights
Be the first to share your insights about this piece.
Add your insights