Nostalgia and Hunger
One slice of life, please.
This roundup begins and ends with stories about food. We didn't plan it. It just happened that way.
It's fitting though, isn't it? Humanity begins at home, and often enough, it begins around the table. For many, the best memories start with the smell of food wafting from the kitchen. For others, that smell is a reminder of those who failed to show up for dinner.
Whatever you associate with mealtime, there's no questioning the importance it has on both memories and health. We'll kick this week off with a recipe loaded with nostalgia... and carbs.
Don't forget to leave your favorite authors a tip, and if you're not already a creator, sign up here to get started today.
Granddad's signature sandwich
He was the type of man who could burn water, but this simple sandwich convinced my 6 year-old mind he was a culinary revolutionary.
In his debut Vocal story (we hope the first of many), Mike Houldsworth shares a slice of life with us. Two slices, in fact, of "plain, white bread (the cheap, pre-sliced, packed-with-preservatives kind. No artisan sourdough)."
There's something special about this sandwich, Mike muses, something ineffable, yet extraordinary. "Nostalgia and hunger are powerful forces," he says, and we couldn't agree more.
Venom
Reptiles are great. They don't make noise, they don't shit all over your house…they don't call you up one day to confess that they smoke crack, they don't leave you for someone else while you're vacationing with your mother in Alaska...

Anyway (adjusts tie), reptiles have more class than that.
We know nothing about reptiles here at the Vocal office. We have many, many dogs, but no reptiles. If he comes to visit, herpetologist Francisco Diaz will have to leave his pets outside. Wednesday, our Cavalier King Charles Spaniel (and honorary VP of Vocal) is territorial. There's no telling what she would do to Francisco's axolotls.
To be quite frank, we had no idea what an axolotl was until yesterday. For reference, this is an axolotl: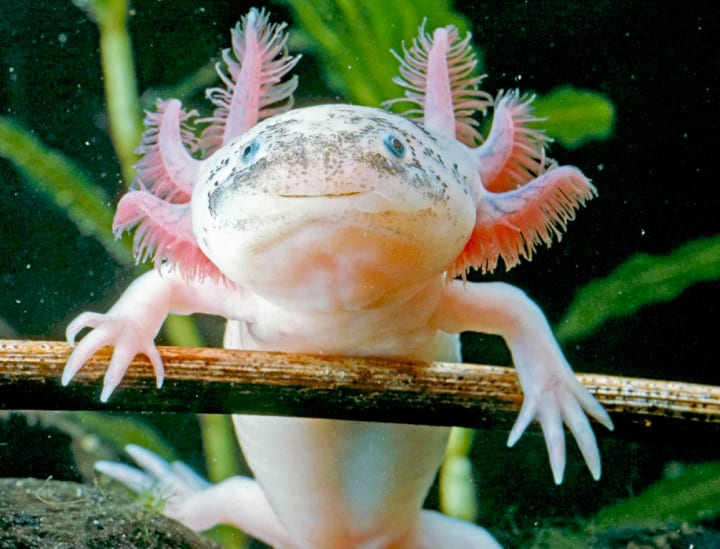 To our ophidiophobic readers: this story may not be for you. But, if you've ever had the thought, "I want a West African Bush Viper," well then, this story is very much for you.
No vipers for us. Just more dogs, thank you.
A Tattoo Tale
And here she was- after radio silence, calling me to tell me she was dying. That's what cancer usually means right? Whether it's slowly or quickly- cells are dying, someone is dying. This time, it just happened to be my mother.
One of our recent challenges asked creators to tell us the meaning behind their tattoos. At first, we weren't sure how many people would want to share such intimate stories. When the number of submissions skyrocketed, we were blown away.
Jillian LaCroix entered our Tattoo Tale challenge with a story about a strained relationship with her mother. We won't overshare, because her words > our words, but thank you, Jillian, and everyone else who contributed. You, and your tattoos, are so beautiful, and we enjoyed hearing about each and every one.
Paint
I was 14 when my father first told me I needed to start wearing makeup.
"You're not pretty enough." Many have heard these words, or something similar. For Sarah Porter, that struggle to look more beautiful resulted in a long-term battle, fought with cheap products from Walgreens against the voice of her father in her head.
It got to a point where I wouldn't allow anyone in my family to see me without makeup; I applied my concealer and foundation within minutes of waking up in the morning. If I wasn't wearing makeup, then I wasn't doing anything outside of my bedroom that day. I wasn't living.
We're thankful to Sarah for her vulnerability, and her advice on how to win a war that many fight behind closed doors.
Pasta Alla Chitarra
Some recipes are more than mere instructions regarding ingredients, quantities and process.

Some recipes contain magic.
While Mike Houldsworth's recipe for his granddad's signature sandwich may not have contained "magic," per se, Farkas claims that his father's signature dish, a "bastardized version of Pasta Alla Ambasciadore," borders on the supernatural.
That I attempted and failed to find Pasta Alla Ambasciadore on the books... is probably due to the fact that my dad was as gifted a bullshitter as he was a cook.
... Okay, so, maybe he was more of a trickster than a magician. Either way, Farkas' story reminds us that, sometimes, when you're busy in the kitchen, you're not just "cooking up some bastardized version of Pasta Alla Ambasciadore. –You're conjuring dad."
We never know what to expect when we read your stories. We certainly never expect to learn about axolotls, but we're better now because of it, so thank you.
Keep writing. Keep teaching us new things. We'll see you in a couple weeks with more of our favorites.
About the Creator
Collaborative, conscious, and committed to content. We're rounding up the best that the Vocal network has to offer.
Reader insights
Be the first to share your insights about this piece.
Add your insights