How to Create Your First Story
A step by step guide to create and submit your first Vocal story.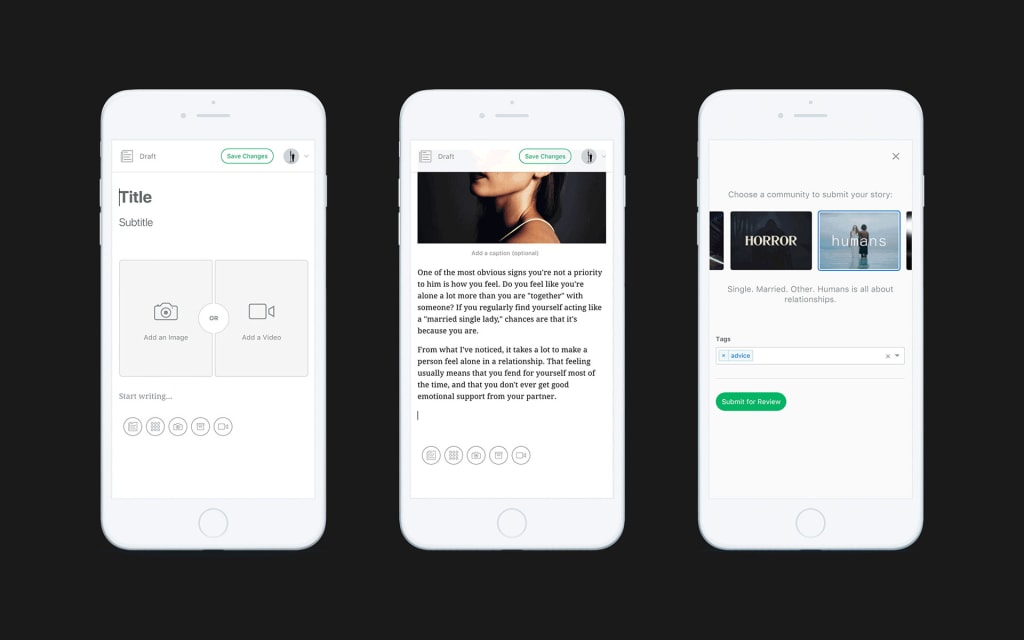 Welcome to Vocal! Maybe you're here because a friend referred you, you found us on Facebook or Instagram, or you searched online avenues where you can write whatever you want. Whatever the reason, we're happy you're here.
Now it's time to create your first story!
Start by Choosing a Topic
Choose a topic from our list of communities; you can find them on Vocal's homepage here. To get a feel for the type of content that works best, look through the communities and see the content previously published.
How to create a new draft: Click "Create Story" on the upper right hand corner to begin a new story. If you're creating on your phone, click your avatar and select "Create Story" to begin.
Create Your Title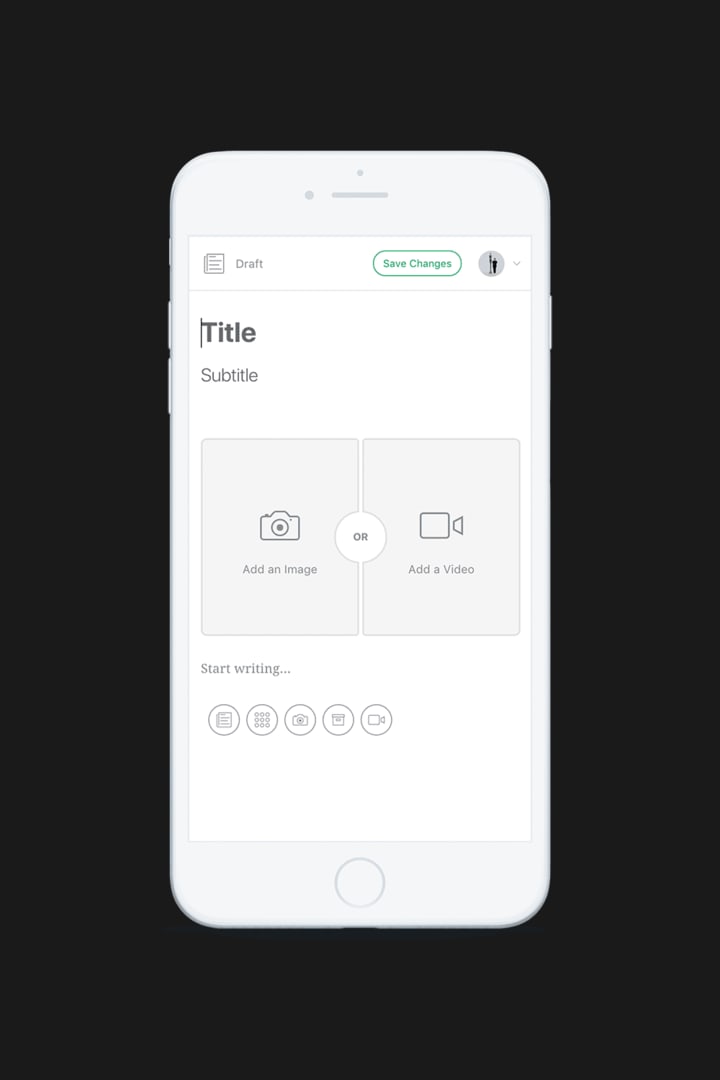 Your title should be both informative and catchy. The Vocal platform is optimized for search engine optimization. Our goal for you is to have your content read not only by Vocal audiences, but by future search engine users actively looking for the information you're writing about.
The trick here is for your story title to be an accurate representation of its content; it seems obvious, but a Proof story about the best pubs in London should be labeled as such, rather than "Places I Like to Go."
Think about your own browsing behavior; if you were a tourist searching online to plan your night out in London, which story titles would you skip over, and which would you assume contains the information you're looking for? Use that as a gauge. For more about search engine optimization and how to create SEO-friendly stories, check out our resource article here.
How to add a title:Type your title at the top of your draft, where you see the 'Title' placeholder. Hit Save! You'll have to add a subtitle (where the 'Subtitle' placeholder is) before submitting, but we find that the right subtitle will come to you only once the story is complete. We'll get to that later!
Add a Featured Image/Video: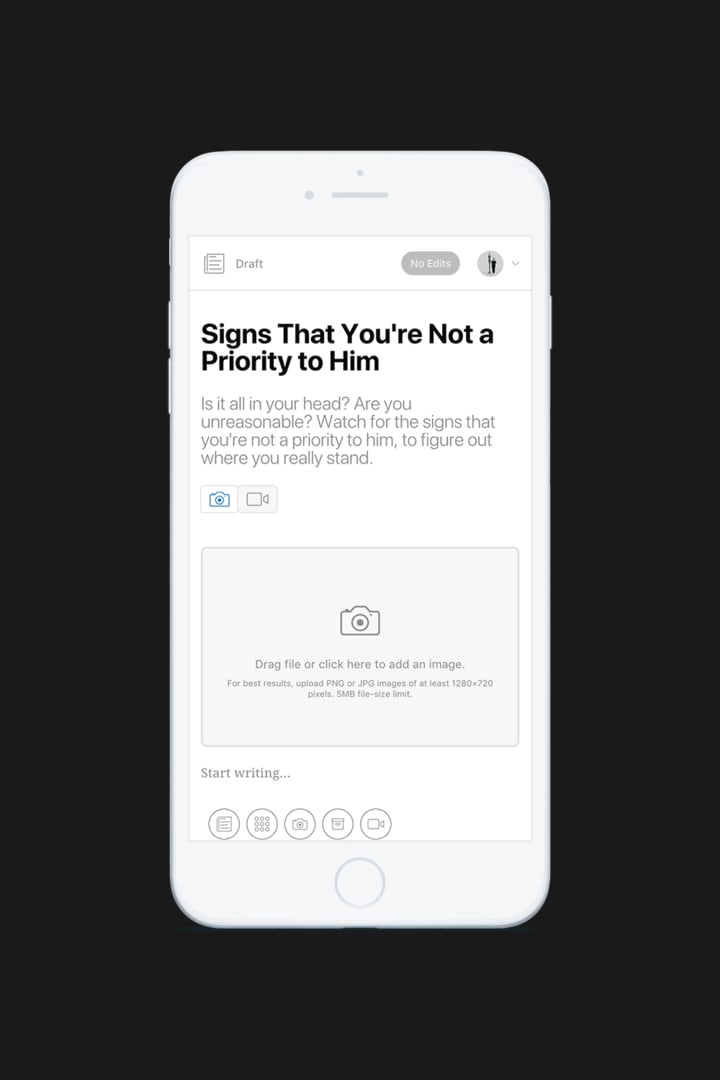 The Featured Image/Video lives at the top of your story, and is required in order for you to submit your story for review. In the placeholder box underneath the Title/Subtitle, you'll see an option to Add an Image or Add a Video.
Our recommended size for the Feature Image is 1920px wide x 1200px tall. You can make adjustments to image size with applications like Photoshop, but your original image must be sufficiently large/hi-res for this to work, or else it'll look stretched out or blurry.
If you change your mind about choosing an image over a video, you can replace it by following these steps:
In your draft, underneath 'Subtitle' you'll see two adjacent boxes, one with a photo icon, one with a video icon. You can toggle back and forth to change out the Feature, just remember to Hit Save between each one!
Creators know that visuals are critical. Remember: every book needs a cover; every great story needs an image/video. Once your story is published on Vocal, the Feature will act as the thumbnail that, along with the story title, will be the preview displayed in our feed, as well as the one that will be used when your story is linked or embedded in social media or other websites.
In the vast internet ethos, first impressions matter! This is why we stress using hi-res, good looking and engaging images or videos.
Learn more about choosing the best images for your content in our resource article here. Also, you can learn how to promote your video here.
How to add a Featured Image/Video:
Click 'Add an Image' and upload a JPEG image. Hit 'Save'.
For the Video: Click 'Add a Video.' Copy/Paste a video link into the allotted space, and Hit Save.
Now, It's Time To Write!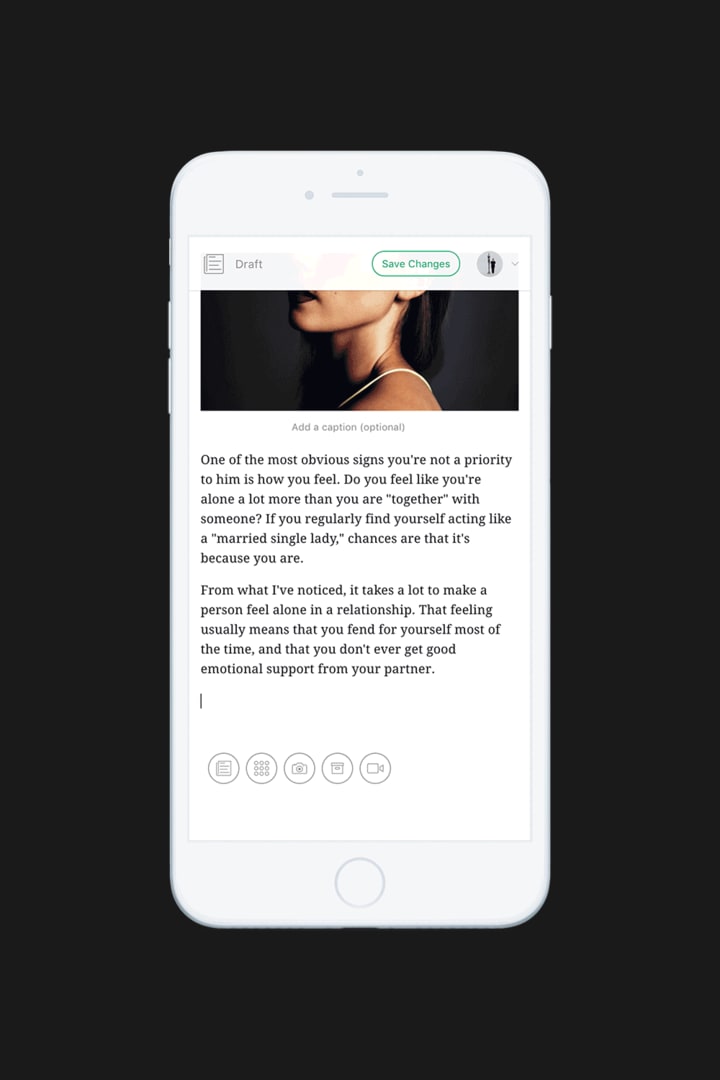 Below the Feature Image, you'll see 'Start Writing…' Now the fun begins. Aside from quality and a few other standards (get a list here) the only technical requirement for the body of your story is that it meets our word count minimum of 600 words.
Vocal creators organize their stories as a series of modules (independent units of content) which allows for maximum creativity and flexibility in structuring and organizing your content while keeping SEO in mind.
We offer 5 different modules: Text, Image Gallery, Image, Video, and Product. Learn more about each one here.
In your draft, write your intro paragraph where it says "Start Writing…" Your first 'new module' will distinguish for the reader between your introduction and the body of the story. To create a new module, simply click the plus sign in the editor, choose the type of module you want, and go nuts!
Take advantage of our text toolbar, the tool that lets you jazz up the text: Bold, Italics, Links, bullet points, and more. Learn more about that here.
A good story is equal parts creativity and structure. We're all about playing around with different formatting and writing styles, but it helps to start with a simple skeleton and build out from there so that your story will be readable and simple enough for readers to navigate. Content performs better when broken up like you learned in high school.
Intro
Body
Conclusion
Depending on the length of the piece, the number of modules will be different. If your piece is on the lengthier side, you'll want to break it up with visuals–with all due respect, it's hard to keep an audience interested with 10,000 words of uninterrupted text.
We recommend an image, video, or product module every 350-400 words. This aids in scrolling on mobile and increases the chances people will read throughout.
Don't ignore subheadings (or H3s), either. Subheadings helps organize your story and provides a nice shorthand for your readers to skim; or find their place again should they get sidetracked.
Again, think of your own scrolling/internet browsing behavior and create the content that you would want to see online. As an example, take this story from our food site, Feast, entitled "What Is Umami?" One could write a long, 3000 word, in-depth analysis of this subject. Or you could structure it like the creator did:
Intro paragraph
Section 1: So, What Is Umami?
Section 2: Why Doesn't The World Know About Umami?
Section 3: What Is Umami Good For?
Clean, clear, visually-engaging and informative.
Add Subtitles, Edit your Story, and Add Any Final Touches
Back at the top of the draft, add your subtitle if you haven't already. The subtitle should expand upon and support your title in some way, but it's a good place to throw in some extra creativity, humor or wordplay.
Check over your story for grammatical errors, typos, spelling errors and the like.
Make sure your story meets our submission requirements:
Title and Subtitle
Feature Image or Video
Word count minimum of 600 words
You're ready to SUBMIT FOR REVIEW!