Shattered Poems About Mental Health
Mother and Daughter Independent Publishers DanDeeLion Publishing, Publish Shattered By Denise Byers A Mental Health Poetry Book About The Light At The End Of The Dark Tunnel.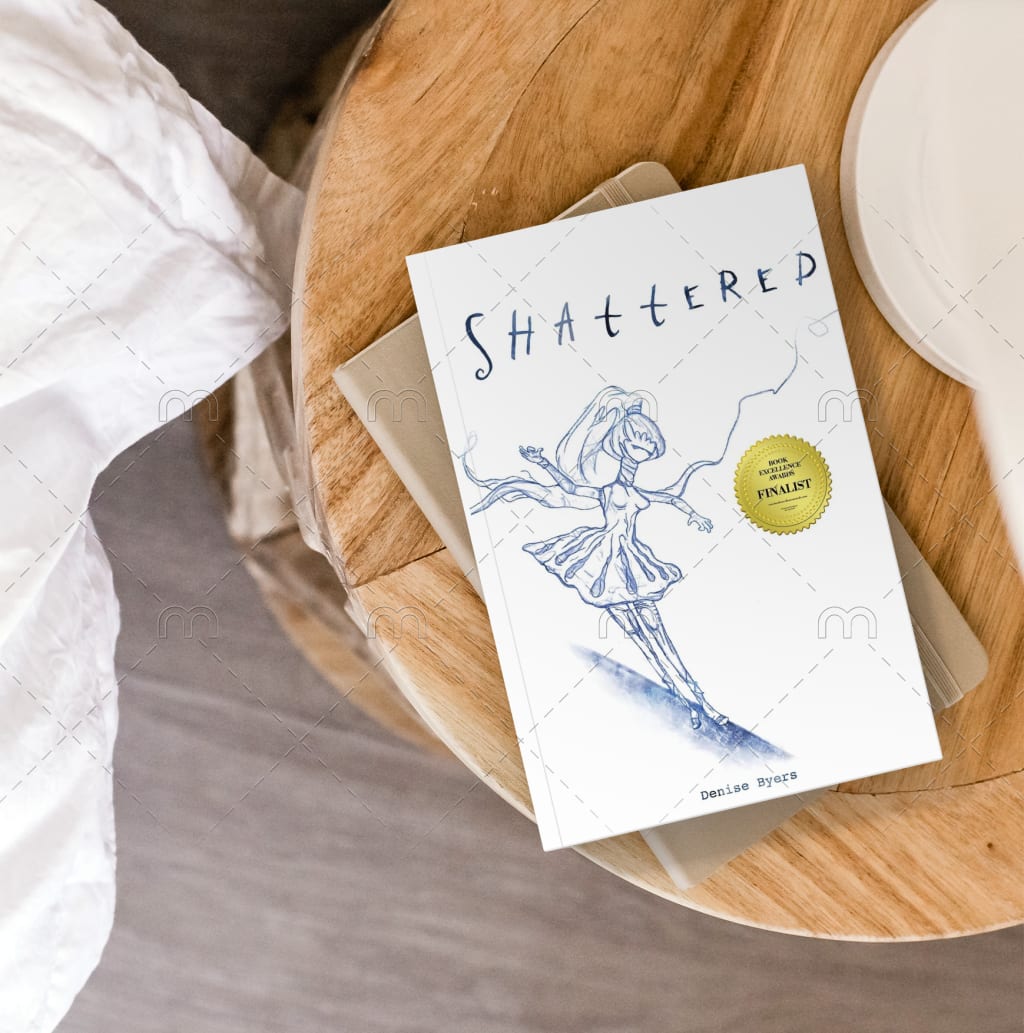 Shattered by Denise Byers on bedside table
Mental Illness is like being locked inside darkness; a darkness you feel like will last forever without a tunnel to your bright spot. As a person who has many kinds of mental illnesses, I find it is easy to get into a place of loneliness and hopelessness, and with the winter months and Christmas season as well as being single can really mess with your head and emotions when you see happy couples and families with so much holiday joy. I am the person who you find in the bathroom crying over the fact that I am 33 years old and single around the holidays. That's why I always carry my copy of Shattered in my purse to help remind me I am not alone. Just when I start drowning in my darkness of anxiety, depression, and my SAD disorder. It is easy to get into that mental space very quicky when you feel alone, the facts you know that you aren't alone don't even come into your mind. At that moment you just want someone to understand you and your feelings and your thoughts without judgment. Shattered it the friend who doesn't judge , your mental illnesses, it is your friend who holds your hand through the sadness and pain.
Denise Byers captures your pain and puts it into words for you to understand sometimes what you can't express to your friends, or family, or co-workers. This book gives you something you can hold on to and show the people around you how to support your needs, and you can finally explain in words what you are feeling when your mental illness hits hard. It is a beautiful thing to feel seen in a world that shames mental health and illnesses. People don't always understand but with this book in the head you can show them how to support you in the best way possible and they can finally have empathy for your mental health as well as become a more supportive person in your life. This book helps you find a place to open yourself up to the people around, then have those people become a support group for you and maybe have them less afraid to share their own darkness.
I say start a book club or if you already have one add this book into the mix, get into deeper conversions with each other, maybe point out the poems you relate to the post and put colorful taps or posits on the pages to remember where they are in the book. Tell your friends about Shattered by Denise Byers, open a conversion with your teenagers about their own mental health problems and let them tell you the poems they feel close to. Build stronger relationships with Shattered, give it to friends in need over the holidays that you know have a mental illness, or get sad over the holidays.
You will not even believe this, but this book even helped save the author though a suicidal moment on suicide prevention day. If this book of poems can save its own author from suicide just imagine what it could do for your own life and the people in your life. This book isn't just a book of poems on mental illnesses, it is a book about the author's truth and even sadly some shame, that she must go through these feelings and thoughts, but I know she wrote is a book to help impact people's lives, help them through the dark tunnel into a brighter light.
I want to leave you with one of the poems from the book, which is a personal favorite to me, from Shattered by Denise Byers. I hope you enjoy it and go out and order a copy for yourself or a friend.
Loneliness
Nothing matters anymore,
The present has no hope.
The past is best forgotten,
The future has no meaning.
Why should I care?
My life is like an empty room;
No amusement, no happiness,
Excitement is unheard of.
What is it all worth?
Who needs this deprivation?
I'm not getting anything for this,
To HELL with living!
Nothing matters anymore.
Why should I care?
What is it all worth?
I give up.
link to order book
https://www.amazon.com/Denise-Byers/e/B00FIG7XD8%3Fref=dbs_a_mng_rwt_scns_share