Pairings
Wine and Cheese Pairing Guide
Going to a classic wine tasting, and not sure what cheeses you should pair? This wine and cheese pairing guide will give you the basics.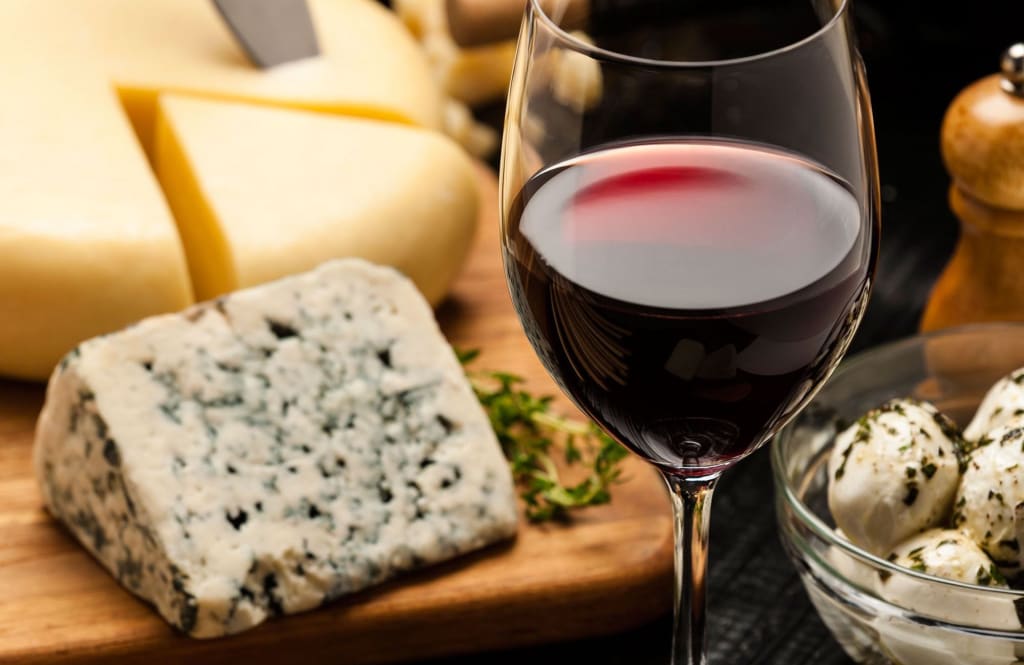 There are very few things that are as sophisticated and classically enjoyable as a wine and cheese tasting. It's one of the most popular food and wine pairings known to man, and has been a majorly upscale way to enjoy the art of subtle flavors.
In order to really get the most out of the wines and cheeses that are presented to you at a tasting, you will need to know which wines go with the cheeses on the platter. After all, different wines will bring out different flavors and oils.
Studies show that the wine you drink will actually change the texture of the cheese you're eating. As a result, you're going to want to pair your cheese with the right wine.
Not all tastings come with a wine and cheese pairing guide, so this article might be a good one to save on your smartphone if you're going to one of these ritzy shindigs.
This particular wine and cheese pairing guide will focus on flavors and categories as a way to help you choose which wine to drink with your cheese plate. So, to make things easier, we're choosing a famous cheese that you can match up to similar ones in its category.
Gorgonzola and Port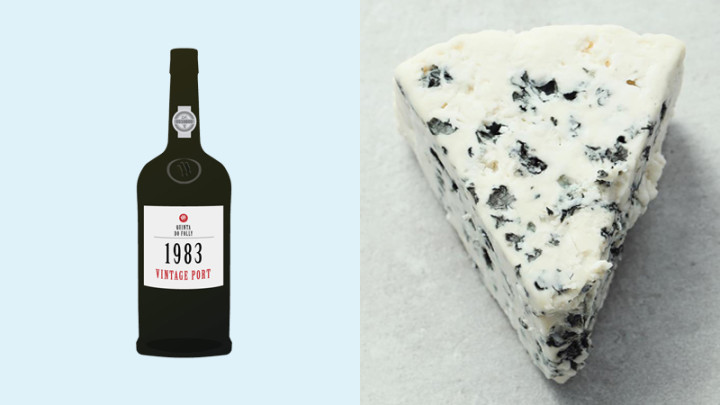 Bleu Cheese is known for being crumbly and dry. It's also known for being incredibly pungent, too. Most wine and cheese pairing guides will tell you that you will need a strong-bodied wine to match that taste.
The tannins in red tend to dry out the mouth, as does the dryness in non-sweet white wines. In order to pair a Bleu Cheese with wine, it's best to go for a polar opposite. That's why Gorgonzola with the sugary, almost syrupy flavor of Port works well.
Similarly dry, salty, and pungent cheeses tend to work will with full-bodied sweet wines for the same reasons. Bleu Cheese works well with Port, as well as Riesling, too. Stilton cheeses tend to do best with rich Sauternes thanks to the fruity and sweet flavors they hold.
So, this wine pairing is all about strength of flavor. You get the idea.
Camembert and Champagne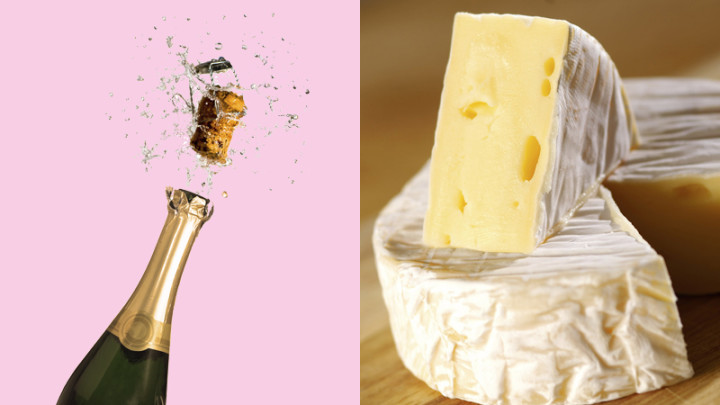 Soft, melty cheeses always have a very decadent taste. The texture and flavor of these bloomy cheeses tend to speak for themselves, which is why they are popular tasting options on any cheese board.
That being said, most soft cheeses tend to get easily overwhelmed with wine flavors. So, a soft and dry touch tends to be the best option you can choose. Dry champagnes and sparkling wines tend to fare best with this. So, for a creamy Camembert, opting for champagne is a wise choice.
Similar cheeses tend to have similar pairings. Rich Bries, for example, work well with a nice Chardonnay. Decadently thick Taleggios, on the other hand, will work with a slightly more robust Pino Blanc.
This wine and cheese pairing guide also strongly suggests sticking to white wines and sparkling wines for soft cheeses. Rose sparkling wine overpowers it and tends to spoil the flavors.
Gouda and Merlot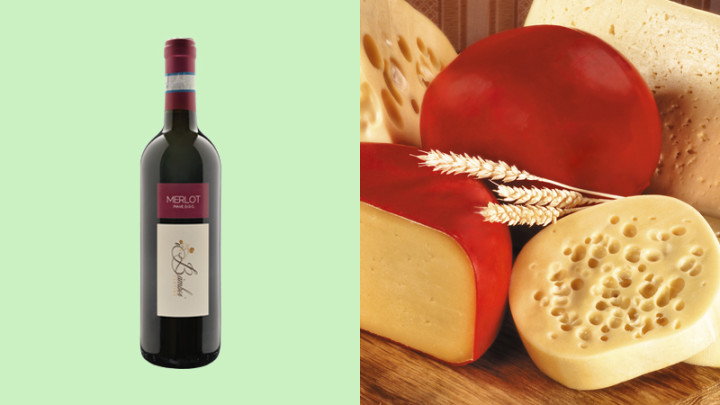 Now, we're starting to get to the hard cheeses — and that means that we're finally starting to see some red wines in the mix. Hard cheeses are literally hard to the touch and tend to have really sharp, bitey flavors to them. Common examples of this category would include gouda, cheddar, parmesan, gruyère, and fontina.
To a point, every wine and cheese pairing guide will diverge on hard cheese pairings. This is because hard cheeses can vary pretty greatly in flavor and texture. So, it's a good idea to stick to reds for very strong cheeses while veering to whites for more subtle flavored cheeses.
So, Gouda would pair well with a rich merlot. Meanwhile, most love seeing parmesan paired with a Chianti — much like what you'd see in anItalian food and wine pairing. A zesty Double Gloucester, on the other hand, might pair better with a high-tannin Zinfandel. And, cheddar cheeses tend to work wonderfully with a good Cabernet Sauvignon.
Mozzarella and Sauvignon Blanc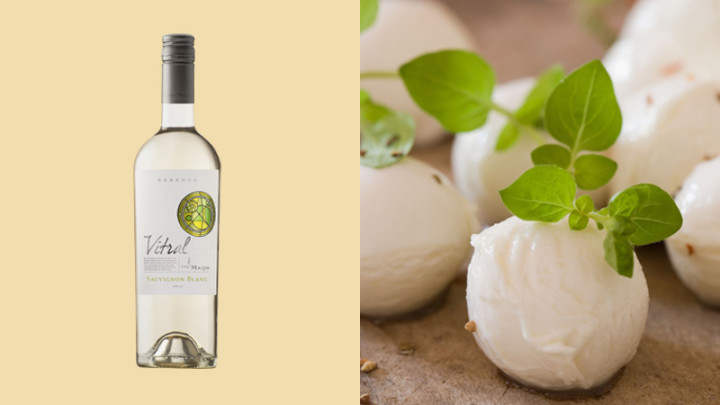 As many people might know, certain cheeses have super soft flavors and a super rich texture that can easily get destroyed if aged. These cheeses often taste tangy and tart, and are typically known as "Fresh Cheeses."
With these kinds of cheeses, you need to work on finding a white wine that works to enhance the tartness. So, fresh mozzarella paired with a Sauvignon Blanc would be a good choice. Burrata, on the other hand, might go with a softer flavor like Tocai Friulano.
That being said, it is possible to pair fresh, spreadable cheeses with lighter reds as well. A good Pino Noir tends to pair with most fresh cheeses particularly well — at least according to this wine and cheese pairing guide.
But really, you shouldn't be too concerned about what a wine and cheese pairing guide tells you to do.
Wine pairing is, believe it or not, an arbitrary thing. It's not an exact science by any sense of the word. So, just because a guide tells you what might work best doesn't mean you can't make your own pairings.