The Tale of 5 Chicago-Famous Cocktails and Their Recipes
Although I wouldn't try the Mickey Finn if I were you. Read on to find out why.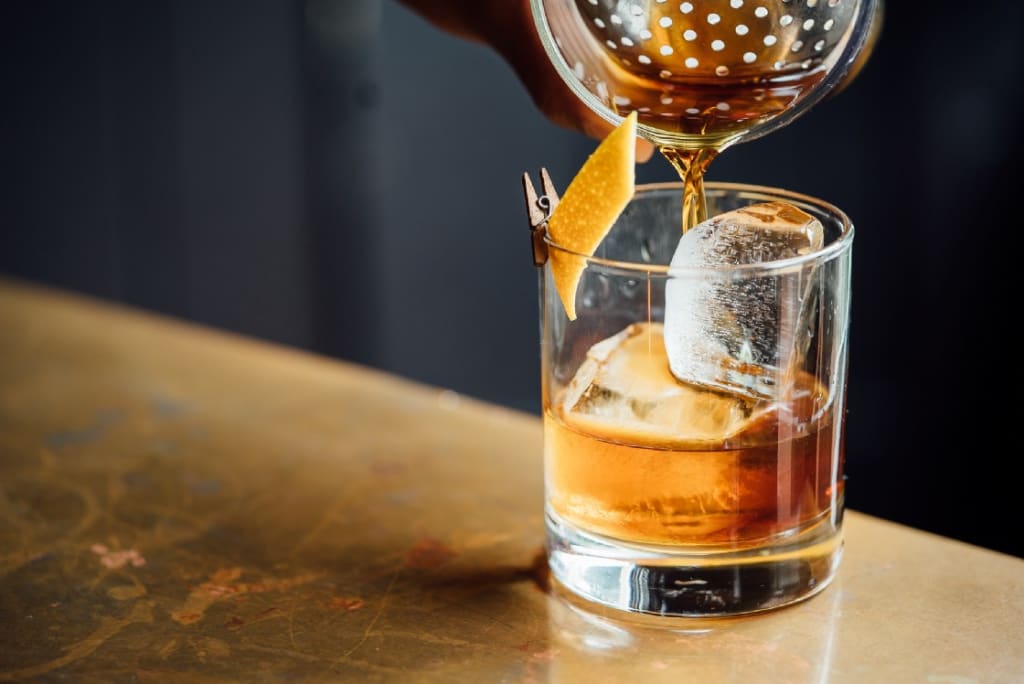 Photo by Adam Jaime on Unsplash
Historically, American Midwesterners tend to prefer simple drinks, like beer and whiskey, over fancy mixed concoctions. But Chicago does have a few famous cocktails it can claim from its past.
Though Chicago doesn't have a rich cocktail history like San Francisco, New Orleans, and New York, there are some drinks where we can trace the origins back to the city.
There are limitless places to get a cocktail in the city today. But, before and during Prohibition, bars were mainly focused on pouring a straight whiskey or beer. However, when Prohibition ended in 1933, cocktail lounges began to spring up across the city.
Here's a look at five of the most famous Chicago-invented cocktails and their recipes if you'd like to try one of these traditional drinks at home.
1. The Old-Fashioned
One of the most famous and oldest of the Chicago cocktails is the Old-Fashioned. And though there is no evidence it was invented in Chicago, I'm still claiming this as a Chicago cocktail.
The reason why this is truly a classic Chicago drink is that according to the Chicago Tribune, the Old-Fashioned was named by a Chicago bartender in the late 1800s. And he was the first to publish the recipe. That's good enough for me to let it land first on our list of Chicago-based cocktails.
I found this classic recipe from Eater.com:
Ingredients:
2 ounces rye whiskey or bourbon
1/2 ounce simple syrup
2 dashes of Angostura bitters
One twist of orange or lemon peel
Directions:
1. Add the whiskey, simple syrup, and bitters to a cocktail shaker filled with ice.
2. Mix and then strain into a cocktail glass filled with ice.
3. Garnish with a twist of orange peel.
Notes:
You could substitute the simple syrup with 1/2 teaspoon of sugar or 1 teaspoon of powdered sugar. You may not get as smooth of a mix as you do with syrup, but it will still be good. Note, powdered sugar dissolves better than regular sugar.
For a variation on the classic, you could try this recipe from Instagram using chocolate bitters and cinnamon syrup.
2. Chicago Fizz
The Gin Fizz of New Orleans may be more popular than the Chicago Fizz, but the Chicago Fizz is a tasty alternative.
It's a bit murky when and where this drink originated from, but we know it showed up at New York's Waldorf-Astoria as a Chicago import sometime before Prohibition began.
Here is a recipe courtesy of The Spruce Eats on this old classic:
Ingredients:
1 of ounce dark rum
1 of ounce ruby port
1/2 ounce of lemon juice
1/2 teaspoon of superfine sugar
1 egg white
3 to 5 ounces of club soda
Directions:
1. Add the dark rum, ruby port, lemon juice, sugar, and egg white to a cocktail shaker.
2. Shake it without ice the first time. This is called dry shaking.
3. Now fill it with ice and shake again vigorously for 30 seconds.
4. Strain it into a tall cocktail glass. Traditionally this would be a Collins Glass.
5. Top it off with 3 to 5 ounces of club soda. How much you used is based on taste.
Notes:
If you're squeamish about using raw eggs, which I am, or if you'd rather not risk getting salmonella, you can buy pasteurized egg whites in cartons at the grocery store.
Freshly squeezed lemon juice tastes better and adds a freshness that you can't get in a bottle.
The egg white won't change the flavor, but it adds a creamy texture. However, The Spruce Eats says feel free to skip the egg white if you prefer.
I have found that 1 teaspoon of powdered sugar mixes well in place of 1/2 teaspoon of regular sugar, especially if you have trouble finding superfine sugar. Regular sugar may not dissolve as well.
3. Mamie Taylor
This Chicago drink, named for the popular Vaudeville actress from the 1890s, Mayme Taylor, probably inspired the much more famous Moscow Mule.
Why the drink spells her name wrong remains a mystery.
Here is a recipe I found from Liquor.com:
Ingredients:
2 ounces of scotch
3/4 ounce lime juice
Cold ginger beer
Lime wedge
Directions:
1. Add the scotch and lime juice (preferably freshly squeezed) into a highball cocktail glass full of ice.
2. Top it off with ginger beer.
3. Stir briefly.
4. Garnish with a wedge of lime.
4. Cohasset Punch
It may be named after a New England town, but the Cohasset Punch was invented by a Chicago bartender. The bartender spent the summer in Massachusetts working for a wealthy actor. It was there that he invented the drink and brought it back home with him to Chicago.
You used to be able to buy a Cohasset Punch in a bottle. But today, you'll need to make it yourself.
Here are two versions of the recipe that I found on the website of David J. Montgomery (aka Professor Cocktail), courtesy of Eric Felten:
Cohasset Punch Variation #1 Recipe
Ingredients:
1 1/2 ounces of dark rum
1 ounce of sweet vermouth
The juice of 1/2 a lemon
1/2 an ounce of syrup from a can of peaches
1/2 ounce of Grand Marnier
2 dashes orange-flavored bitters
Directions:
1. Add half of a canned peach to the bottom of a champagne glass.
2. Fill the glass up halfway with shaved ice.
3. Add the rum, vermouth, lemon juice, peach syrup, Grand Marnier, and bitters to a shaker filled with ice.
4. Shake it well and strain it over the peach in your champagne glass.
Cohasset Punch Variation #2 Recipe
David Montgomery offers a simple version if you aren't a fan of canned peaches.
Ingredients:
2 ounces of Pyrat XO Dark Rum
1 ounce of sweet vermouth
3/4 ounce of fresh lemon juice
3/4 ounce of cinnamon syrup
lemon twist
Directions:
1. Pour all ingredients in a shaker filled with ice.
2. Shake well.
3. Strain over a glass filled with ice and garnish with a twist of lemon.
Notes:
David says that the Pyrat XO Dark Rum has an orange flavor that goes nicely in the drink. But, you can use regular dark rum of high quality. If you do, add a couple of dashes of orange bitters.
You can buy a bottle of cinnamon syrup or make your own. It's only water, cinnamon, and sugar. Here's an easy recipe.
5. The Mickey Finn
This list wouldn't be complete without the notorious Mickey Finn cocktail, in which there are no questions that it originated in Chicago. However, I don't think you're going to want to try it.
Mickey Finn was the owner of the Lone Star Saloon and Palm Garden in the South Loop. He invented a drink made with raw alcohol and a mysterious white liquid that reportedly came from a voodoo doctor.
This drink knocked bar patrons out completely. Mickey and his associates would rob them and then toss them out on the streets, where they would wake up bewildered and missing their wallets.
Thus, the term "slipping a mickey" was born.
I hope you'll forgive me for skipping the recipe to the Mickey Finn.
cocktails
About the author
Writing my life away. Runner/mama/wife/eternal optimist/coffee enthusiast. Masters degree in Psychology.
Reader insights
Be the first to share your insights about this piece.
Add your insights