The Ginger Tea Reviews: Tea Infused Alcohol
First Attempt at Something Different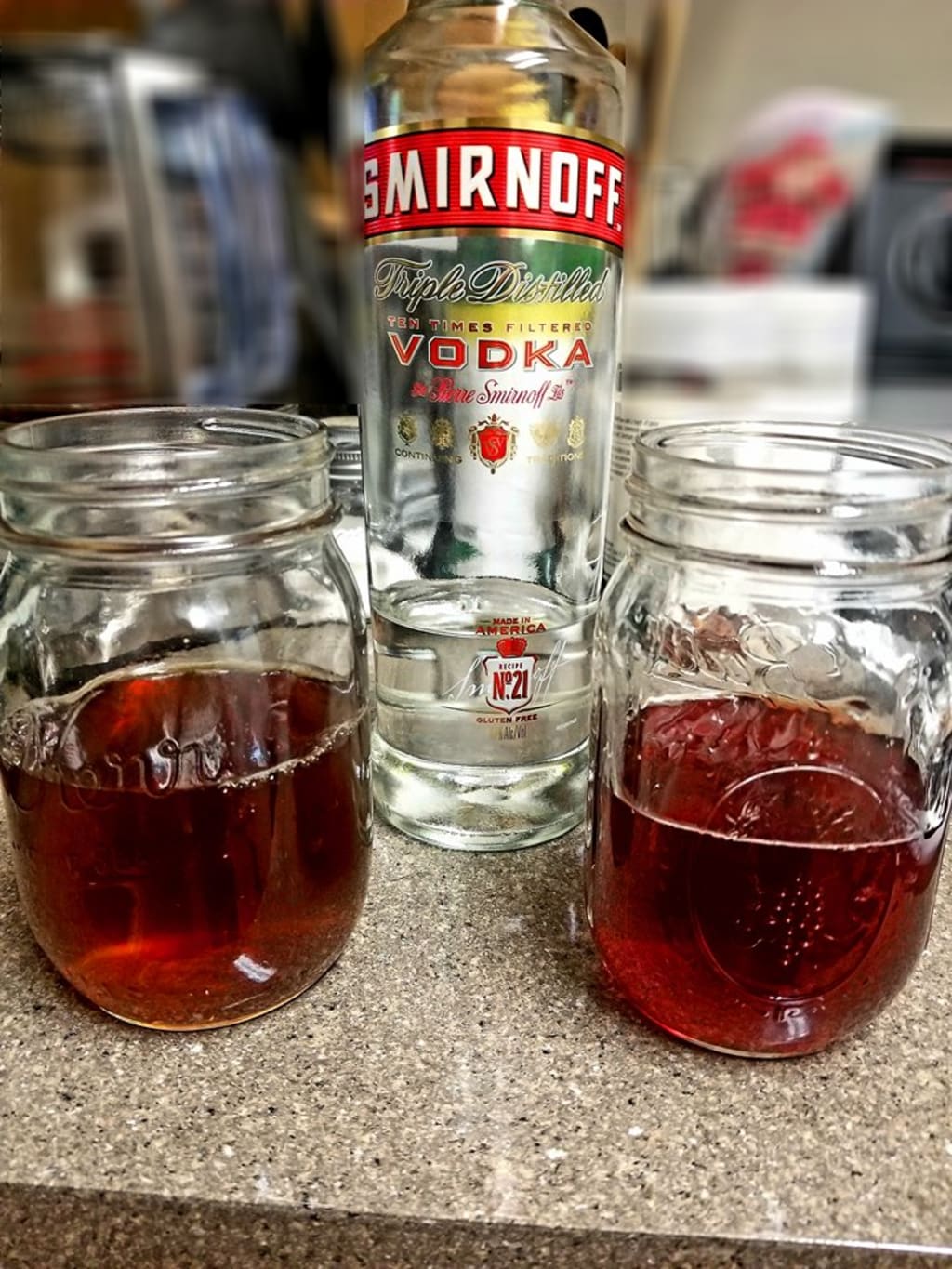 Moroccan Mint Vodka and Blueberry Pineapple Vodka
Hello, and thank you for joining me for another fun review! Tea is my passion, and I am making it my goal to share my passion with the world! Today, I decided to try and make something I've never made before: tea infused alcohol.
Now, I was inspired to do this by a drink I had at a local bar in my hometown. It used green tea infused vodka, crushed limes and cucumbers, and seltzer water. It was the most refreshing alcoholic beverage I've ever had, and since then I have been trying to make my own infusions, for fun.
I'm going to be honest, now; I'm not much of a drinker. I don't know a whole lot when it comes to flavors of alcohols or anything, so in this article, bear in mind that I'm completely and totally winging it. Still, I had a lot of fun winging it, so let's dive right on in!
But before we do, let me remind you to DRINK RESPONSIBLY. Have a glass or two of water and white or green tea, then make sure your own Hangover Cure is nearby, and then have some fun!
Choose your ingredients.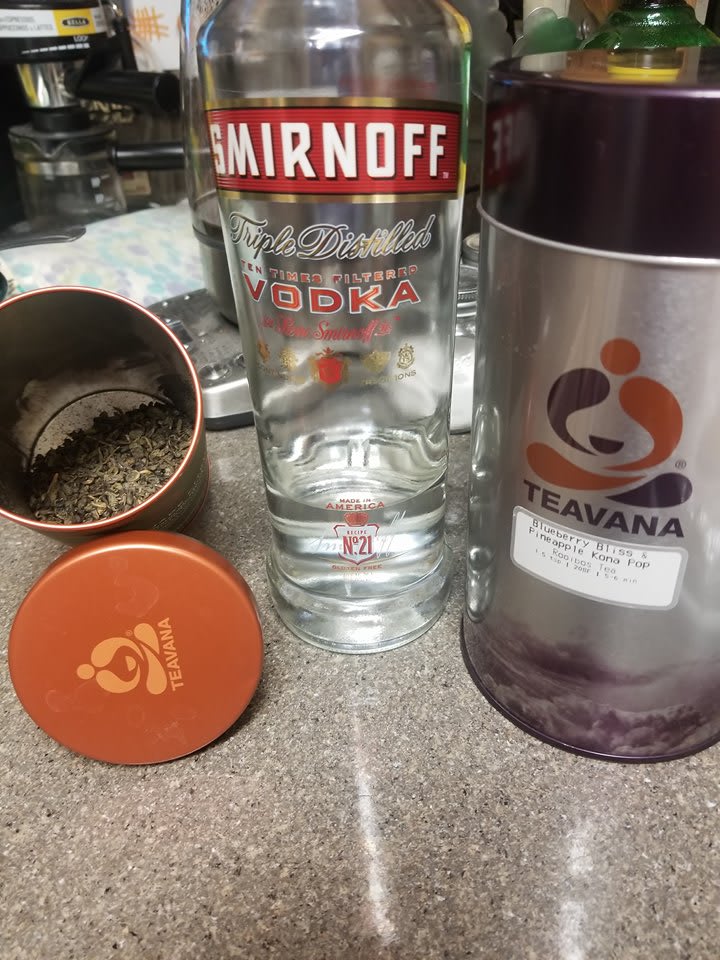 So the first step in infusing tea and liquor is to pick your tea and your liquor. I've only really experienced a select number of alcohols, honestly. My drinking experiences typically include Angry Orchard Hard Cider, or the occasional mixed drink (in which I can never know the ingredients). As I said before, I'm not usually a big drinker.
I decided to go with vodka, for no real particular reason. Upon doing research of tea infusions, vodka just so happened to be the most common liquor used. Now, most sites will try to tell you to buy a more top tier vodka, and to never go with the cheap stuff.
Based on my research, this is not a bad suggestion. However, some of us don't want to spend more than $30 on a bottle of booze; I don't even want to spend $30! So I picked this particular brand because it was $14, and I haven't really had any bad experiences with Smirnoff.
Moroccan Mint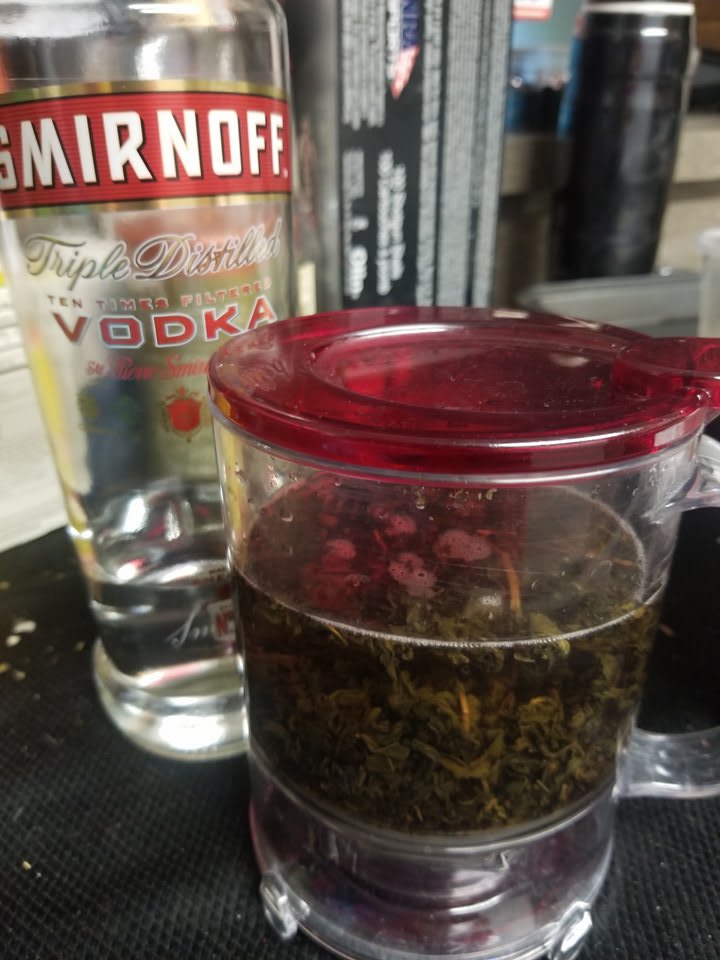 I couldn't decide which of my teas I wanted to use; I have a lot. So in the end, I decided to use two different teas. The first tea I used is Moroccan Mint, because I love the fresh flavor.
If you recall from my Hangover Cure article, Moroccan Mint is a green tea that uses peppermint leaves and Gunpowder green tea.
The green tea adds various health benefits to the infusion, such as antioxidants and vitamins and minerals, which helps especially when you're drinking throughout the night. However, I'll be the first to admit, I'm not sure how the alcohol affects those properties, or if it does at all.
I decided to use my Perfect Tea Maker because it is perfect for straining teas, which comes in handy during the infusion process. I put five teaspoons of the tea leaves into the tea maker, and filled it with the vodka. For this article, since I was just experimenting, I only filled up the tea maker halfway. If you wanted to make a whole bottle of Moroccan Mint infused vodka, you could use tea bags, a tea ball, or fill the bottle with the tea leaves and use a mesh strainer when you're done.
Now, the steeping time is tricky. Since this is a cold brew, it will take longer to infuse the alcohol with the flavors of the tea. So I let it sit for around 2 1/2 hours. According to most websites I visited, you could steep for a lot longer. However, green tea leaves are sensitive; allowing it to steep for too long can result in a bitter product. Other teas can be steeped for much longer, but with this being my first tea infusion, I wasn't trying to take any chances. Every hour I would try the infusion, just to be sure it wasn't growing bitter.
Two and a half hours was the perfect brewing time (for me) for the Moroccan Mint. The vodka took on a nice green tint, and has a minty and earthy flavor, with a large kick from the vodka. As a straight drink, I wouldn't recommend it, unless you enjoy really strong drinks. As a mixed drink, however, it's perfect! Use it in a mojito, or a minty martini, or try my first "winging it" blend...
Winging It Blend #1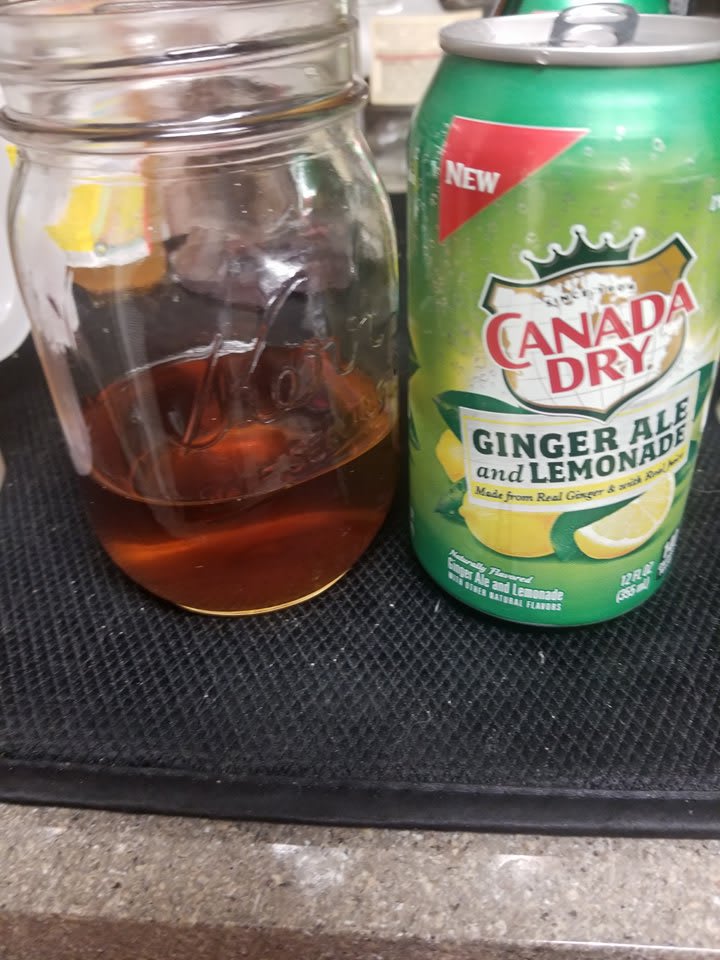 I'm a fan of simplicity, personally. Canada Dry's new Lemonade Ginger Ale soda is delicious on its own, and perfect in a mixer.
The Moroccan Mint vodka is minty and strong, so for this mix, I used two shots, and a whole can of the lemon-ginger ale. The mint played really well with the lemon-ginger flavor, and the ginger ale adds a nice, bubbly touch.
If, by chance, you are not a big fan of mint, or if you think the tea infusion is too strong, just use one shot. The lemon-ginger ale should mask some of the kick and it will help.
I chose this blend mostly because I'm not exactly great at making my own mixed drinks, but also because I like to keep it simple. But, if you want a different recommendation, try plain seltzer water and some crushed limes and cucumbers, or maybe just some lemon juice and seltzer. Either way, you really can't go wrong.
Blueberry Bliss and Pineapple Kona Tea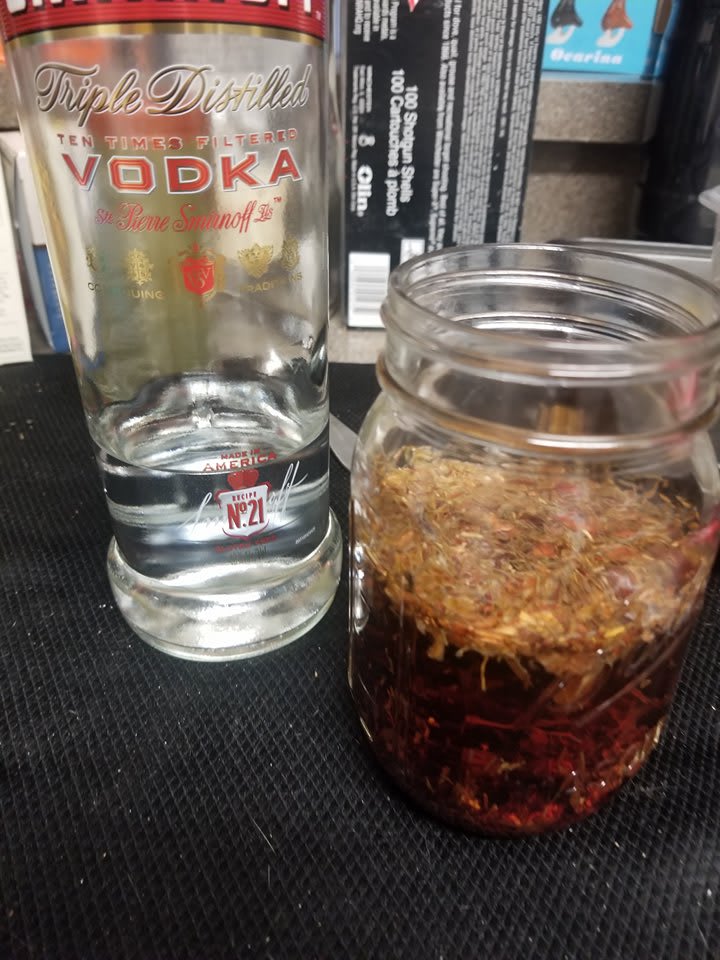 The next tea I used was my Blueberry Bliss rooibos and Pineapple Kona herbal blend, because I love fruity teas; the same goes for alcoholic beverages.
I only have one Perfect Tea Maker, so I had to steep my next tea in a mason jar. My goofy self forgot I had a mesh tea strainer I could have used. It certainly came in handy when straining the tea leaves from the vodka at least, but hindsight is 20/20.
Anyway, I scooped six teaspoons of the tea mix into my mason jar, and filled it halfway with the vodka. Based on what I read, herbal infusions can steep for a lot longer, so if I had let it steep a while more, the infusion would likely have been stronger and more flavorful. However, I was OK with letting it steep for 2 1/2 hours, because it still had a plenty strong flavor, and it smells divine.
Again, by itself, the tea infused vodka may not be the best drink. However, in a mixed drink it is delicious. You could use it in a blueberry pineapple martini, or maybe in a cosmo, or you could try my second "winging it" blend...
Winging It Blend # 2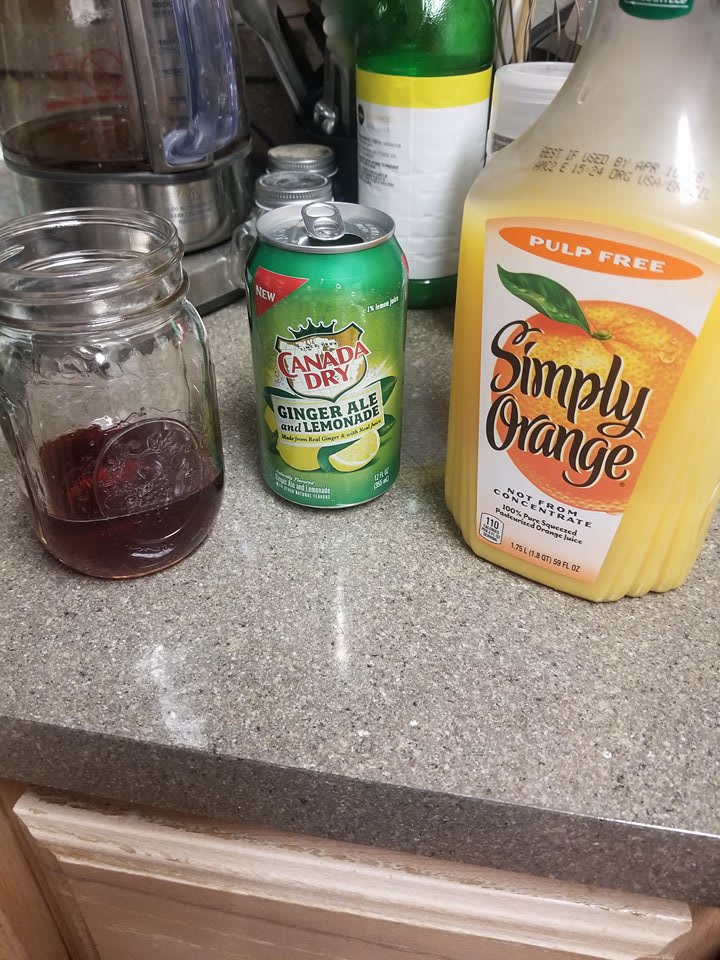 As I said before, I'm a fan of simplicity. So, I used three shots of the blueberry pineapple vodka, then filled up half way with Canada Dry Lemonade Ginger Ale, and then I topped it off with some orange juice.
The mixed drink is fruity and refreshing, but would have been better with pineapple juice, I think (I didn't have pineapple juice). But the tartness from the blueberries and pineapple complimented the orange juice well, and the ginger ale added a nice, bubbly lemon-ginger flavor.
It's a simple mix made from things you might have in your own home.
Closing Thoughts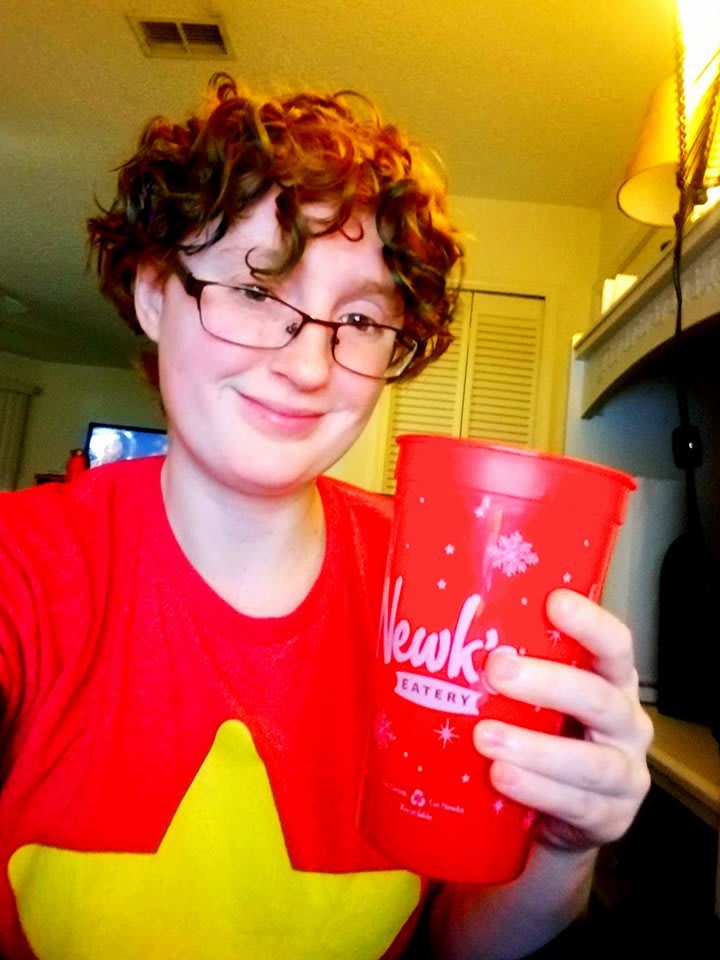 So all in all, infusing tea with alcohol is actually not very complicated. The biggest issue is keeping an eye on the infusion, while it's steeping, so that you don't end up with a bitter brew.
However, if you're keeping tabs on your infusion, you should be fine. So I am hereby issuing a challenge; make your own tea infusion, and concoct your own amazing mixed drinks.
Just because I'm kinda lousy at making mixed drinks doesn't mean I won't enjoy seeing what you all come up with!
Tea is so versatile; it's one of the reasons I love it so much. You can use it in anything! I hope you all enjoyed this article! I certainly had fun writing it. Stick around for more fun and exciting pieces! Remember, there is a great big world of tea out there, and together we can explore every last inch of it!!
- Ginger
P.S.
Like what you read? Support my blog by sharing with your friends and family! Share far and wide! Or, if you wanna be extra nice, help me keep my blog going by dropping a gift down below. Have a suggestion for a review? Hit me up on my FB page, or my Instagram, or my Twitter! I love hearing from you all! Follow me on Facebook, or on Instagram, or on Twitter.
I greatly appreciate your unending support! Thanks, guys!
diy
I am a writer, tea enthusiast, and a massive nerd. But at least I'm cute! Follow me for fun and educational posts!
Receive stories by Alexis Hustus in

your feed