Popular Rum Cocktail Recipes Everyone Should Know
If you want to be the life of a party, these rum cocktail recipes will help you get your guests feeling great.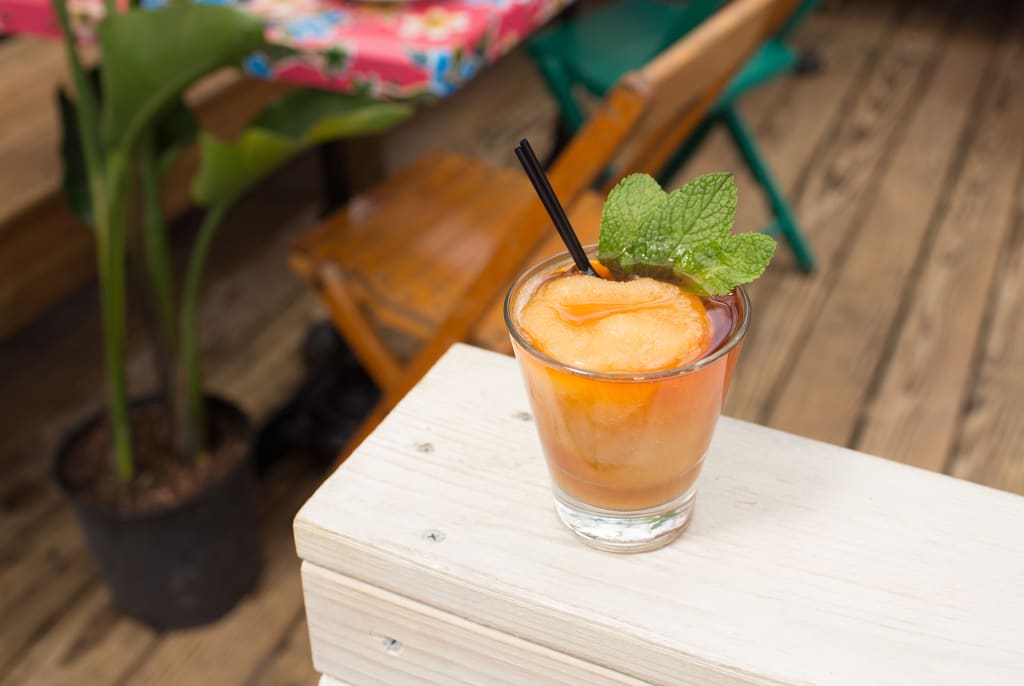 Rum is a liquor that just screams "Party Time!" When you're drinking rum, you know you're in for a treat—or at the very least, a pretty interesting time. The problem with rum is that it's not always easy to work with when you're making cocktails.
When improperly mixed, rum cocktail recipes have a tendency of tasting funky or overly sweet. Home bartenders who want to treat guests to a nicer mix can avoid the pitfalls of rum by giving these classic drinks a whirl...
One of the oldest rum cocktails in the book is a classic Daiquiri recipe. Unlike the monstrosities you might get at Applebee's, a classic Daiquiri only has four ingredients, doesn't require a blender, and also has a nice light taste.
We're willing to bet that this is a drink you've been making wrong for years. Don't worry, we won't judge. It's been bastardized over the years, and it's time to bring it back.
If you love Moscow Mules, you're going to adore a Dark and Stormy. This features one of the few rum cocktail recipes to incorporate the spicy kick of ginger beer into its flavor profile.
What really is awesome about the Dark and Stormy is how easy it is to make. Its crisp flavors and low prep time make it one of the best rum cocktails for parties.
Christmas wouldn't be the same without spiked eggnog, which is why it's one of the most well-known rum cocktail recipes in the world. Making this, much like a Dark and Stormy, is a cinch. All you really need to do is add a shot of rum to your eggnog.
That being said, this is a very seasonal drink. Trying to drink this during the summer might make you a little bit queasy, simply because the recipe is so heavy.
Another party-ready cocktail you might want to check out is the Silver Daisy. This is a very old school drink that is actually a twist on the classic French 75. If you're a fan of sparkling rum cocktails, this is a must-see.
This simple recipe will add a little upscale tiki flair to your next get-together, all without being overly sugary. You will need high quality rum and bitters to really get the most out of this recipe. Trust us, it's well worth the splurge.
Yes, we've all heard the song that asks us if we love Pina Coladas and getting caught in the rain. That alone shows how much of an iconic drink this is—and really, you don't get that kind of popularity in the cocktail world without being good.
Believe it or not, you don't need a blender to make a good Pina Colada. The classic version is a lot less sweet, a lot more creamy, and isn't supposed to be served blended. Even so, it still gives you that delicious pineapple-y, coconut-y taste that has made so many summers awesome.
If you're okay with spending a lot of time muddling mint leaves, then you may want to consider making Mojitos one of your go-tos. Known for being incredibly light, crisp, and minty, a Mojito pairs well with just about any food you bring out.
Lately, the Mojito has become somewhat synonymous with parties, and for good reason. Hosts of major get-togethers will be happy to know that you can actually find a big batch version of this classic rum cocktail. It's just as refreshing, and trust us, your guests will love it.
Ah, the Long Island Iced Tea. Not many other easy-to-do rum cocktail recipes have been at fault for as many people getting kicked out of bars like this one. The reason why? Well, the "LIT" is a seriously strong drink that combines multiple liquors into one tall glass.
Making an LIT isn't actually that hard to do. Getting people to stop drinking them before they puke? A bit of a different story, if you roll with a hard-partying crowd.
If you are a fan of tiki bars or just a major admirer of the bizarrely pretty world that Don the Beachcomber invented, then you already are probably well-acquainted with many tiki-centric rum cocktails. One of the most popular tiki cocktails on this list is a Mai Tai.
This sweet-but-tart cocktail combines grenadine, orange juice, dark rum, and a hint of freshly squeezed lime to make a real tropical party in your mouth.
Another invention by Don the Beachcomber is the Zombie, and it remains one of the headiest rum cocktail recipes to be associated with surfer culture. Zombies don't just have rum as a main ingredient; they add brandy in there too.
Realistically, the best way to describe a Zombie is to blend a bunch of different types of rum with some brandy, and then add pineapple juice. Drink too many of these, and you will probably feel like a zombie in the morning.
It might be only half past twelve where you are, but it's definitely 5 o' clock somewhere—and that means someone is probably ordering this classic rum cocktail. Though they're best sipped on lazy beachgoing days, this is a drink that will blow you away any day of the week.
Hurricanes are made using a variety of light and dark rums, mixed with passionfruit syrup and other goodies. The end result is a sweet treat that has a slightly tart aftertaste. They're deceptively strong, and always are a welcome treat.
Finally, if you are looking for rum cocktail recipes that are made to save wines that aren't exactly top shelf, you'll love the Bishop Cocktail. This cocktail is pretty much foolproof and works to tone down the flavors of wine you don't like.
All you really need to make a rudimentary Bishop Cocktail is rum and red wine. However, there's nothing wrong with jazzing things up once in a while.