I Put Balsamic in My Cocktails and You Should, Too.
This simple ingredient lifts up a flat drink by adding texture, flavor, and a bit of brightness.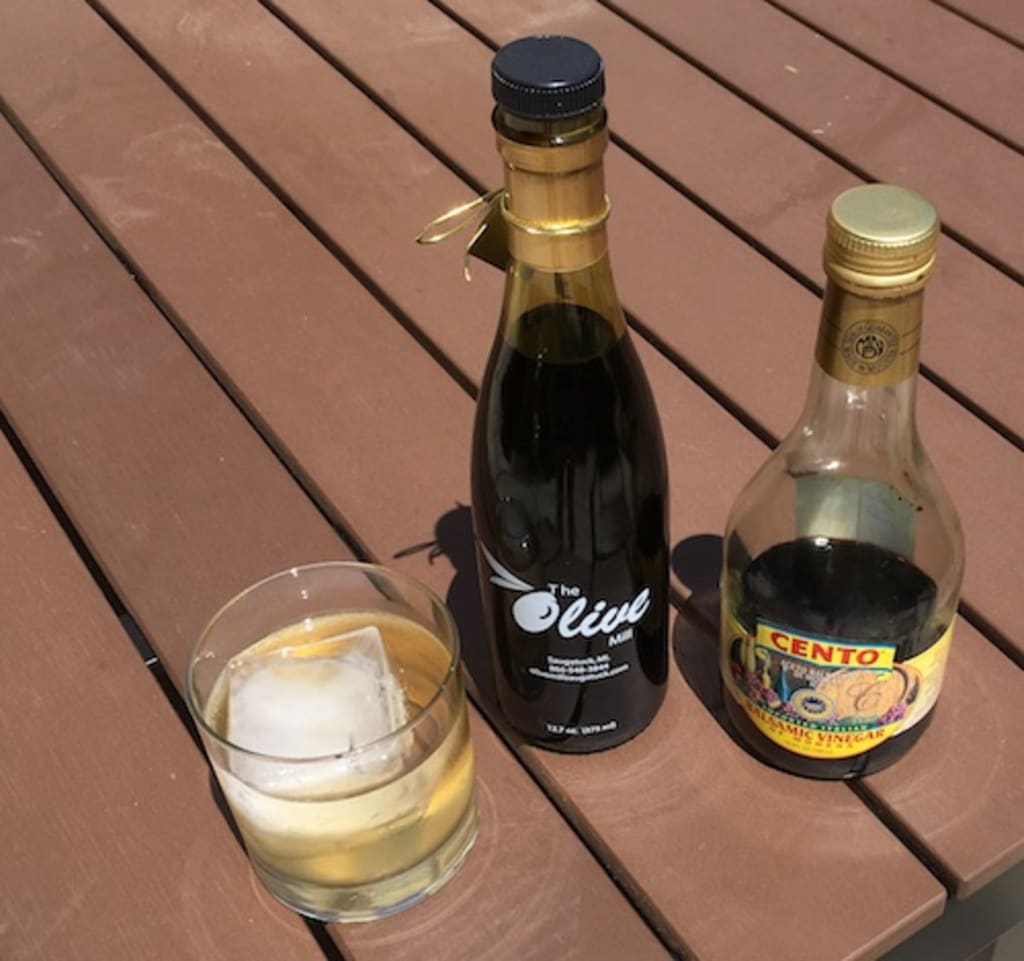 A light, refreshing drink with a hit of tartness.
Too often, I find myself in my kitchen trying to recreate a cocktail from a bar or restaurant and it just straight-up misses the mark. No matter how closely I watch the bartender, or how much he or she was willing to share information about the craft as my drink was being prepared, some homemade replicas just fall flat. Too sweet, not enough dimension, not enough mouthfeel. At that point, there's not much I can do to save it… so I simply go in another direction.
Bitters used to be my go-to ingredient to save a sub-par drink, but I've discovered they aren't that versatile and it's a miss more often than it's a hit. Bitters are excellent when used properly, but tend to work best in whiskey- or bourbon-based drinks.
For something lighter, pepperier, perhaps with a little bit of sparkle, balsamic vinegar (or simply "balsamic") can save the day. This is vinegar that has been aged to achieve a darker color, a thicker texture, and richer flavors. Quality and price vary (a lot) but basically, if you'd put it on your salad, it's good enough for your mixology experiments.
When applied to a cocktail, balsamic adds a slightly oily texture that improves viscosity (particularly in a drink that was too thin to begin with) and actually results in a pleasant mouthfeel. The acid tones down and balances out any excess sweetness. Because it's sweet yet tart, it's a perfect complement to fruit flavors. And you'll feel wicked fancy stirring in a few dainty drops.
Of course, this idea isn't exactly new — and it's been gaining prominence ever since the craft cocktail revolution got underway. Still, balsamic vinegar adds a very distinctive note. It makes a cocktail memorable. And for that reason, I'm surprised I don't see it more often than I actually do.
Most mixologists tend to stick with basic balsamic vinegar, but your local grocery store probably offers the more common variations, such as fig, raspberry, or cherry. Specialty stores often carry a wide variety. My favorite, The Olive Mill in Saugatuck, MI, offers about 20 different flavors of balsamic vinegar — and unlimited samples. I currently have a bottle of Red Apple and a bottle of Coconut Mango, and I'll probably pick up the Chocolate on my next trip.
Here are a few more things to keep in mind if you decide to play with balsamic vinegar at home:
Try adding a drop or two to your favorite cocktail (one you make often) to see how the drink changes
Stick with light, refreshing liquors like gin or vodka (at least at first)
Use a light hand — it's really easy to go overboard
Don't be afraid to try new flavors