The North Shore's Best Mai Tai
What I Drank on Vacation, Part 1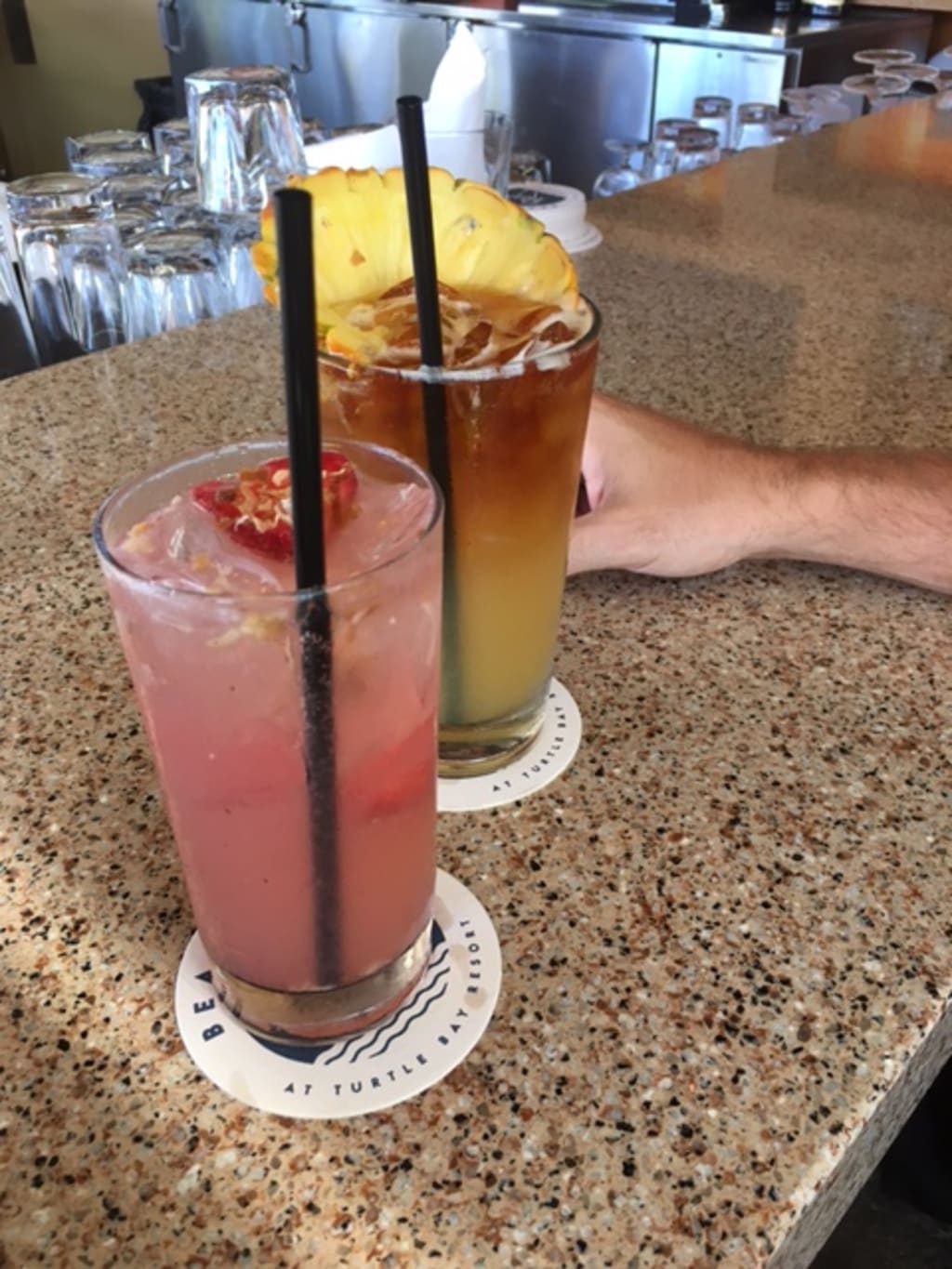 The Wave Runner and Mai Tai at Roy's Beach House, Oahu
You haven't heard from me because a month ago I was in Hawaii, and ever snce then, I've been thinking about nothing but Hawaii. While I was in Hawaii — Oahu and Maui, to be precise — we saw the sights, hit the waves, met some sea turtles, and drank. A lot. We visited breweries. We visited distilleries. We visited a freakin' ton of bars.
So, suffice it to say, my next few pieces are probably going to be heavy on the reminiscing, because honestly, all I want to do lately is figure out how I can go back.
On one of the best days of the trip, we took the bus (or, TheBus, as it's officially called) from our hotel in Waikiki up to Oahu's famed North Shore. It was a trek — several hours up there, with a stop at the Dole pineapple plantation, and several hours back. As luck would have it, if you're ever in a position to take this journey yourself, you'll need to switch buses at Turtle Bay Resort. If you've ever watched Forgetting Sarah Marshall, you'll understand why we wanted to wander around Turtle Bay Resort.
(Not that I expected to see Jason Segel sitting alone at the bar, getting increasingly drunk from a steady stream of girly pastel frozen stuff, but you know, I had fun imagining it was a possibility. Just being there was a trip.)
In an effort to look like we belonged there instead of like a couple of gate-crashers, we settled into the bar at Roy's Beach House (which we think served as the bar in the movie, but still couldn't quite be certain). This Hawaiian fusion restaurant is one of Roy Yamaguchi's, related to the Roy's chain, and as such, is an expensive yet pleasant way to relax for a few hours and act like you're part of the scene. The setting was perfect with a clear view of the beach, the bartenders were extremely friendly and welcoming, and we were thirsty.
So, on to the drinks. I ordered a Wave Watcher while my husband ordered the Mai Tai. (I was a little Mai Tai'd out at that point.)
The Wave Watcher was great. It was fruity and crisp. I really wish I remember what was in it (my photo shows strawberries) but I wasn't in note-taking mode and I erroneously assumed the restaurant's drink menu would be online for later reference. Live and learn. Anyway, while my Wave Watcher hit the spot, I actually ended up being jealous of my husband's Mai Tai. It was a pretty standard Mai Tai, following the classic recipe of dark rum and light rum blended with tropical juices and garnished with a giant pineapple wedge. (Some recipes also include grenadine and Curaçao; again, I apologize for not taking notes.) As I was saying, Roy's Mai Tai was pretty basic, but it hit hard, even though we were both getting a little rum-numb.
After that, my husband ordered a beer. A totally unremarkable beer. I think it was just so we could sit there a while longer without feeling like freeloaders.
Before we left to catch our bus, we wandered around the breathtaking grounds a bit longer; I was reluctant to say goodbye. We saw an endangered monk seal sleeping on the beach, and we found the resort's outdoor bar, where we relaxed for a while and watched a group of surfers cruising happily along the waves.
The Wave Watcher and Mai Tai might not be the best drinks we had in Oahu, but they were certainly among the most memorable. Sometimes, that's more important.
Oh, and I managed to snag a few fresh cardboard coasters as souvenirs.