Best Infused Moonshine Recipes for Any Occasion
This Prohibition staple can come in any flavor you can think of. Check out the ten best infused moonshine recipes for any occasion, and get to work!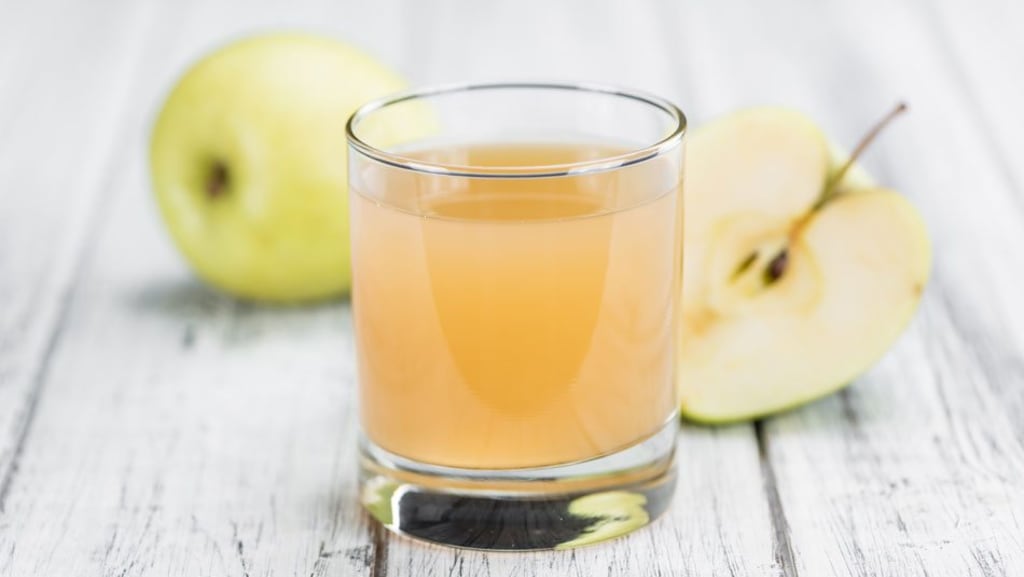 Bootleggers, frontiersmen, Southerners: These are the people you generally think of when you hear the word "moonshine." You might think of moonshine as an alcohol that was popular in the past. In that case, you would be surprised to find out that moonshine is sold at nearly every liquor store today.
The best part? People have started infusing their moonshine with all sorts of flavors, from apple pie to kiwi. Take your moonshine to the next level with these 10 best infused moonshine recipes!
Blueberry Pie Moonshine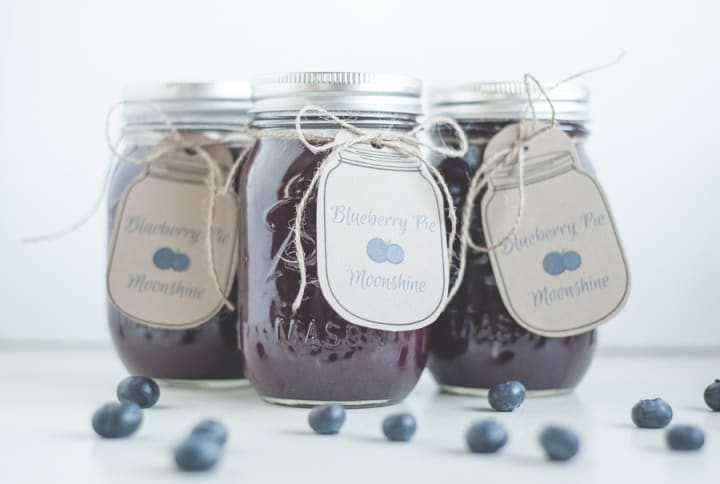 Moonshine has a long and complex history in the United States, but that doesn't mean moonshine infusion recipes have to be that way. Like vodka, you can infuse moonshine with practically anything. Even the kind of alcohol that is used to make moonshine can change. One of the most delicious flavors of moonshine is blueberry pie.
It does take a little bit of effort, but moonshine infusions are easier than you'd think. For this homemade moonshine recipe from Learn to Moonshine, you'll need 1 lb of blueberries, 1/2 cup of white and brown sugar, 1/2 gallon of blueberry juice, and 1 tsp of vanilla extract. (Note: You can replace the blueberry juice and vanilla extract with flavored vodka if you wish.)
Last, but not least, you'll need 1/2 gallon of moonshine. Moonshine is a high proof alcohol, so make sure you choose the proof that is right for you—especially if you're considering using flavored vodka.
You're going to boil everything except the alcohol in a large pot. Once the mixture reaches a boil, simmer and stir consistently for about 25-30 minutes. Let it cool, mix it with your plain moonshine, and pour into mason jars. Now you have one of the best infused moonshine recipes that will get you sufficiently sloshed.
Apple Pie Moonshine
Apple pie flavor moonshine is by far the most popular. Wide Open Spaces suggests to start by stirring 1 quart of apple juice, 1 gallon of apple cider, and 10 cinnamon sticks in a large pot. Once you've brought that mixture to a simmer, stir in 3 cups of brown sugar and 1 cup of white sugar. Once the sugar is completely mixed in, let your mixture cool.
Once there is no warmth to it whatsoever, stir in a 750 ml bottle of Everclear or moonshine, and 1-2 cups of spiced rum. Get your mason jars out and start stockpiling!
Strawberry Rhubarb Moonshine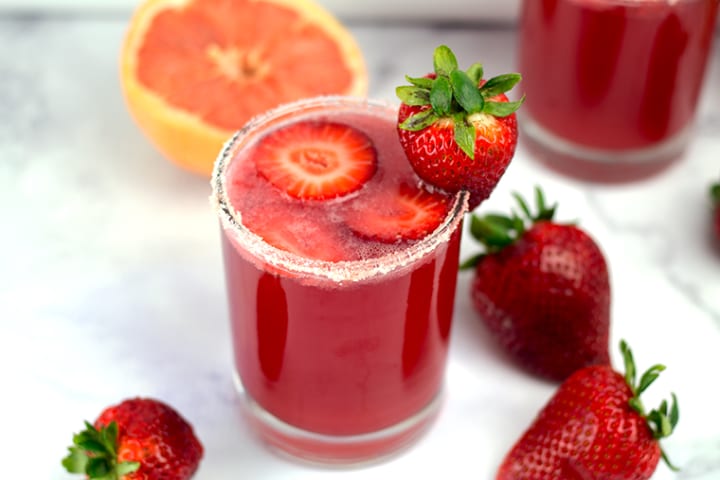 You can enjoy strawberry rhubarb moonshine any time, but it is one of the best infused moonshine recipes to enjoy in the summer. This simple recipe from the Crock Pot Ladies calls for 1 lb of strawberries and 2 cups of chopped rhubarb, 2 cups of sugar, and lastly, 3 cups of Everclear/vodka/ regular moonshine/whatever (interchangeable).
Blend the strawberries and the rhubarb into a puree, then put it in your large pot with about 4 cups of water. Stir in your sugar and bring this mixture to a boil. Before you let it cool, you're going to strain all of the chunks out of your mixture so that you're left with just the liquid. Let it cool down to at least room temperature and combine with your alcohol.
Raspberry Moonshine
Making raspberry infused moonshine is fairly easy, but it does require patience. You're going to mash up 9 oz of raspberries in your quart mason jar, and then add your 2 cups of moonshine. Seal and shake. Then, Wide Open Eats advises to leave it alone for 1-3 weeks.
Realistically, you're supposed to let all of your other homemade moonshine recipes age for a little while before you drink them, too. Professionals always age their alcohol, to give it a more robust flavor. However, your waiting time is up to you.
Once you're ready, take 2 cups of water and 1 1/2 cups of sugar and bring to a boil. Strain your raspberries to separate them from the moonshine. Pour your simple syrup mixture into your moonshine once you've let it cool and let it age for however long you like. The best infused moonshine recipes would all benefit from a longer aging process, but if you can't wait, you can't wait! We get it.
Peach Moonshine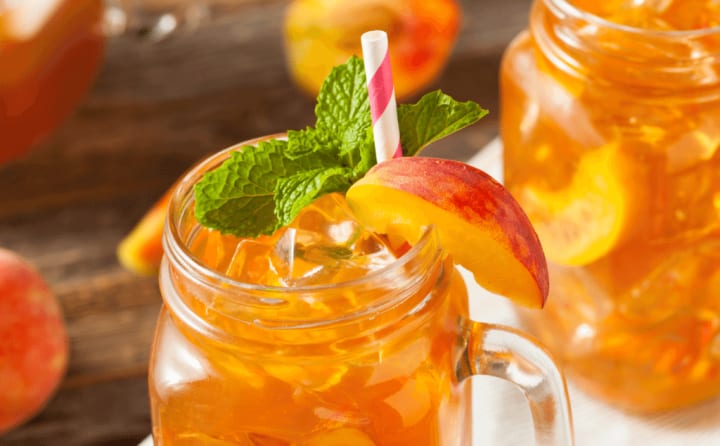 Planning on hosting some guests? Don't know what to give your friends for the holidays? Don't just make cocktails for your Christmas party, make enough homemade peach moonshine to gift everyone. Here's a quick rundown of Call Me PMC's recipe.
In a large pot, boil 64 oz white peach juice, 1 cup brown sugar, 4 peaches (quartered), and 3 cinnamon sticks. Make sure all of the sugar has been dissolved before you let the mixture cool. Mix in 1 1/2 cups of Everclear and 1/2 cup of peach schnapps. Let the infused moonshine age for at least 24 hours and get ready for a party!
Kiwi Moonshine
According to Learn to Moonshine, when using a simple fruit like kiwi, raspberry, or blackberry, you're going to follow the same basic process for all of your infused moonshine recipes. It's all about letting the simple syrup and letting the fruit sit in the moonshine for at least a few days to soak up the flavor.
The cool thing about kiwi moonshine is it's one you won't likely find on the shelves. The more common flavors, like apple pie or blueberry pie, are relatively easy to find. You can make the best infused moonshine recipes using whatever fruit you want right at home. If they don't sell it, do it yourself!
Cherry Pie Moonshine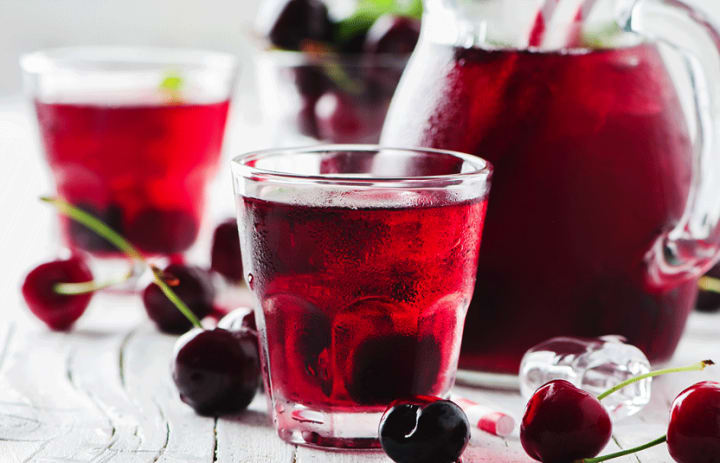 If you love cherry pie, you're going to love the Crock Pot Ladies cherry pie flavor moonshine recipe. Simply take 30 oz of canned cherries in heavy syrup, 1/2 of cup sugar, and 32 oz of cherry juice and boil. As always, let it cool, then mix in your 2 cups of alcohol. If you really want to go for that pie flavor, throw in a dash of vanilla extract or even some flavored vodka.
Blackberry Moonshine
Flavored moonshine is great on its own, but can also be a wonderful addition to your favorite cocktail recipes. Use your homemade moonshine to give your cocktail a stronger flavor profile—and we do mean stronger. Remember, since moonshine is already an incredibly high proof alcohol; be careful with what you mix it with!
Pumpkin Pie Moonshine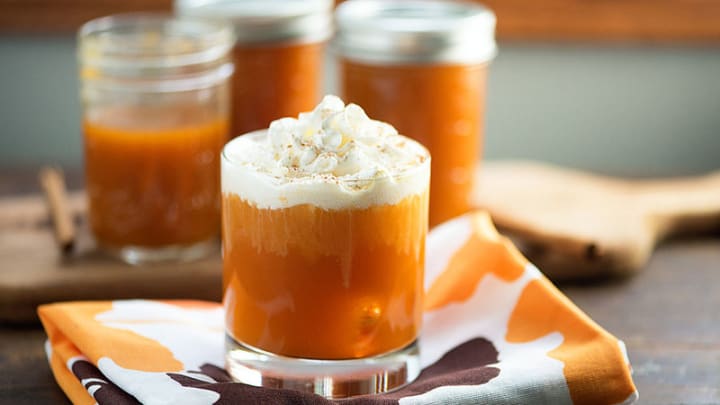 This is a fantastic drink recipe to try for Thanksgiving—and is one of the best infused moonshine recipes in general. Take one 29 oz can of pumpkin puree, 2 cups of brown sugar, 2 tsp of cinnamon and ground ginger, 1/2 tsp of nutmeg, and 1 gallon of apple cider and heat in a large pot. Once all of the sugar has been dissolved and you have reached a consistency that you like, let it cool. Mix in 2 cups of moonshine and 2 cups of whipped cream vodka and enjoy your liquid Thanksgiving dessert, courtesy of Genius Kitchen.
Caramel Apple Moonshine
This Wide Open Eats recipe yields just enough for two. It requires 3/4 of cup apple juice and apple cider and 1/2 of tsp cinnamon. You know the drill—bring to a boil, let simmer, and cool. Throw in 2 oz of moonshine and 2 oz of caramel vodka and you've got delicious drinks for you and your date.
We hope you enjoy all of the best infused moonshine drink recipes, and do so responsibly.
cocktails
About the author
A reformed alcoholic, Charlotte has finally learned to enjoy in moderation. She is a total wine lover who will go wherever the best product is. Wine festivals in New York? Vineyards in France? The simple home of an Italian matriarch? She'll sip the best of what the world has to offer and tell you all about it.
Reader insights
Be the first to share your insights about this piece.
Add your insights