Best Corkscrew Wine Openers of 2018
Looking for the best corkscrew to open your favorite bottle of wine with ease? These are the most reliable corkscrew wine openers that won't break the cork in half.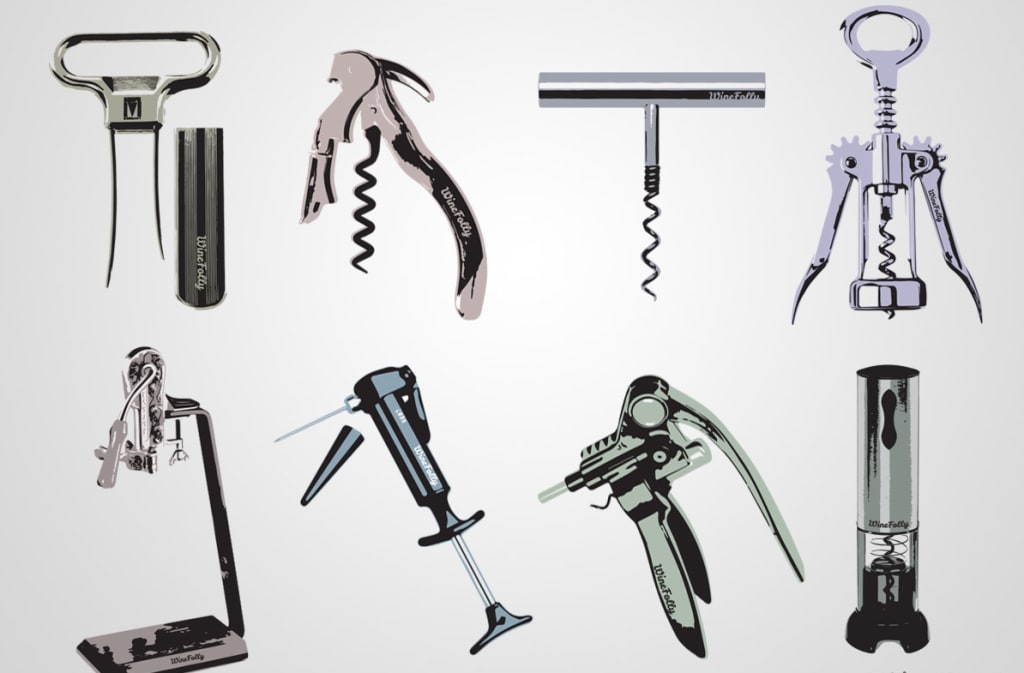 It was Friday and I burst out of the doors at work and headed home, already salivating over the wine at home. I had no plans but to "wine" down with a bottle and binge watch The Office. The more eager I was to drink the wine, the rougher I was trying to open the bottle. Then the worst thing happened—the cork split in half. I cursed at my new corkscrew for being the cheapest tool ever.
Nothing is worse than breaking the cork in half. The majority of the time, it's the corkscrew at fault, not the way you pull it. After that horrifying incident, I decided to look for another new wine opener. I wanted one that I knew was a popular choice, maybe even one that was on the ultimate gift guide for wine lovers.
After looking online, I came across the most popular corkscrew wine openers of the year and bought two for myself because of their popularity. If you're in desperate need of a corkscrew, check out these 10 reliable ones that won't betray you like mine did.
Some of us aren't crazy about the sophisticated-looking corkscrews. I don't blame them; just open the bottle already! We're looking for a wine bottle opener that's pretty small, too, so it doesn't take up so much space.
That's why Pulltap's corkscrew is among the best corkscrew wine openers. It doesn't look like much, but it's very powerful. It features a unique hinged double-lever system that's easy to use when lifting the cork out of the bottle. It also includes a serrated knife blade that's used to cut the foil wrapping off of the wine bottle.
If you thought the previous corkscrew was a bit too basic for you, check out True Decor's Bronze Double-Hinged Waiter's Corkscrew. This classic wine opener is still small in size but convenient for storing in the kitchen drawer and easy to bring with you to dinner parties.
This corkscrew includes a curved ergonomic handle for precise control and comfortable gripping. It's constructed from stainless steel and it's known to last much longer than regular wine bottle openers because it's rust-proof. Open your bottle and pour it into one of the coolest wine glasses ever made, and you're set for a good evening with yourself and your wine.
I'm personally not the biggest fan of the double-hinged corkscrews because I'm terrible at opening wine bottles with them. This is the main reason why I stick to winged wine bottle openers. I actually have the Wing Corkscrew Wine Bottle Opener by Foho and all I can say is that I never have trouble opening my most stubborn wine bottles.
Foho's corkscrew is a great choice among the top corkscrew wine openers out there for its reliability and strength to lift all types of corks out of the bottle. It has a zinc alloy body and stainless steel corkscrew for extra strength. The soft touch panels are designed for comfort and allow you to easily grip the opener. In addition, this purchase comes with a bottle stopper you can use to extend your wine's life in case you threw out the cork of an unfinished bottle.
Vertical corkscrews are really popular among wine drinkers because of their unique way of opening a wine bottle. Rabbit's wine bottle opener can swiftly open your favorite bottle of wine in an instant without breaking the cork. Its design also makes it easier to handle when using it. Rabbit's smooth Vertical Lever Corkscrew features a die-cast metal lever handle and has a convenient built-in foil cutter to remove the wrapping before extracting the cork.
How about impressing your date with an electric wine bottle opener? Electric bottle openers are always hassle-free and open up all of your wine bottles within seconds. Your date doesn't have to sit there and wait for you to screw in the corkscrew anymore when you have this electric one on you!
Oster's Cordless Electric Wine Bottle Opener can open up to 30 wine bottles in a single charge, which makes it one of the top corkscrew wine openers you need in your kitchen. It operates with a single push of a button and the cork comes right out of the bottle. This electric corkscrew comes with a foil cutter as well, so everything about this will be easy.
Winged corkscrews are one of the most classic corkscrew wine openers on the market, but this one certainly looks more on the high-end side. OXO's wine bottle opener has an extended body for more protection and precise cork extraction. It's also designed in a more professional style and is a great accessory for your kitchen.
This corkscrew comes with a foiler cutter and curved handles that help you lift the cork out of the bottle. The self-centering screw can remove all types of cork with ease and no pulling required.
The Deluxe Corkscrew by Houdini is a one of the cooler choices of unique corkscrew wine openers because of its high-quality lever style. This wine bottle opener can open any size wine bottle and it has actually been tested for 20,000 cork pulls by an independent laboratory.
The Houdini corkscrew features an extra spiral as well as a matching foil cutter. It has a black velvety body and chrome lever handles for a constant, smooth grip whenever using it. This wine bottle opener can pull cork straight from the bottle within just three seconds and even automatically releases the cork! Then you're ready to make the drinks you can make with wine perfect for any occasion without so much as a grunt.
Le Creuset is an amazing company that creates a wide variety of kitchen appliances, including corkscrews. Their black, sleek wine bottle opener is a well-known tool among many wine lovers and works precisely for your toughest wine bottles. The corkscrew has a soft-touch handle and panels to control your balance and have a comfortable grip.
The Activ-Ball Corkscrew can effortlessly remove the cork right after it has been removed without pulling or tugging. Its flexible body is ideal for positioning on any type of wine bottle out there.
Have you ever come across the Anna G. Corkscrew by Alessi? Not only is it one of the best corkscrew wine openers for its reliability, but also for its unique design. This corkscrew looks like a woman wearing a dress. In fact, this is Alessi's signature design and this corkscrew can be a great decorative piece in your kitchen, too.
It's made from both stainless steel and thermoplastic fiber for durability and comfort whenever you're a bit too eager and might be trying to roughly remove the cork out of your favorite wine bottle.
Lastly, Legacy has created one of the most stunning corkscrew wine openers I've ever laid my eyes on. If you want to impress your guests at your dinner party, I highly suggest this specific wine bottle opener. Despite its extravagant appearance, it can easily open all of your wine bottles.
In a superior style and quality, the Legacy Corkscrew can uncork bottles with a simple pull on the lever. In fact, this corkscrew is a favorite among many wine connoisseurs. It's heavy duty and a combination of an antique wine opener with modern convenience.
product review
About the author
Reading good literature plays a huge role in my life — and so does online shopping and wine.
Reader insights
Be the first to share your insights about this piece.
Add your insights