Drinks You Can Make With Wine Perfect for Any Occassion
Want to take your love of wine to the next level? Check out these drinks you can make with wine that are delectable and easy to make.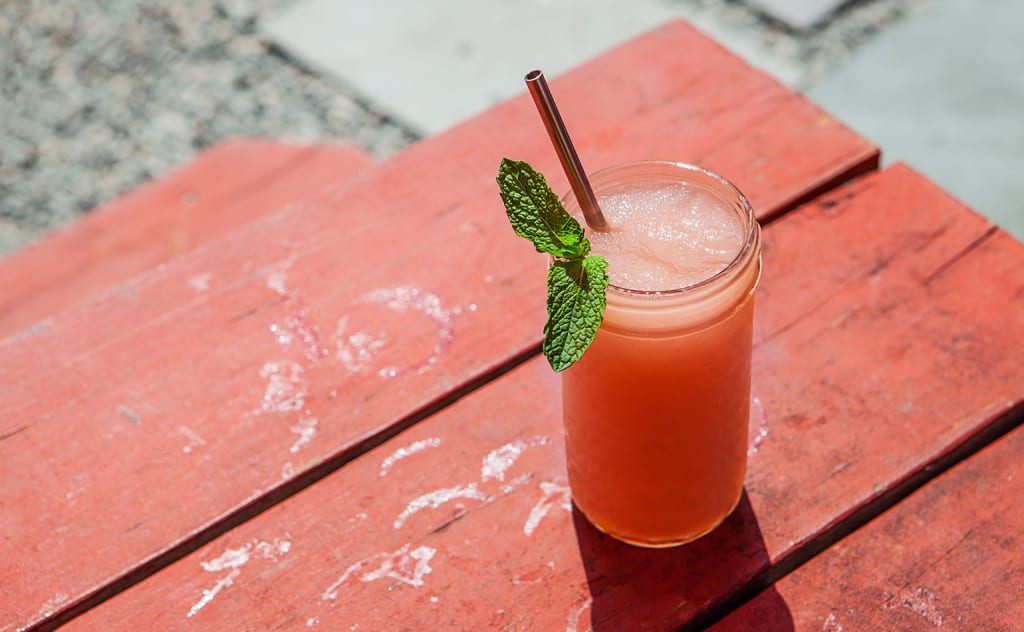 Many of us seriously love wine. Whether you're into red, white, or sparkling, people sometimes have a specific type they tend to always order—but they're all really good. I can enjoy all three equally. But you know what can really make your love of wine increase even more? Wine... cocktails. Yes, you can definitely mix wine with other ingredients to get the best tasting alcoholic beverage ever!
Just like how there are tons of different wines out there, there are even more wine cocktails you can create. From mixing bits of fruits to even spices, wine cocktails are what so many people are into around any time of the year. So if you're hosting a dinner party anytime soon or simply want to make yourself amazing wine cocktails, consider making only the best drinks you can make with wine!
Frosé (Frozen Rosé)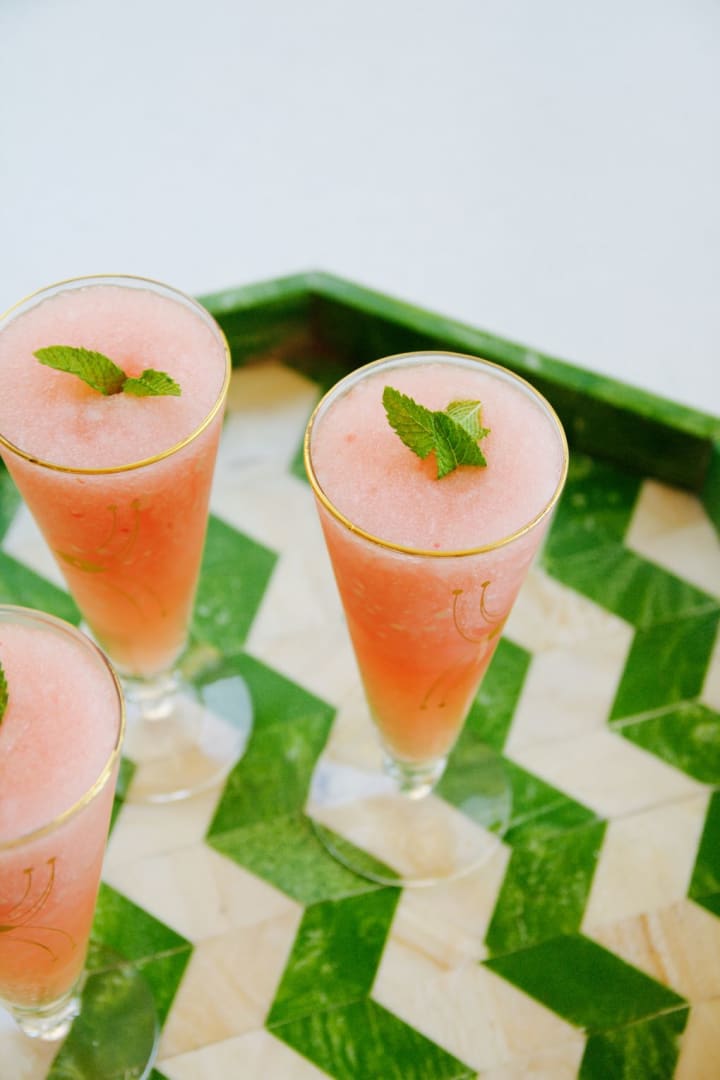 This is a great cocktail to start off, Frosé! You definitely won't look at rosé the same after giving this drink a shot. Full of strong flavors from the rosé, fresh strawberries, and lemon, enjoy this drink any time of the year. Even if it's in the middle of winter, Frosé isn't just meant for the summer!
Even though it looks tough to make, the ingredients are actually super simple. What you'll need is either Pinot Noir or Merlot rosé, sugar, chopped strawberries, and fresh lemon juice. The key is keeping the drink in a consistency like a slushy—making it unique to drink, too.
Pineapple-Jalapeno Wine Spritzer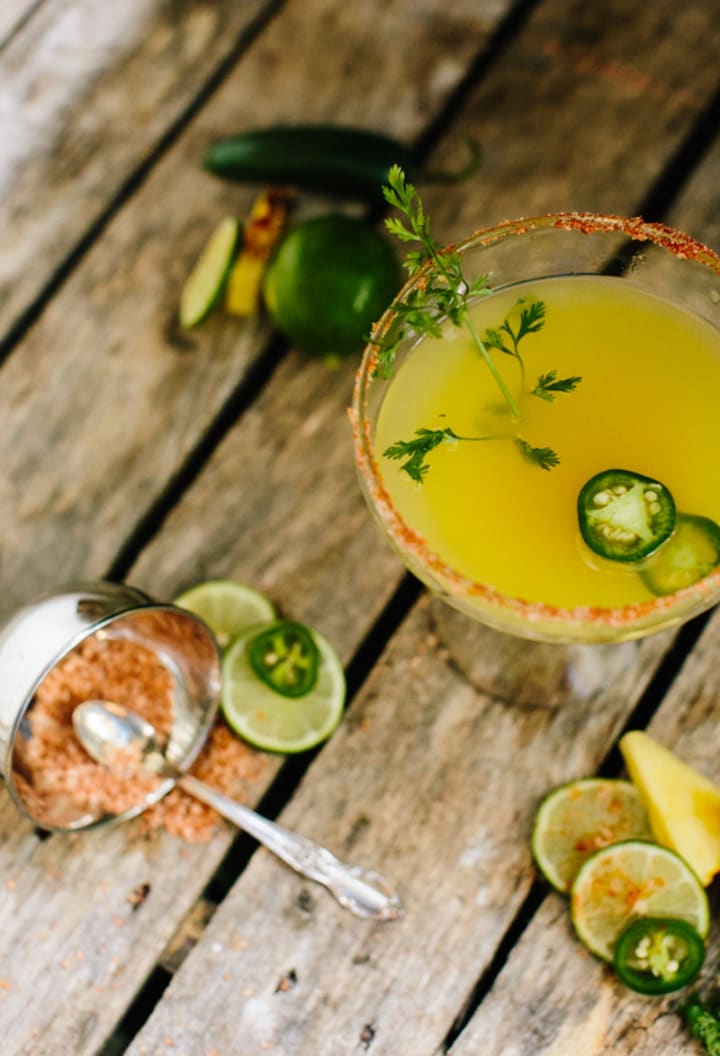 How about tangy and spicy? There are no limits when it comes to drinks you can make with wine and the Pineapple-Jalapeno Wine Spritzer is certainly an exotic wine cocktail. If you need to cool down during the summer, this cocktail is ideal for that. But it also heats you up, which is perfect for winter! See, this drink can go both ways.
The Pineapple-Jalapeno Wine Spritzer is actually fairly easy to make, despite what it sounds like. Just gather granulated sugar, water, freshly sliced jalapeno peppers, CK Mondavi Sauvignon Blanc wine, 100 percent pineapple juice, lemon-lime soda, ice, and chunks of fresh pineapple (optional). Yes, it's a lot of ingredients, but trust me, you're just going to mix it all together and it's going to taste phenomenal.
Raspberry Sorbet Wine Spritzer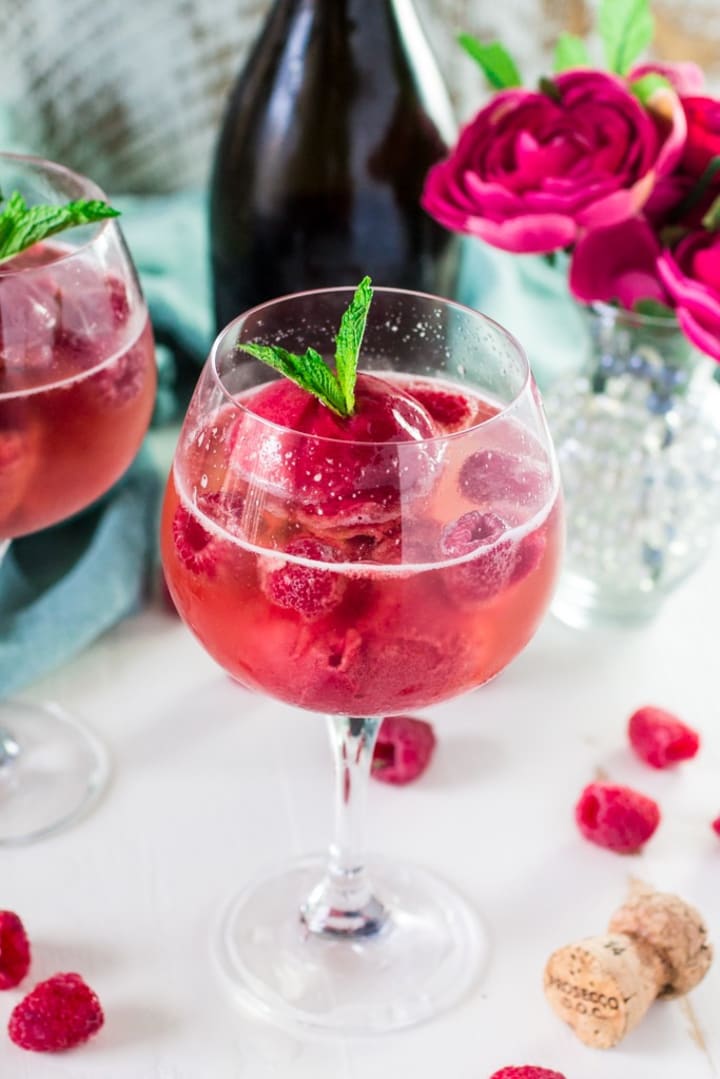 Stunning in appearance and refreshing in taste, the Raspberry Sorbet Wine Spritzer can be enjoyed during picnics, family or friend get togethers, or even whipped up during a date. For this fun cocktail, you can use your favorite white wine to really make it your personal drink. Maybe even your mother every now and then could use this drink when kicking back and relaxing.
Fruity, pink, and cooling, what you need to create the delicious Raspberry Sorbet Wine Spritzer is raspberry sorbet, sweet white wine, ginger ale, and fresh raspberries! Once you put it all together, it'll be a cocktail you'll always make again. And to make your glass look extra fancy, the fresh raspberries are there to garnish.
Da Vine Intervention Wine Cocktail
A fine-looking wine cocktail such as this needs more recognition. That's why I'm marking the Da Vine Intervention Wine Cocktail as one of the greatest and tastiest drinks you can make with wine. Plus, this cocktail is loaded with flavor and you might ask for a second glass after enjoying the first. Drinking this right at home or by the pool with friends, this cocktail certainly quenches your thirst every time.
In order to create this amazing wine cocktail, you'll need Plymouth gin, Lillet Rouge, house made grenadine, lemon, and Lambrusco wine. Yes, that's it. You can also garnish your glass with a few berries like blueberries or raspberries to give it a more professional look.
Rose and Rosé Bourbon Cocktail
Have you ever heard of mixing rosé with whiskey? Well, then you heard it here first! It's certainly a drink many people mix up themselves and order. The refreshing taste of rosé combined with the earthy flavor of whiskey makes the Rose and Rosé Bourbon Cocktail a great choice among drinks you can make with wine. You can also use a great, cheap rosé wine for this beverage if you like. A night out while enjoying this cocktail is certainly a night to remember.
The Rose and Rosé Bourbon Cocktail doesn't even need many ingredients. For a drink this delicious, the ingredients are pretty simple. Grab whiskey, rosé wine, rose syrup, freshly squeezed grapefruit juice, sparkling water, and to garnish your great-looking beverage, grapefruit slices or the peel. If you're not a fan of whiskey, you will now when mixing it with your favorite rosé!
Sonoma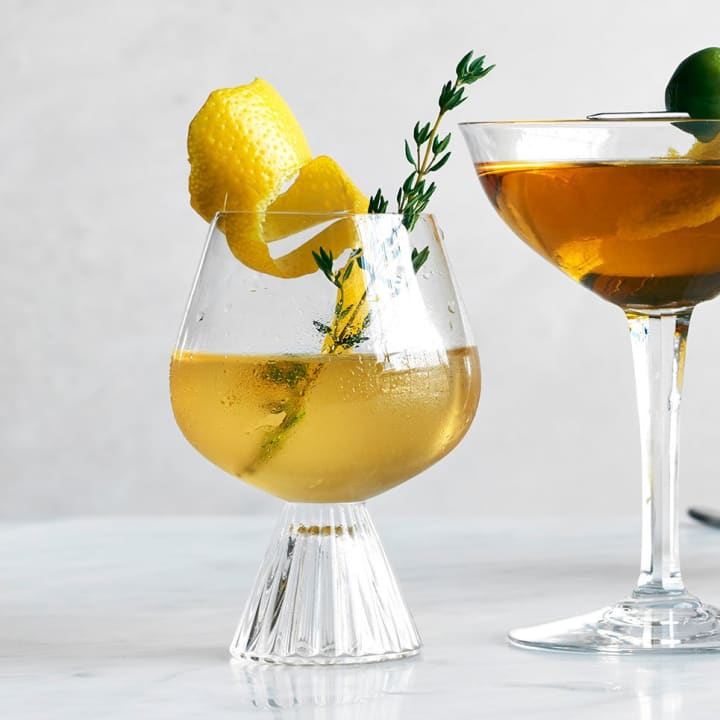 If you're looking for a simple-tasting wine cocktail, this one is just for you. The Sonoma is an alcoholic beverage that has a pop of flavor from the honey syrup, but is immediately relaxed by the chilled Chardonnay. It's not surprising that the best wine cocktails can be overwhelming in taste, but this one won't let you down. Plus, it still looks delectable, too.
For a simple cocktail as the Sonoma, the ingredients are also easy to obtain. What you'll need is chilled Unoaked Chardonnay, calvados, honey syrup, verjus, salt solution, ice, and to garnish your drink, go with a lemon twist and thyme sprig. You can make this drink all the time and it won't be a hassle to whip up. Your friends will even praise you for this.
Watermelon Sangria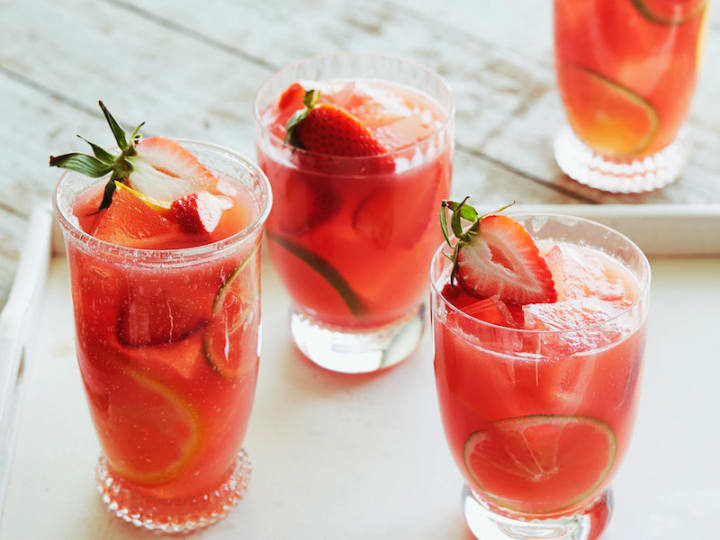 How did we almost leave out the sweet and juicy taste of watermelon from the top best drinks you can make with wine? Well, this Watermelon Sangria is actually to die for and so many people ask for this when wanting a wine cocktail. Amazing in taste and stunning in color, nearly no one can get enough of this alcoholic beverage. Just the taste is the reason many people ask for a second glass. And we can't blame them!
But now you can easily make your own Watermelon Sangria with just a few steps and ingredients. You'll need to get dry white wine, cubed seedless watermelon, watermelon cut into balls, vodka, Cointreau or another triple sec, citrus syrup, and ice. For anyone who loves watermelon, don't let this recipe slide so quickly. The combination of wine and watermelon is something everyone must test out, since it's one of the best big batch cocktails made with wine.
Spiced Apple Sangria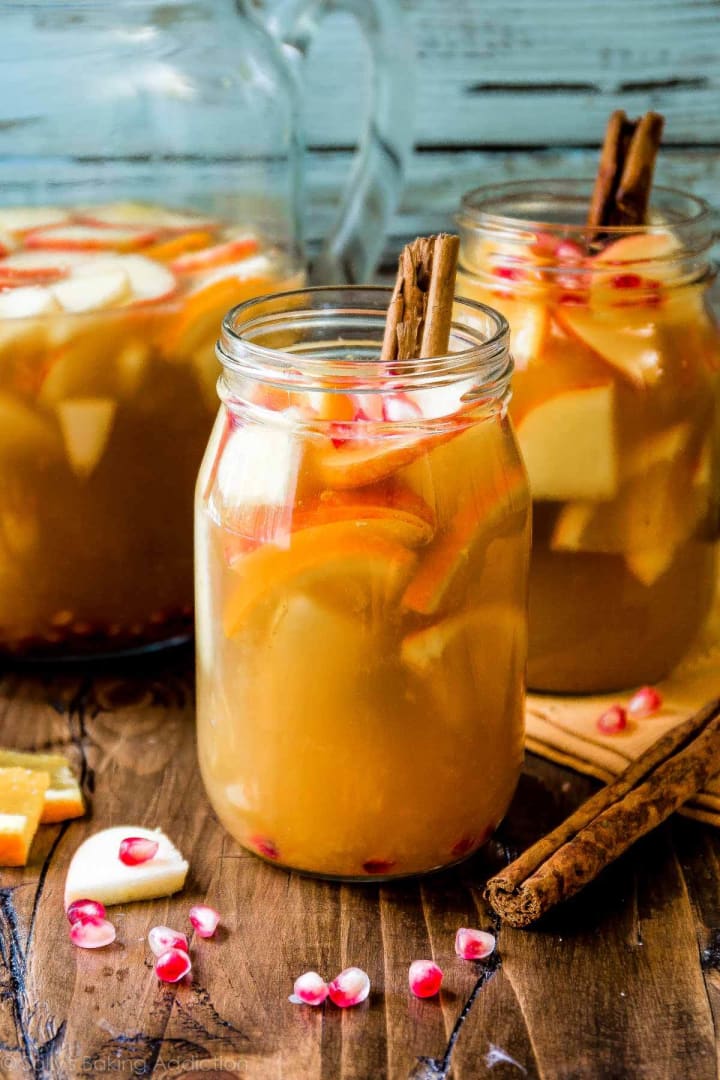 Here's another amazing-tasting sangria that's sure to impress you. The Spiced Apple Sangria has the full flavors of apple pie and if you're into that, I highly suggest getting right into this recipe. Ideal for any time of the year, if you love the taste of spices mixed with the flavor of apples, then this wine cocktail is calling your name.
Among the best drinks you can make with wine, the Spiced Apple Sangria is a beverage that can be enjoyed by everyone and anyone. All you need is apple juice, whole cloves, a cinnamon stick, nutmeg, chilled Cupcake Vineyards Sauvignon Blanc, green apple flavored vodka, a large apple, and club soda. Hear me out here, even though it has a bit more ingredients compared to the past wine cocktails, it still tastes phenomenal. And the eagerness to make another glass won't even be a hassle, because the taste is worth it.
Blood Letter Trinidad Sour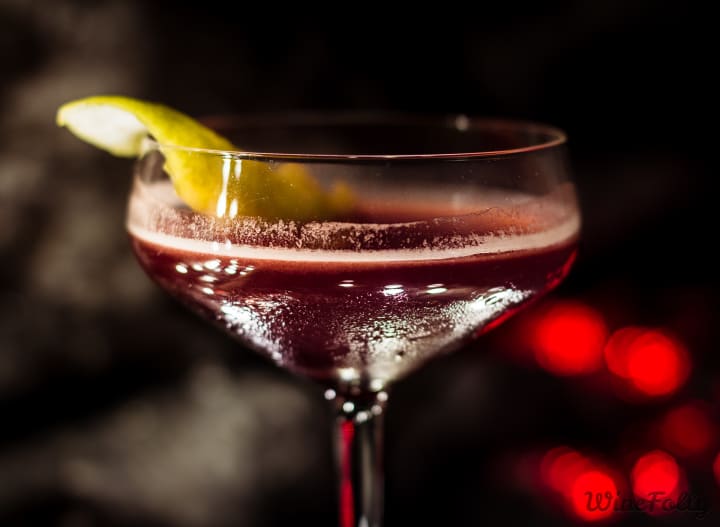 Even though this wine cocktail is known for being enjoyed around the spookier season, the Blood Letter Trinidad Sour can still be indulged on any time of the year. Because of its bold flavor and appealing presence, people whip this up anytime of the year. The dark, mysterious cocktail comes with a unique sweet and sour taste. And no, it's not blood, so don't be alarmed.
What you'll need to create this creative cocktail is Angostura Bitters, maple syrup, one-half lemon, Bulleit Bourbon, red wine, and a burnt lemon peel to garnish your extraordinary drink. A wine cocktail this unique can't just be enjoyed around Halloween; it certainly can be enjoyed around Valentine's Day or even Christmas!
Rosé-Aperol Spritz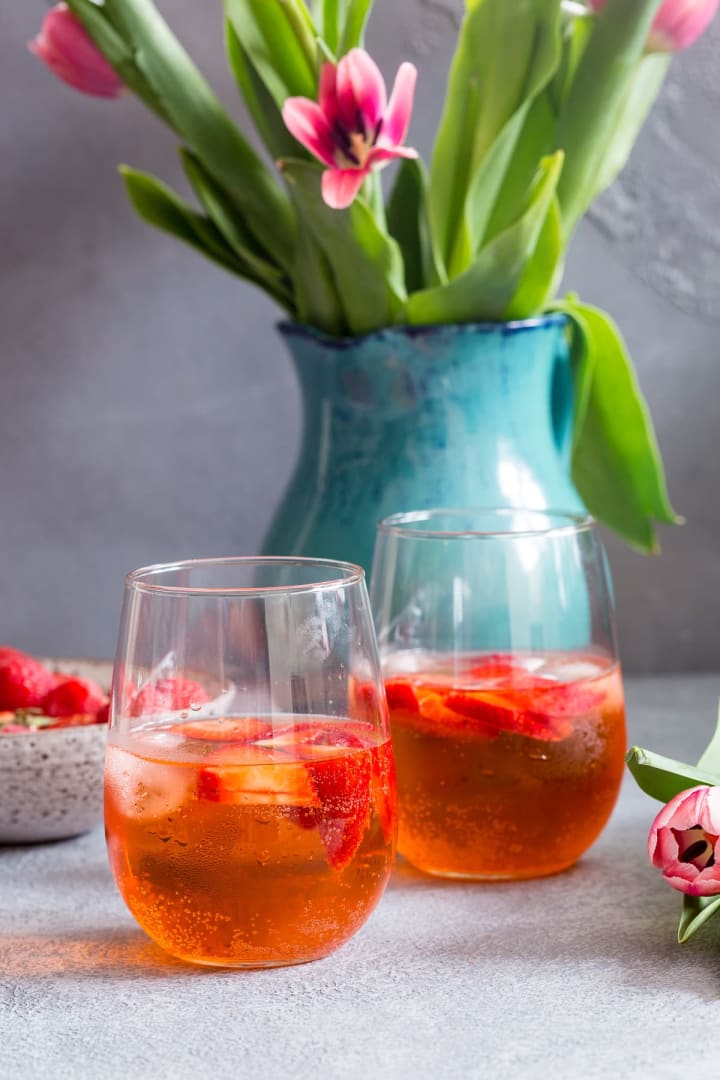 Last, but certainly not least, we can't leave out the Rosé-Aperol Spritz from the tastiest drinks you can make with wine. Beautiful in appearance and amazing in taste, the Rosé-Aperol Spritz is like a tropical vacation in a glass. The perfect combination of sweet and sour certainly makes this beverage, and it'll be nearly impossible not to make another one.
For an alcoholic beverage this pretty, the ingredients are easy to get ahold of. Chilled passion fruit juice, Aperol, fresh lime juice, sugar, a chilled bottle sparkling rosé, and ruby red grapefruit wedges are what you need. It may look simple, but the taste is truly exquisite. And it's very amusing to look at, too, from its bright pink color.
wine
About the author
Reader insights
Be the first to share your insights about this piece.
Add your insights