Beautiful Sake Sets Your Friends Will Adore
Sake itself might be an acquired taste, but these beautiful sake sets might just represent love at first sight.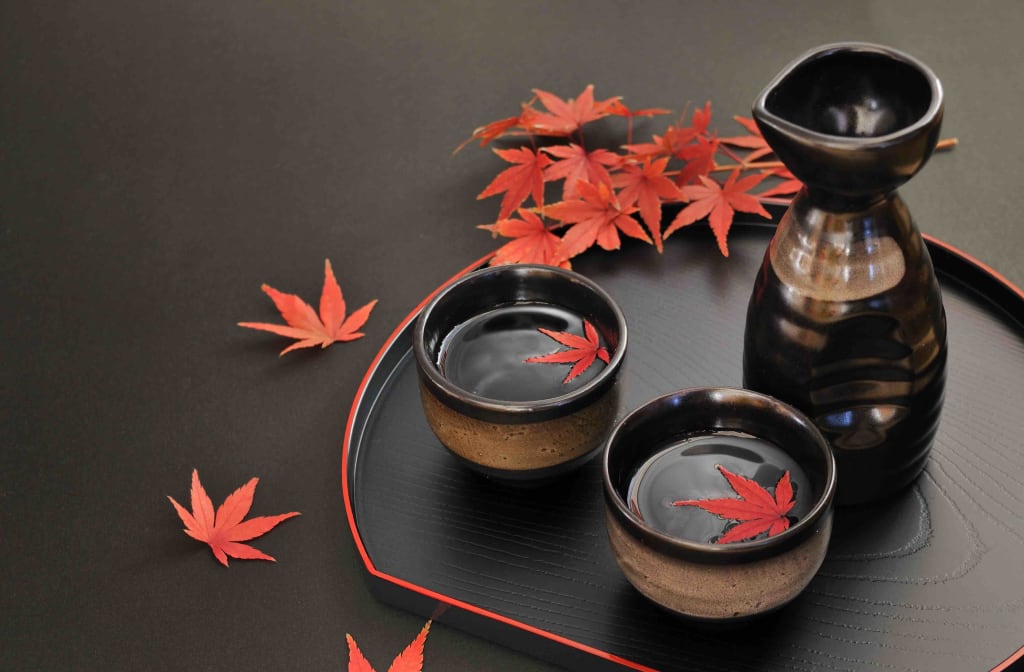 The origins of sake, the popular Japanese alcoholic beverage, remain somewhat ambiguous, but there's no denying its place as a cultural staple. Although the rice-based alcohol may not appeal to a great deal of American consumers, its simplistic nature and unique taste make it a popular beverage amongst a variety of niche drinkers.
But one cannot truly enjoy the taste of sake without having a couple of beautiful sake sets to enhance your pseudo-cultural excursion. Whether you're making traditional sake at home or simply bought some at the store, one mustn't forget the importance of aesthetics while consuming the beverage.
Because, let's be realistic—you'd be considered uncultured swine if you're drinking your sake out of a wine glass or coffee cup (no judgements here, just telling it like it is).
Luckily, I'm here to change that. Because if you're drinking just to get drunk, stick to the vodka.
This five-piece set includes one hot sake server and four cups. The white and red blossom design is both aesthetically pleasing and culturally relevant, so it may actually feel like you're enjoying your sake in Japan. Well, sort of.
This glazed ceramic five piece sake set by Thy Collectibles can serve as both a tool for serving sake and a beautiful piece of home decor. The Chinese calligraphy engraved on the piece and the eye-popping red and black colors will make this sake set stand out amongst your other wares. For such a low price, there's almost no reason NOT to buy this Japanese sake set.
If you're looking for a similar iteration from a different brand, Happy Sales also offers a red and black ceramic sake gift set. There are a couple of stark differences, however. The calligraphy on these cups is in Japanese, rather than Chinese, and the base colors are flip flopped, as this set is primarily red with black undertones. This set is a bit more pricey, but you still can't go wrong.
Not everyone is a fan of the powerful color combination of red and black. For those looking for more of a subdued, calmer color scheme, Oenophilia makes a gorgeous five-piece set containing a lighter color scheme representative of the Japanese culture. The set is blue, with hues of yellow, white and brown, so it is a bit easier on the eyes. If you're looking to make it a piece of home decor, you might want to pair it with a set of mino ware, or some authentic Japanese porcelain. But if it's simply for enjoying sake, that's great too!
Some people believe authentic sake tastes better in real porcelain, so if you're under the impression that it does, you may want to opt for this 5-piece porcelain sake set, complete with none other than a wacky little blowfish design on each of the cups and sake server. If you want to learn how to drink sake the right way, purchasing a set like this isn't a bad way to start. After all types of sake are more enjoyable when there's a cartoon blowfish involved, right?
Happy Sales once again finds itself on here, this time courtesy of their red and black five-piece ceramic sake set. The set contains perhaps the sleekest design on this list, as it is primarily black and includes some pretty interesting engravings on both the bottle and the cups. Additionally, it's labeled both microwavable and dishwasher safe, which also makes it one of the more durable sake sets listed thus far.
This exquisite ceramic blue flowers Japanese sake set is one of the more intricate sets on this list. In addition to the standard four cups and sake carafe, it also contains a warmer complete with a warming mug so you can heat up your sake to your liking. The simplistic, yet eye-catching blue flower design certainly makes it one of the more beautiful sake sets available online.
Tosnail's five-piece ceramic Japanese sake set's beautiful orange blossom design makes it a perfect fit for your China cabinet; serving sake is just an added bonus. Also dishwasher and microwavable safe, this sake set is perfect for those looking for an affordable, durable way to flaunt your newfound cultured-ness.
Kotobuki's "Four Seasons" sake set is noteworthy due to the Kanji characters engraved into the ceramic. The characters, expectedly, represent each of the four seasons of the year, and each design is carved to aesthetic perfection. If you're looking for a sake set of a somewhat symbolic nature, this might be your best bet.
Last but not least, we have Happy Sale's Japanese porcelain tea set, complete with a menacing, yet eloquent imperial blue dragon design. What sets this particular collection aside from the others is that it's made out of authentic Japanese porcelain. Additionally, it serves a dual purpose—you can use it to serve hot sake, or just regular tea. So if you're not necessarily the biggest fan of sake, you have another option on the table. Regardless of usage, it's certainly one of the most beautiful sake sets available for purchase.
There are plenty of things you probably didn't know about sake before even reading this article, but purchasing one of these sake sets definitely puts you a head of the curve, at least by a smidgen.