Basic Whiskey Cocktails Everyone Should Know
Love brown liquor, but are sort of inexperienced? Try these basic whiskey cocktails.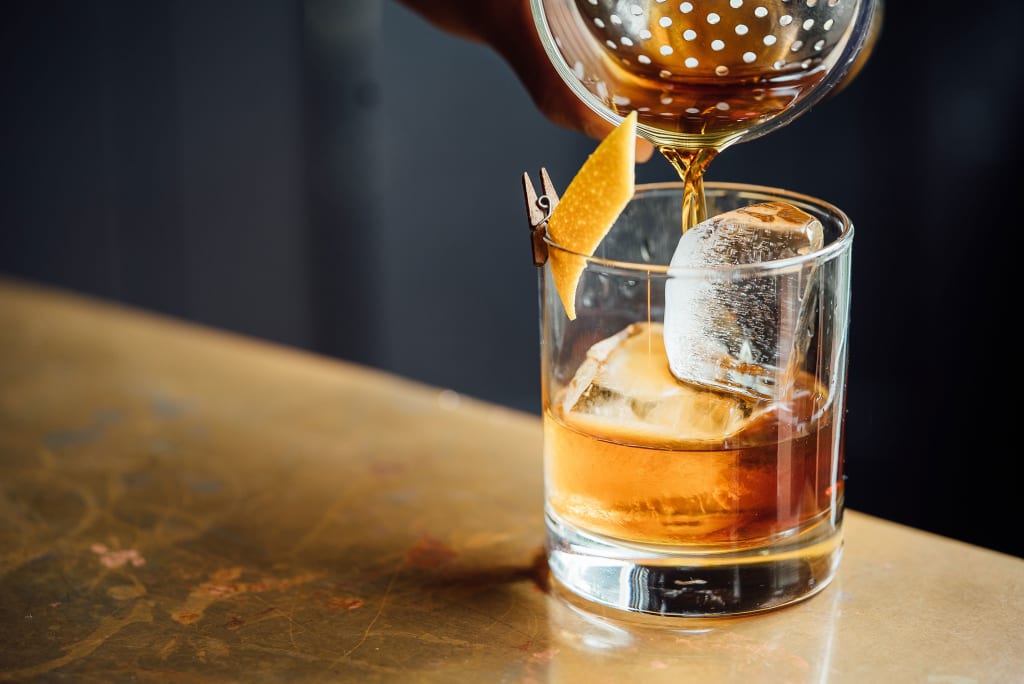 Whiskey is a classic spirit, so you really should know how to utilize it and make basic whiskey cocktails. Knowledge comes with a lot of experimentation, and tasting spirits is the best way to go about this.
There isn't just one style of whiskey, either. Bourbon, Ryes, and Irish whiskey are going to bring a distinctly different taste — so, get to know your palate. For now, we're going to stick with the basics, and discuss some of the more time tested whiskey cocktails.
Drinking straight brown liquor is generally thought to be a sign of masculinity, but why does it have to be? Some of these cocktails are sweet, and some are sour — whiskey should be for everybody. Here are some basic whiskey cocktails everybody should be able to put together.
The Whiskey Sour is one of the most very basic whiskey cocktails. Essentially, it's just whiskey, lemon or lime juice, and simple syrup. This drink is a little tart, but somehow it mixes nicely with the sweetness of the whiskey.
This is incredibly easy to put together and can be used with a variety of whiskeys, depending on your preference or mood. Try out this simple Whiskey Sour recipe.
The Manhattan is one of the more upscale basic whiskey cocktails. Traditionally made with rye (bourbon can be used if preferred), bitters, and sweet vermouth, this classy cocktail is here for you when you're ready to slightly elevate your whiskey experience.
It is whiskey's answer to the Martini, and you can find an easy-to-whip-together recipe here.
The Irish Coffee is one of the most versatile of the basic whiskey cocktails. Great for a cold winter day, or something to hold in your hands at a chilly fall football game, the Irish coffee delivers. It's simply coffee, some sugar (if you take your coffee with it), and a bit of whipped cream.
Also, if your job doesn't require you to operate any heavy machinery, it's a great way to start your morning. It can kill a hangover or just give you a little boost — whatever you need. Try this simple Irish Coffee recipe.
Some people think this cocktail is pretty complex and difficult to make — they're wrong. Bitter, sugar, and bourbon are really all you need to pull together an Old-Fashioned. You can garnish it with a cherry and an orange, but if you don't got it, it's still possible to make one.
This is a more flexible drink than people think, and is one of the more basic whiskey cocktails. Try experimenting with different types of whiskey until you find exactly what you like. Check out this easy-to-use Old-Fashioned recipe.
While a little more fresh and fancy than the other basic whiskey cocktails on this list, that doesn't mean it's more difficult to put together. All you need is some fresh mint, bourbon, a muddler, and you'll be drinking like William Faulkner in no time.
No need to be at the Kentucky Derby to enjoy one of these babies. Throw it together in the kitchen before you watch the game — it's that easy. Not buying it? Sample one of these Mint Julep recipes here.
The American cousin to Russia's famous Moscow Mule, the Kentucky Mule swaps out the vodka for 100 percent, straight Kentucky bourbon. This is one of the best basic whiskey cocktails for the summer season. Bourbon, ginger beer, and fresh lime juice is all you'll need.
Fill the copper mug up with ice and you've got yourself a Kentucky Mule. Settle down by the pool with this easy-to-create Kentucky Mule recipe.
While many debate if it should even be considered a cocktail, the Jack and Coke has become America's go-to drink. It's the simplest of the basic whiskey cocktails to create on this list.
No need for a recipe here, just get a bottle of Coca-Cola and a handle of Jack Daniels and mix it to your liking — however strong that is. The Jack and Coke is a classic Americana — the McDonald's of whiskey cocktails.
Instead of the classic shot-and-a-beer chaser, the hipsters out in Brooklyn and beyond have been pushing the Pickleback. It's a shot of Irish whiskey and a shot of pickle juice.
While this sounds gross and like a recipe for gagging, it's actually quite easy to hold down. Next time you're in a bar and your bartender has an ironic mustache, be prepared to be offered a Pickleback.
The Highball is a two-ingredient beverage, a super simple choice when it comes to basic whiskey cocktails. You can use any type of whiskey you want, as the Highball works well with rye, bourbon, blended, and even Irish. Put it in any kind of glass you want — this drink is no frills.
Ginger ale is the only other thing you'll need, and every aspiring bartender should be able to throw this together at a moment's notice. If you're new, here is an easy-to-follow Highball recipe.