Alcohol Delivery Services in Your Neighborhood
Get the door, it's Disaronno!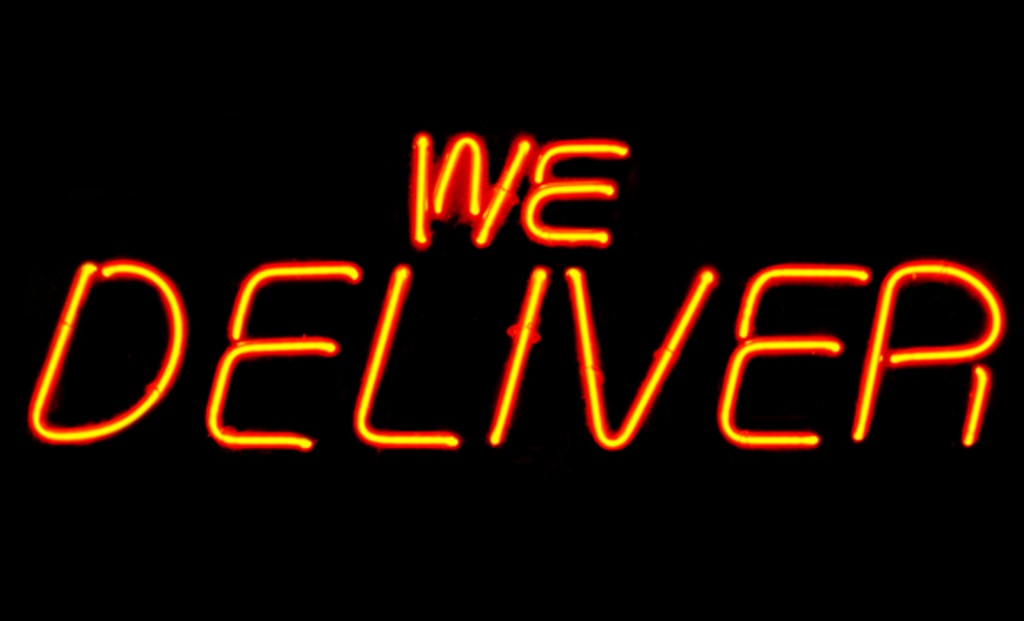 Whether we want to admit it or not, we've all had moments where we wanted to have a drink, but didn't want to make the hike to a bar or a liquor store. Sometimes, it's a phenomenon that happens while we're wasted or as we're about to throw a party. Whatever the reason is, most of us out there have wished that there was a magical way to get booze without having to leave the house.
Thankfully, many states are starting to loosen laws on alcohol delivery - and that means that you can, in fact, get alcohol delivered to your door. Though these services aren't always available everywhere, if you're lucky, you might be able to try them out at home.
If you love the idea of getting drunk without having to leave the house, these delivery services might be right up your alley.
Drizly
Drizly is the big grandaddy of alcohol delivery services, and is also the most widespread of them all. Using the Drizly app or the actual website, users can pick the beers, wines, and liquors they want to buy - and then the orders are fulfilled by local stores that have a partnership with them.
Prices for the liquors are set by the stores, and the service itself is pretty cheap in terms of fees. The best part of Drizly's services is that the app gives you an estimate of how long delivery will take. In major cities, delivery is a same-day affair.
However, if you live in the areas around major metro areas, delivery can take up to 4 days. So, much of this service's ability to work is location based.
It's also worth noting that Drizly also offers corporate ordering accounts, which can be a huge relief to business owners who don't want to make the run to the store for a major event.
Verdict: It's affordable, reliable, and also easy to use. Unfortunately, it's not for people who are out in the middle of nowhere quite yet.
Saucey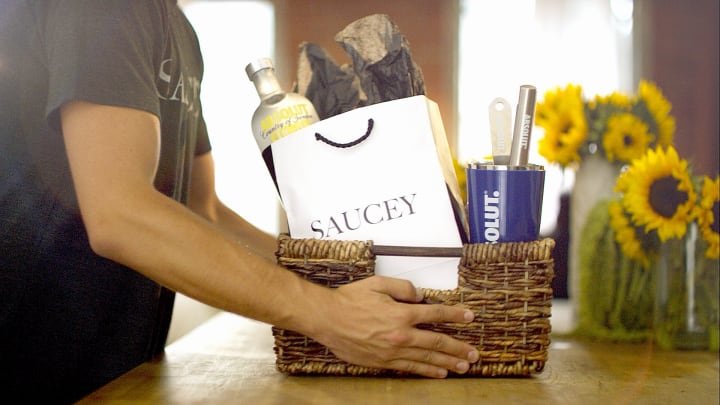 Drizly's biggest competitor is Saucey. Much like Drizly, you can order online via their storefront or app. And, also like Drizly, the liquor you order is delivered to you using a fee.
Unlike Drizly, it seems like Saucey is exclusively available in only a handful of cities and their nearby neighborhoods. Additionally, this app also boasts that some areas get delivery in as little as 30 minutes.
This is because Drizly also hires couriers directly - which in turn takes that responsibility off liquor store owners. So, if you don't feel like driving for Uber but do want to get into being a courier, Saucey may be both a service to use and a service to be employed by.
Funnily, Saucey has been called "the Uber for booze."
The Verdict: In terms of convenience and speed, Saucey wins against Drizly as long as you live in a city area. Prices seem to be matched evenly with Drizly, too. We really like this one.
Thirstie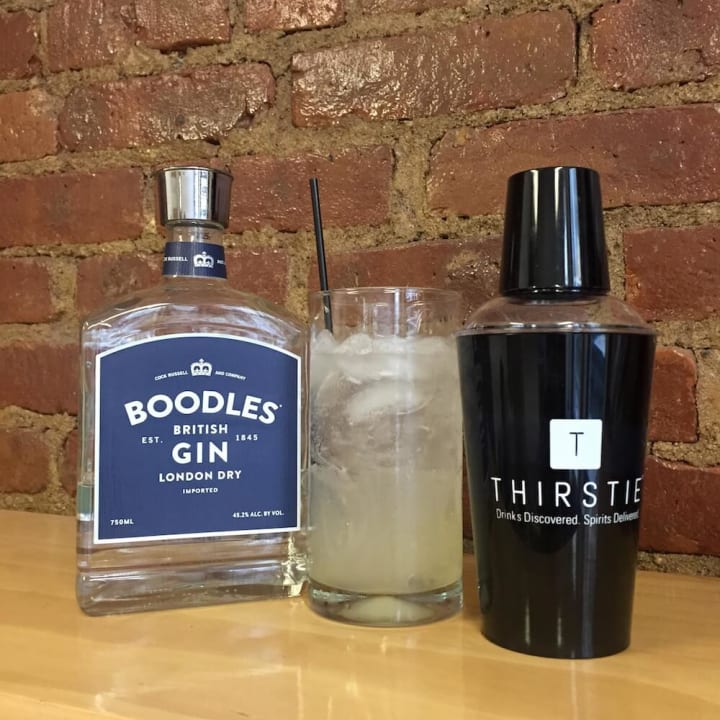 In many ways, Thirstie is very similar to Drizly. It's a service that is run by linking up with local liquor stores and allows you to buy alcohol off of their app. Much like Drizly, the orders are fulfilled by local liquor stores who are expected to manage their drivers and a typical delivery outside of the NYC metro area can take around 1 to 3 days.
However, there's a couple of points in which Thirstie didn't deliver. When compared to Drizly and Saucey, Thirstie's site was difficult to navigate and a bit too dark to see prices clearly. Price-wise, Thirstie was a bit more expensive than others we reviewed.
Lastly, Thirstie didn't really have many options in terms of mixers. If you love cocktails, Thirstie might be a bit disappointing.
The Verdict: If this is the app that is most commonly available to your area, it's worth a shot. However, if you can choose Drizly or Saucey, that might be a better option.
Klink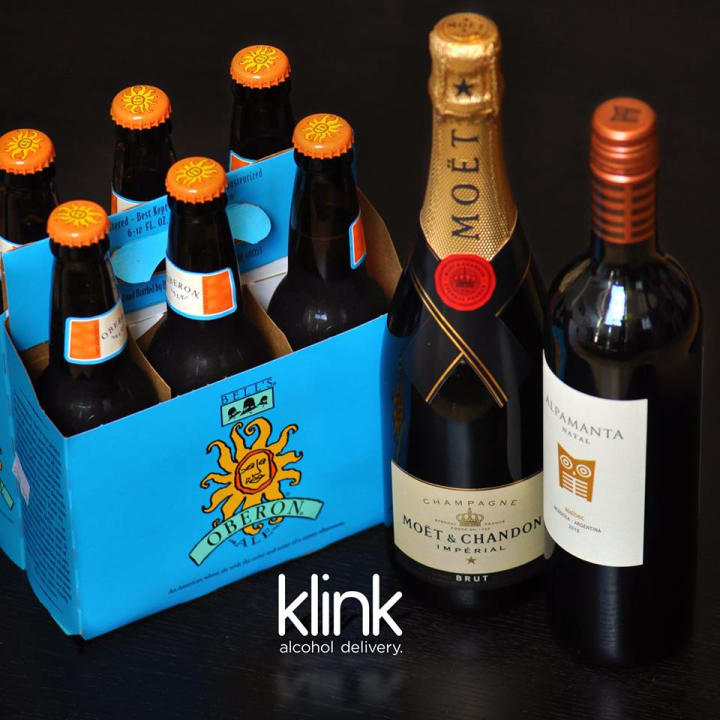 Klink's app is definitely the most upscale of the bunch, and also has a superb selection of drinks you can choose from. This app's major claim to fame is that it guarantees delivery in less than an hour, and that you can "Klink from anywhere."
This service does have an online interface, but the app is much better than the computer-accessible site. Drinks and delivery seem to be reasonably priced. With deliveries under an hour, Klink is hard to beat - and only Saucey may be able to beat them in terms of speed.
Sadly, Klink does have a bigger issue that does need to be addressed and that would be its lack of availability. Currently, only three cities actually seem to have this service available to them. This cities are NYC, LA, and Dallas.
The Verdict: This would be awesome if it was available more widely.
Minibar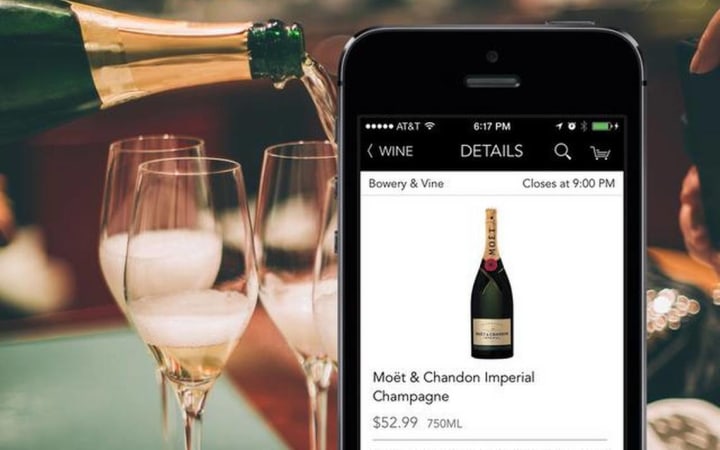 Minibar's sleek and user-friendly website definitely strikes a similar chord to heavy hitters Drizly and Saucey. Much like Klink, Drizly, and Thirstie, Minibar works by linking up with liquor stores that want to offer delivery and requires them to manage their drivers.
Currently, Minibar has one of the most expansive lists of cities that it caters to - and it's very likely that many of those cities' suburbs will also be within delivery range.
The problem with Minibar is that it doesn't allow long distance deliveries. So, if you want to get wine delivered to the far outskirts of major metropolitan areas and would be willing to wait a couple days for delivery, Minibar may not be a good match for you.
The Verdict: If you live in a city, chances are high that Minibar is in your area and that it rocks. However, suburbanites need some alcohol too and Minibar just doesn't deliver there.
alcohol
list
social media
About the author
Ossiana Tepfenhart is a writer based out of New Jersey. This is her work account. She loves gifts and tips, so if you like something, tip her!
Reader insights
Be the first to share your insights about this piece.
Add your insights