A Pairing for All Occasions
An Iconic Duo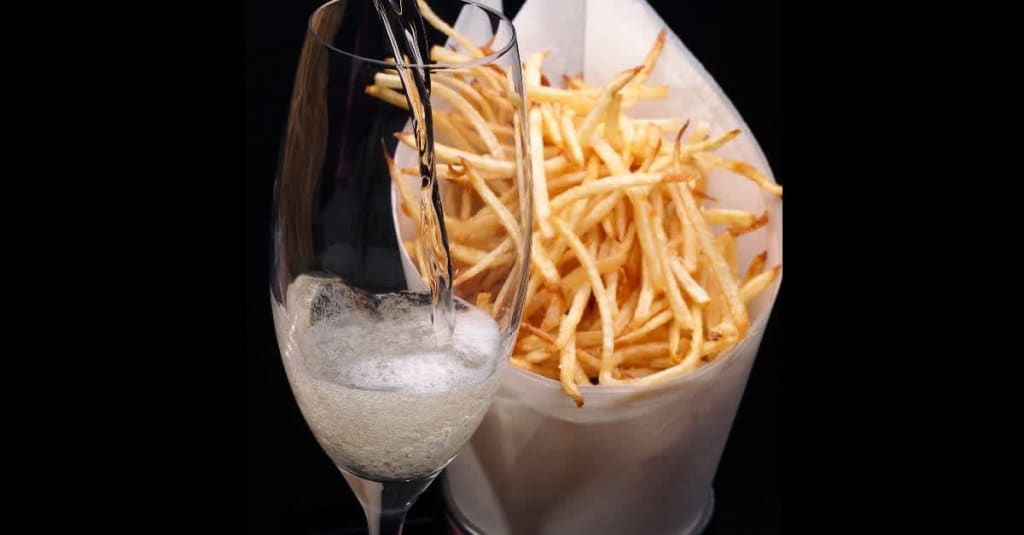 There is a fairly strong divide between beverage professionals and those who work in the service industry. Is it okay to drink on the job? Some people and companies are staunchly against it, while some bartenders will down a shot every now and then when they're "in the weeds". That being said, everyone usually comes together to tip back a few drinks together after closing. If you've had a good night, maybe just a glass of wine after your shift. If it's been a bad night, you might choose something stronger. For me? I would always go to the bar next door, sit at the bar, and order a glass of blanc de blancs champagne (we should note this establishment added this to their glass pours solely because I came in at least five evenings a week to imbibe and wind down).
Many people associate champagne with fancy occasions and achievements, tending to need a reason to pop open a bottle of bubbly. Celebrations; weddings, birthdays, anniversaries, promotions, buying a house, you name it. What is more tantalizing than the elegant *clink* of a champagne flute before a toast is being made? More enticing than the whisper of a champagne bottle being opened? Personally, I take after The Notorious B.I.G and drink champagne when I'm thirsty. In my house the "occasions" are far less momentous. (Like, we make it through the day without rolling our eyes on a zoom call at a co-worker's repetitive questions, or not ordering in for the 4th lunch that week.) And when I say champagne, I mean three specific grapes, grown in a very specific plot of France, and made in a specific method. (Sorry prosecco, this isn't going to be about your beautiful marriage with a specific Italian Aperitivo and club soda.)
This is a far less complex pairing. Exciting and undeniable in its own right. This pairing is not groundbreaking as sommeliers have been preaching this pairing for years. I myself have put it on happy hour menus at restaurants where I have consulted. One of the best pairings for bubbly is one of the most common side dishes on planet earth: French fries. Who doesn't love fried potatoes? No one.
One might assume that a glass of champagne calls for something more highbrow, and you would be incorrect. Champagne and fried foods are a universally beloved pairing.
Champagne is a wine that calls for simple ingredients. A dish that has too much going on will be lost on champagne. Classic champagne pairings are thought to be oysters, caviar, white truffles, lobster. I am here to say that salt and fat plus high acid and effervescence equals a great combo! The crispy, salty, and snappy exterior of a fry pairs perfectly with a creamy, nutty, rich champagne and is cut by the vivacious citrus which prepares you for another bite.
Potato chips are a very good at home substitute for fresh, hot fries. The crunchier bite and higher levels of salt emphasizes the racy acidity of blanc de blancs champagnes. I also love salt and vinegar potato chips with bubbly, even sparkling rosé. The effervesce of champagne awakens the palate and highlights the crunch of the chip. Each bite makes you want another sip and vice versa, making it an iconic pairing.
This holiday season, I encourage you to look at the champagne list the next time you are dining out and perhaps treat yourself to a most magnificent of pairings. You won't have to totally break the bank, but do tip generously! I will be heating crinkle fries, crisped to perfection in my convection oven and popping some occasion worthy bottles from home in my pajamas and high heels. It has been quite a year, and I have earned it.