15 Beer Growlers That Will Keep Your Beer Refreshingly Cold All Day
Want to keep your beer constantly cold throughout your day at the beach? These are the greatest beer growlers to keep your beer cold all day!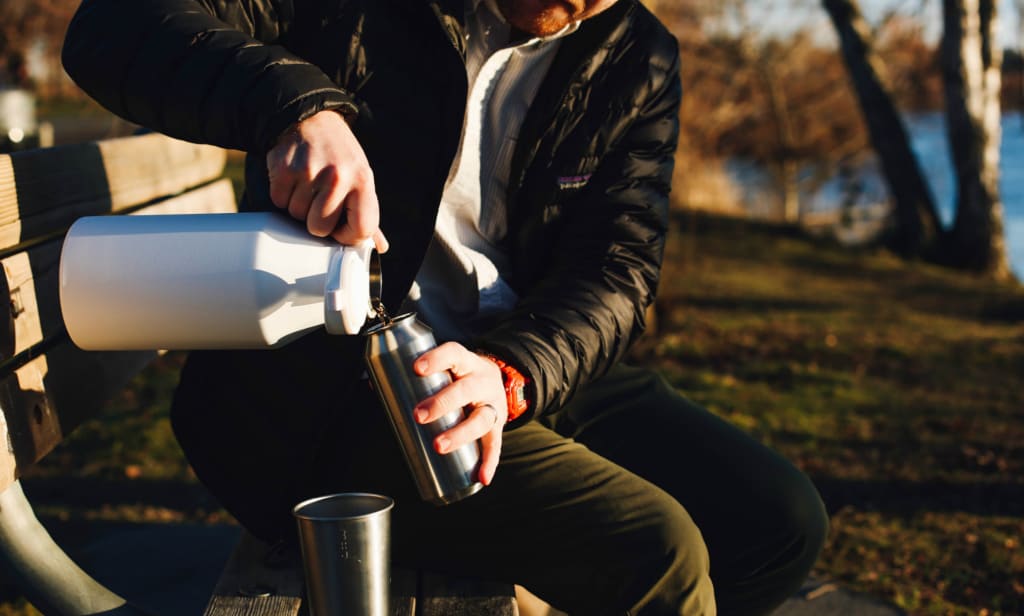 When it comes to beer, you literally have to drink it cold to truly enjoy the beverage. Drinking warm beer can actually destroy the flavors and it won't taste good as a whole. The cool, crisp taste of beer is really refreshing and it definitely makes it much more enjoyable. A way people keep their beers cool is by storing them in the fridge or in the coolers when lounging around outdoors. But what if you don't want to store the beer that you'll be drinking in a cooler since they're so large and hefty?
For coolers, you have to go out of your way to purchase ice and load the cooler with ice in order to keep your beer cold. What if I told you there's a much better way of keeping your beer cold for an even longer period of time, less expensive compared to constantly buying ice, and it's easier to travel with? Beer growlers! If you've never heard of beer growlers, they're basically like canteens designed to keep your beer cool. These beer growlers come in diverse styles, shapes, and any additional features. Perfect for bringing to picnics, the beach, or anywhere else away from home, these are the coolest and best beer growlers you can get your hands on.
Creator Shawn Huff has come up with one of the most brilliant beer growlers we've ever seen. It's a pressurized tap system in order to combat common growler problems. The best part about this is that it's portable! Which means you can literally take this anywhere you want and it's not a system that has to be locked down at home. It's also an essential beer gadget to acquire.
This growler is loaded with features that will keep your favorite brew in the coldest condition until the last drop. This set includes a double-walled, stainless steel growler that's specifically designed for maintaining the coldness of your beer, adjustable pressurization cap for oxygen flow, steampunk-inspired tap for assembling the pressure, and a gooseneck and tap handle. It's literally like having your personal, mini tap to provide you with your most favorite beer cold!
In a smooth, matte black design, this beer growler can keep your finest craft brews cold for a long period of time. Constructed for optimal freshness, the vessel is capped with an air-tight top to keep everything inside and prevent spillage. Because of the beautiful matte-black coating, it's recommended to hand wash this growler.
However, it's constructed with stainless steel for durability as well as keeping your beverage cold. This growler can hold about two liters comfortably and it's simple to carry around.
Want to really make your beer growler more personal? From the coolest beer growlers out there, you can officially mark this growler yours! With the ability to stamp your own initial into the growler, it's coated in matte black stainless steel to keep your beer constantly cool.
While it's leakproof from the swing-lid top, you'll never have to worry about any spillage, even when the growler is fully upside down. It holds up to 64 oz. and is only meant for hand washing. Not to mention that this growler can be your newest and best addition to your personal, private home bar!
Stanley's beer growler is one of the greatest beer growlers you can ever buy for yourself. You can bring your favorite beer cold anywhere you like in Stanley's vacuum seal growler. With the large handle, this allows comfortable and easy carrying. The vacuum insulated body and foam insulted lid is known to keep the beer cool for up to 24 hours. And this is perfect if you plan on spending the day at the park or anywhere else.
This set also features four stainless, stackable 12 oz. cups with soft neoprene grips to prevent the cups from slipping out of your hands. With a 64 oz. capacity, it's BPA-free, and it's dishwasher safe—and most beer growlers aren't. Once you hear the "pop" when opening the lid, you'll know that your beer is still carbonated and hasn't died flat. Beer should always be cold to enjoy, so Stanley's growler will certainly keep your favorite brew constantly cool throughout the entire day.
How about a beer growler set telling you that it's always happy hour? From the best beer growlers ever, the Artland growler and glass set is ideal when sharing cold beer with others! While the growler itself is deigned to keep your beverage cool for a long period of time, it can hold up to 64 oz. of your favorite brew.
Featuring "It's 5 O'Clock" on the growler, each of the glasses feature others sayings like "Best Thing Since Beer in a Can," "Doctor's Orders," "Emergency Kit," and the same statement as what's on the growler. The glasses and the growler are all dishwasher safe, too. Not to mention that this entire set is the perfect housewarming present to give to anyone who's a hardcore beer lover.
Similar to the first beer growler, this one by Nostalgia is designed in a sleek, matte black stainless steel if you're looking for something more modern. Holding two liters of any type of beer you would want to keep cool, this growler releases easily while maintaining consistent carbonation. Lightweight, super durable, and features a double-wall vacuum insulation, it can keep your beer cold for a full 24 hours.
The side handle allows easy carrying, refilling, and pouring with the twist-on cap that features double silicone rings to prevent any spillage. Great-looking, sleek, and useful anywhere from your house to the outdoors, this growler is like having a beer tap with you on the go.
Now this, is a fantastic-looking beer growler. Among the cool beer growlers out there, this one just screams style. I know, it doesn't actually have a solid design to it, but the stunning amber color truly makes it really decorative. Even using this as home decor in the kitchen or in your home bar is perfect, too.
Asobu's stainless steel beer growler can keep all of your beer cold for a long period of time, even when it's sitting out in the sun... your beer will still be cold! Featuring a swing-top lid to keep the coolness in and avoid any leaking, the growler can only be hand washed. However, to keep the growler looking its best, hand washing it is the best option.
Talk about sleek and classy-looking, this beer growler by RBT by rabbit is seriously drenched in lavishness. How can you go wrong with a matte black growler with a hint of gold on the bottom? While we're just so attached by the sophisticated style, the growler has a double-wall insulation to constantly keep your beer cool.
With a carrying handle for easy transportation, it's lightweight, and can hold your favorite brew within its 64 oz. capacity. Hand-finished in brushed metallic, it's also dishwasher safe, which means that the design won't be ruined in the dishwasher. Durable, stylish, and useful, you can literally bring this beer growler anywhere you go and always enjoy your favorite beverage.
There definitely needs to be more of these beer growlers! Among the really unique beer growlers out there, this one is all about its appealing, powder black coating. With a double-walled vacuum insulation, this 64 oz. growler can be your new favorite go-to when bringing your favorite beer to the beach or even the park. To ensure that this growler is perfectly sealed, MiiR came up with the classic clamp style closure system for the best leak-proof top. While the top is designed to lock in the beverage, it keeps your favorite beer cold for more than 24 hours!
Plus, this growler can even keep your beverages hot for more than eight hours, too. Constructed in 18/8 medical grade stainless steel, you'll only be tasting the flavors of your beer than metal from the canteen. It's also BPA free!
Now you can keep your beer even colder with this additional growler tote! Among the nifty beer growlers you can purchase, this set comes with the growler and the growler tote. Created in the most unique design and color choices, the tote has adjustable shoulder straps for comfort when you're carrying your beer growler over your shoulder. This also means that you won't have to hand-carry your growler anymore!
In a more convenient way of keeping your brew cold, the lace-up side closure is designed for easy access and locking the growler safely and tightly so it doesn't slip out. The waxed-canvas tote intensifies the coldness so your brew won't get warmed up even when it's sitting out in the sun.
Don't want the ordinary-looking beer growlers like what everyone has? These vintage-styled growlers are among the coolest and best-looking beer growlers ever. You can now keep your favorite carbonated brews cold and crisp for days! Handmade from slip cast and gently trimmed ceramic, it's specifically constructed to keep your favorite beer cool.
And have you seen the really cool carrying handles on these? Just these handles really tie the whole look together. Available in either black or gray, you can also customize your very own with a single initial or two initials to make it a more personal beer growler!
Always know how much you're filling and drinking with one of the best beer growlers you can get your hands on. This growler is heavy-duty, lightweight, and super affordable to chill your choice of beer. Plus, it's also great for iced coffee, water, or even juice.
With such a large capacity, you can fill this growler with your favorite beer all the way to the brim! Created with a very durable amber-colored plastic, dropping this won't shatter the growler.
Among the coolest beer growlers, here's another Nostalgia beer growler, but this one is electric and it's in the form of a tap! You can fill this electric growler with five liters of your best beer and serve it to either yourself or your friends. Perfect for keeping at home or gifting it to any craft beer lover, this growler system includes a reusable keg growler, too.
With the thermoelectric cooling system, you know that your beer will without a doubt stay cold for as long as you use it. The easy-pull tap ensure easy access when dispensing the beer, and the drip tray can be removed for thorough cleaning. This set itself comes with a base unit, reusable growler keg, removable drip tray, three 16g CO2 cartridges, and a squeeze bottle cleaning kit.
Want something more simple when it comes to beer growlers? Very easy to travel with and doesn't leak any of your good beer, this growler by Hydro Flask is exactly what you need if you want a lightweight beer growler that won't be a hassle to bring along with you anywhere. And it's in the best-looking matte gray you can find.
Either use this to keep your beer cold or even fill it with water as a sports water bottle! There are unlimited ways you can use this growler, but it works wonders in keeping your most loved brew refreshing and cold when wanting to drink out of it. BPA-free, and with a flex cap, no spillage will occur when using this beer growler.
Finally, from the best beer growlers you can get your hands on for keeping your beer constantly cool is this growler by Manna. Ideal for tailgating before a game or for barbecue parties, this growler is literally like a keg and can keep all beverages cool for up to 24 hours. Not to mention that it can even keep any beverage hot for 12 hours!
Vacuum-insulated and constructed with stainless steel, this keg-shaped growler is awesome to store your favorite brew in and maintain its cold temperature. With a screw-on cap to prevent any leakage, this growler can hold up to 64 oz. of any beer you want. You can't throw any type of party without this really cool keg beer growler!