Getting A Queer Haircut In LDN
My visit to Bebop…
When LGBTQ Wellness Co asked me to start writing about Queer haircuts, hairdressers and salons I obviously jumped at the chance!
I must confess to being a tried and tested 'hacker' of my own hair for many years (ahem, decades….) and have fully embraced the punk aesthetic from a pretty young age. However, as I'm growing a little older I've realised there's a certain ….Je ne sais quois ….. that comes from getting your hair done professionally. A little extra sharpness to the lines, a bounce to the curl that translates to a spring in the step….and a little bit of luxury that comes from being pampered and preened in the process.
However as a non-binary, trans, intersex and generally queer af style icon with several neurodivergences - I have had to pick my hair battles wisely.
A long time connoisseur of the home haircut, home eyebrow tint, home hair dye, home nail polish …. I very rarely venture into the, typically very CIS, het, neurotypical world of the hair and beauty salon!
Still, the times are indeed a-changing - and I felt it high time I stepped up to the plate and investigated the new breed of Queer friendly, Queer Positive and even Queer Owned salons, stylists, chop shops, barbers and boutiques popping up all over London.
With a little research online, and a few recommendations from friends, I decided to start my journey with Bebop Hair Salon in Hornsey Street, London. Though not a queer owned or exclusively queer based salon I could see from their website that they had a very varied and experienced team - and a salon that promised to pamper, preen and deliver perfect, wearable hair for every individual! I wondered - how well can a relatively high end salon really cater to a queer, neurodiverse street punk like me?
The answer?
Damn! This little street punk is putting down the clippers and kitchen scissors and signing up to a lifetime of salon based experiences (or at least an occasional trip to the salon in between home haircuts).
My stylist was Olivia who hails from Miami and has over 14 years of experience at her fingertips. We chatted for quite a while in the plush, comfy, brightly coloured chairs whilst sipping complimentary coffees and I felt very comfortable stating my gender, pronouns and neurodivergence.
We discussed my needs, lifestyle and anxieties and shared stories about the punk scene, music, hair modelling, life journeys and more. It was actually a lot of fun! I also mentioned that, though I felt quite high energy and verbal on this occasion, I might come back another time and be very low energy and non verbal - and this was welcomed with understanding too.
The salon itself is brand new as they have just moved from a small little location to a new, bigger and bolder site. The colours where bright and cheerful but the pastel tones stopped it being overwhelming or over stimulating. The hair washing was lovely, the seats were comfy, the coffee was flowing and time literally flew on by!
After lots of discussion about my gender identity, how I like to present, punk scenes and Chelsea Cuts, my history with bad hairdressers and salons, and my fear of looking femme - I was delighted to find that none of these things were 'new news' to Olivia, who took it all in her stride making me feel very at ease and not like a strange alien anomaly.
The result?
One of the best haircuts, if not the actual best haircut, and colour, I believe I've ever had. The brown with golden undertones is perfect and I'm so glad we spent time looking through the colour books and selecting it together. The green tips were just right to compliment my eyes and, as it's faded, the striking tone has continued to show through.
The cut, style and length is non-binary perfection with a true nod to British Punk Chelsea Cuts of the past (my fav aesthetic) and my were curls left bouncing around my cheekbones and cascading down my neck.
I walked out feeling like a million pounds, filled with Queer Pride and confidence!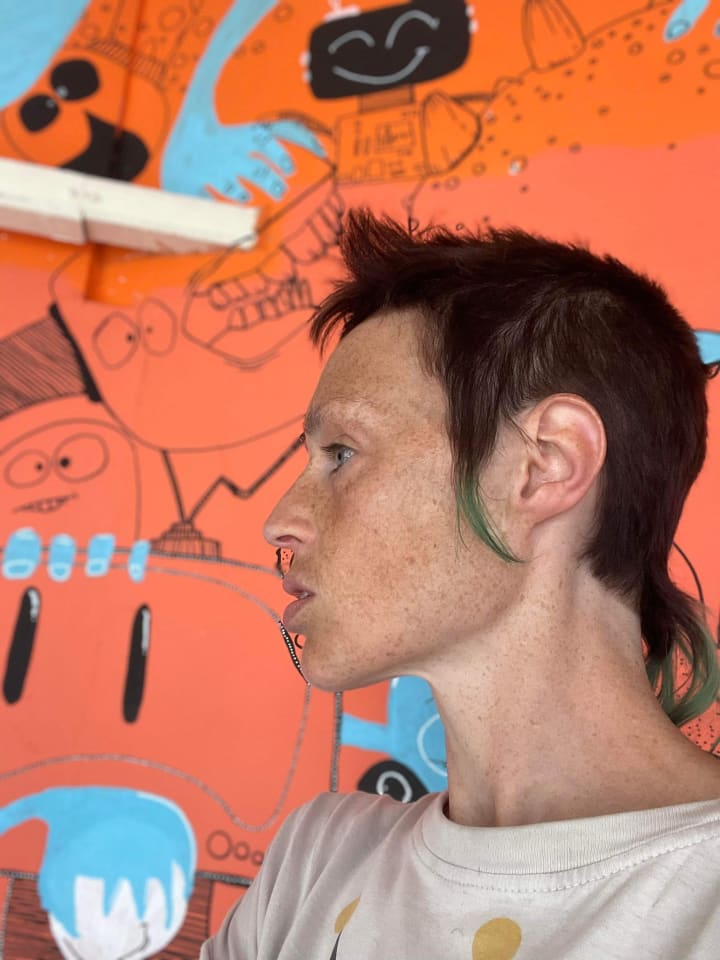 I have to say that I was not expecting such a fantastic experience or to get such a spot on haircut and colour in terms of reflecting who I am right now. Even as it's grown out, the shape and style have continued to hold and I'm still rocking it like it's a fresh trim!
Though this salon is a little out of my usual price range, I definitely recommend them as a special treat (or more frequently if you can afford it). I've been going through quite a tough time lately as many queer and neurodivergent people do and this experience lifted my spirits and boosted my confidence for weeks.
Thanks Bebop for a lovely experience! Check out the video of my visit here!
To find out more about where to get non-binary haircuts, what to ask for and how to contact a local salon to 'test the waters' - check out my article for @lgbtqwellness.Co here and keep an eye out for their full directory of queer friendly and queer owned salons coming soon!
I'll also be catching up with the owners of Bebop on my podcast as soon as my ADHD allows me to organise it so make sure you're following me on Spotify here to keep updated!
Now it's time to hit the streets and show off this non-binary finery all over town!
If you like what you've read here please do consider leaving me a tip, subscribing to my content or buying me a coffee! You can also visit my online store to check out my artwork and clothing - your support is so appreciated and means the world to me thank you!