Book Review: Shannon Molloy's FOURTEEN
One boy's year of darkness and the light that followed!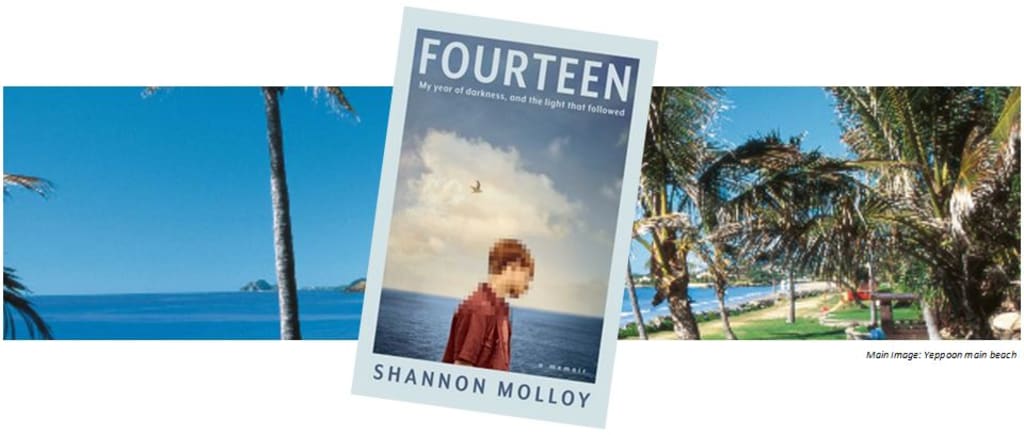 If you have been following my pages you will have probably noticed that there are a few subjects that I have a keen interest in; two of which are Australian books which feature LGBTQI themes or characters, along with real life LGBTQI histories of people who grew up gay in rural Australia, just like I did.
After having read about this book online some time ago and deciding I needed to get hold it, I was pleasantly surprised when I found a copy at a pre-loved book fair recently. When I started reading I was immediately taken back to my own childhood, having myself been a gay kid who attended a Catholic High School in a rural setting, even if I did my best to conceal that side of my persona at the time (with only mixed results). There were numerous comparisons that I could draw between the school experiences of myself and the author, Shannon Molloy, though I will be the first to admit that I had it far easier than Shannon ever did.
Fourteen recounts a pivotal year in the young life of the author, the year when he was of that particular age, when in grade nine. Bullying can be rife amongst kids of that age anywhere in the world, but when you are perceived as being different, in any shape or form, then it can be taken to a whole new level. Show any outwards signs of effeminacy or worse still, get caught in an act that may confirm your sexuality (as happens to Shannon when he is caught kissing another boy), then it can quickly become 'open season' on you, and often with disastrous results, unless you have a support network there ready to catch you.
Shannon's story begins with what can only be described as a harrowing experience. He was that kid at school who was endlessly teased for his mannerisms and rumoured sexuality and when, during class, a purported love letter gets passed around amongst the students with graphic descriptions of what he would apparently love to get up to with one of the most popular boys at school – all of which is a total fabrication, right down to the scrawled signature – his worst nightmare begins. What is even worse is that the teacher, the one person upon whom a student should be able to depend, actually enables this nightmare by reading the note out load.
Leaving school that afternoon he is pushed, punched, spat upon and abused, and all he can think of is how long he must wait after school to catch the bus and how long it will take to reach the safety of his home, where he can then attempt the unthinkable.
This is exactly what daily life can be like for just so many LGBTQI teens, all over the world, and sadly – for so many – their outcomes are less than positive.
"Your walk, the way you walk … It's very gay"
Time and time again Shannon is confronted with experiences that leave him floundering, many of which are perpetrated by those who should be watching out for him. His own father, absent from his life after separating from Shannon's mother, has difficulty in understanding his son, but that is nothing compared to what he faces at school; like the history teacher who fails to condemn the horrors of the Holocaust and Shannon's classmates as they celebrate the murder of gays in Nazi Germany; or the religion teacher who can only confirm that Shannon would be condemned to eternity in hell when one of his classmates outs him to the teacher and delights in taunting Shannon by repeatedly asking the teacher if he would be going to hell; or the school counsellor who tells him, "Your walk, the way you walk … It's very gay"; the boarding house supervisor who finds him running from a near sexual assault and drives him straight back to school, while not believing a word he says; then there is the weird GP who diagnoses him with anorexia and forces him to strip to prove he is not hiding weights in his underwear during his regular visits and weigh-ins.
It is little wonder that he uses the term torture to describe his school experiences.
Yet despite the failings of many of the adults in his life, there are those who offer Shannon comfort and protection. His mother, who is his rock, always there for him. His siblings, who are fierce protectors. His girlfriends, who are supportive. A youth worker, who provides him with an outlet to just be himself, which later evolves into the planning of a fashion show for the local youth festival, which allows Shannon to really shine.
All these protectors assure him that things will eventually get better. But he has his doubts. All he knows is that he needs to escape the confines of small town life and the overwhelming, bigoted, accumulation of teenage masculinity that seems to encompass his world.
That escape finally comes to fruition when he is accepted for an overseas student exchange, where he travels to the United States, spending a year where he truly finds himself.
Written in a style that is casual and unfussy I found this book easy to read, vividly evoking my own images and memories of small town life (both the good and the bad) and awkward sexual awakening. There are moments that are almost harrowing, and there are moments that will have you chuckling, as you remember your own teenage years, regardless of whether you are straight or identify as LGBTQI. Illicit drinking and parties, smoking, making out, to name a few. Didn't we all go through similar things?
Shannon's story also reminded me of the vast differences between growing up queer in the 1970's, the 2000's and now. Back in my day (to use a term that is already over-used, I know) there was virtually zero information available for queer youth in rural Australia. There were no visible role-models. There was zero discussion of the topic in education circles. There was virtually zero acknowledgment, except in hushed tones, that queer people even existed. I well remember my own grandmother furtively saying to me, "He's one of THOSE people" when I once asked her about a distant relative, and no further discussion was entertained! Little wonder I didn't come out back then!
For Shannon, I guess the 2000's were only a slight improvement on my 1970's experience. At least he was able to find some support throughout his turbulent school years and with the internet in its infancy here in Australia, find information that was previously hard to come by. These days I would like to think that things are far better, at least in terms of support options and information availability. An answer to any question that queer youth may have is available at the press of a button, and if you can't find someone to talk to you just need to look online and there are a multitude of support organisations willing to listen to your problems.
Of course, things are still far from perfect, with us hearing regularly about bullied kids self-harming, but progress has been made and support is out there if you seek it out.
Shannon's memoir is one that I believe should be read by everyone. For those kids who may be questioning their own sexuality it is important reading, even if only to learn that there are others out there just like them, as well as to reinforce the message that things do get better. For those parents of teens who they think may be struggling with their feelings, to help them to understand just what their kids may be dealing with. For those teachers with vulnerable kids in their classrooms, to learn that their words and actions have consequences.
I can't recommend this book highly enough!
About the Creator
Aussie, Queer & Country
LGBT themed fiction with an Aussie flavour, reviews, observations and real life LGBT histories.
W: https://ponyboysplace.wordpress.com/vocal-media-index/
https://www.facebook.com/mark.p.peters/
Reader insights
Be the first to share your insights about this piece.
Add your insights