When Australian TV led the world in going Gay!
Some memorable LGBTQI moments over 50 years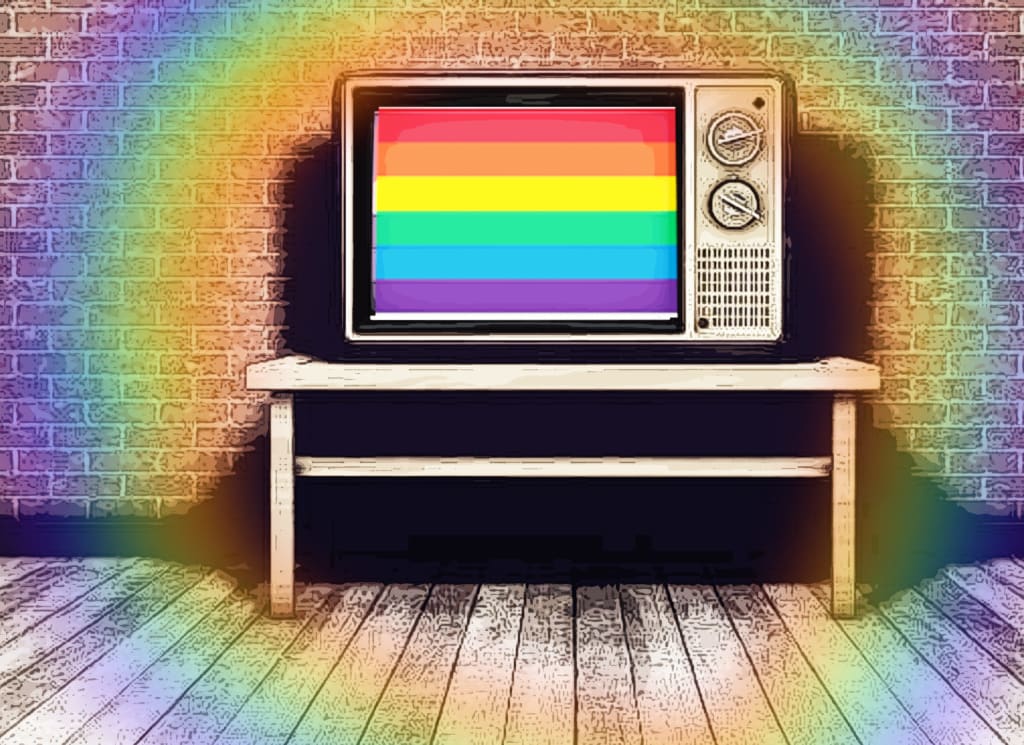 Image from Print Digital Broadcast Youth Media
Back when I was a boy one of my father's favourite sayings was; "Back when I was a boy!" Then he would launch into some lengthy story, the gist of which would be how life/things/people were all so much better back then, or far less complicated, or just simpler. I'm sure most of you can relate to this.
Don't get me wrong, I'm not knocking my father, or his tales of growing up (in fact I have quite a few of these to share with you at some point), as for all of us our childhood memories, or at least the good ones, remain sacred. It's just that every now and then things seem to happen in my life and my father's favourite sayings have a habit of popping into my head. Then I constantly find myself smiling as memories come flooding back.
Recently I was reading an article on a news site where an American actor was being interviewed about a character he played when he was younger (this was in a show that aired in the 1990's if I recall correctly) and he stated that he was the first in the world to play a regular gay character in a TV series. Don't ask me his name or the name of the show, as I can't ever recall seeing it. What immediately sprung to mind as I read the article, however, was "That can't be right. Back when I was a boy we had Number 96 on TV . . . and that was before we even had colour!"
It was 1972 to be exact, a time when Australian television led the world in featuring LGBTQI characters, with shows like Number 96 and Prisoner being the first in the world to feature openly gay and lesbian characters. I well remember seeing my first naked people on TV, in all their monochrome glory, tits and bits wobbling about as I stood in the darkness of my bedroom with the door opened just a crack, providing me with a clear view of the TV screen, unbeknown to my parents. I guess I wasn't much different to many other kids aged ten back then, apart from the fact I was more excited by seeing naked man bits than boobs and not quite understanding why.
When I heard the promo's that went something like, 'Tonight, Australian TV loses its virginity', I was naturally curious. I mean, what kid wouldn't be? I wasn't sure what to expect, but I made certain I went to bed before the show was due to start, my bedroom door not quite fully shut, while lying in bed and listening for the theme music at the start of the program, which I just knew my parents would be watching. When it began, I quietly climbed out of bed, fearful that a squeaking bedspring would give me away, and stood at the door, feeling a bit like a Peeping Tom as I waited for the show to start.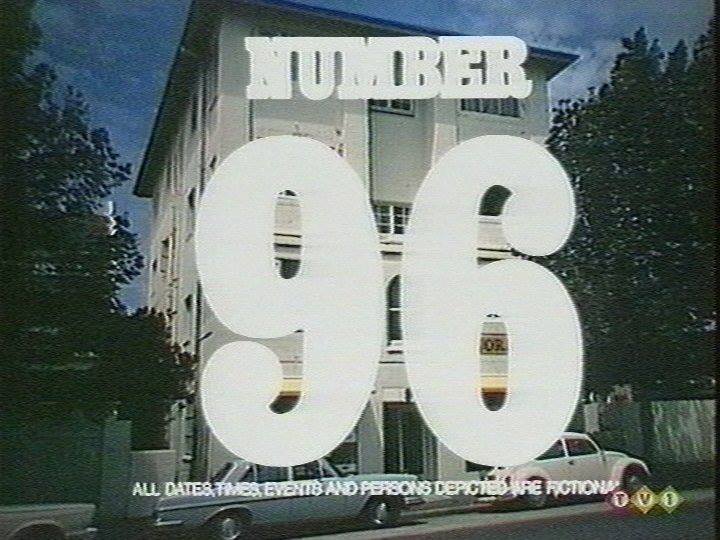 That was almost fifty years ago now. How time flies. I can't remember everything about that night, or even if my memories of seeing nekkid people are more of a combination of several episodes, or even different shows, but I do recall that year being something of an awakening for me and my school friends (we would compare notes later) after seeing considerably more skin and more body parts than we had ever before seen. And those memories are everlasting.
So, all this reminiscing got me thinking about some of the shows I have seen on Australian TV over the years which did feature LGBTQI characters and storylines, and I thought I should share some of these with you. Some of my overseas readers may be familiar with some of these shows already, like Home and Away and Prisoner and Neighbours, for starters, but there are many more that I have seen, and yet more still that I am yet to enjoy. In fact, there are many that I haven't even heard of, so it looks like I have some catching up to do myself. For the curious there are video clips, or even full episodes in some instances, that can be found on YouTube.
From more recent times the rise of streaming services and even web-centric projects has provided a new means of depicting LGBTQI characters with a far greater range of characters and storylines. Gone are the days when shows featured only a minor, token gay character – and usually only gay men at that – if they featured anything at all. There is still room for improvement, of course, but progress is being made.
I also find it somewhat amusing that some other countries have laid claim to having had "the first queer moments on television", yet Australia never seems to get credit for these world first milestones.
America's first gay kiss apparently didn't happen until 1991 on LA Law. In 1997 Ellen came out, while the following year Will and Grace became a huge hit. Over in the UK they just missed out on a "first" when on the BBC2 teleplay Girls, airing on 22 February, 1974, showed two female army officers kissing. They are also still proud of Anna Friel's gay kiss on Brookside in 1994; and it was even replayed for the whole world during London's Olympics Opening Ceremony, while Coronation Street and Queer As Folk came later.
I have to say, however, that Australian TV had shown all of these scandalous moments first; and more than two decades before the rest of the world! The sex, nudity and gay situations on Number 96 and The Box made both Aussie shows too explicit to be aired in other countries, so it is not really a surprise that most historians are unaware of their impact
So, on that note let me share with you now some memorable (at least to me) LGBTQI moments from Australian TV, starting with the daddy of them all . . .
NUMBER 96 certainly assured itself an audience with that promo line of 'Tonight, Australian TV loses its virginity', with viewers turning in en-masse for the first season.
In 1972 Australia was apparently in the midst of a sexual revolution . . . but I was only around ten years old, so I knew nothing about that. What I did know, however, was that people on the TV show I had been creeping out of bed at night to sneak a peek at were doing "grown-up" things and this somehow excited me in ways I was having trouble understanding.
This was the first time that I had seen or heard anything about a queer person outside the bigoted remarks I heard almost every day that came from the adults around me. It would be an understatement to say I was surprised at how much this queer man on TV behaved just like everyone else I knew . . . with the one difference being that he wasn't putting down, or making bigoted remarks about, or hurling abuse at other queer people. I knew this was just a TV show and therefore wasn't real, but here was a man loving another man, and he seemed to be just like every other man I knew. Normal. He wasn't a freak or a monster – as every other man I knew said that every queer man would be! And even if I hadn't quite figured out in my own mind at that stage just what all these feelings I'd been experiencing actually meant, somehow, seeing this character on TV made me feel as if I wasn't quite the freak that I had begun to think I might be.
The following year NUMBER 96 went one step further and introduced a lesbian character (but without any real sexual or passionate encounters), and then they followed that with a trans character. Conservative Australia didn't know what had hit it!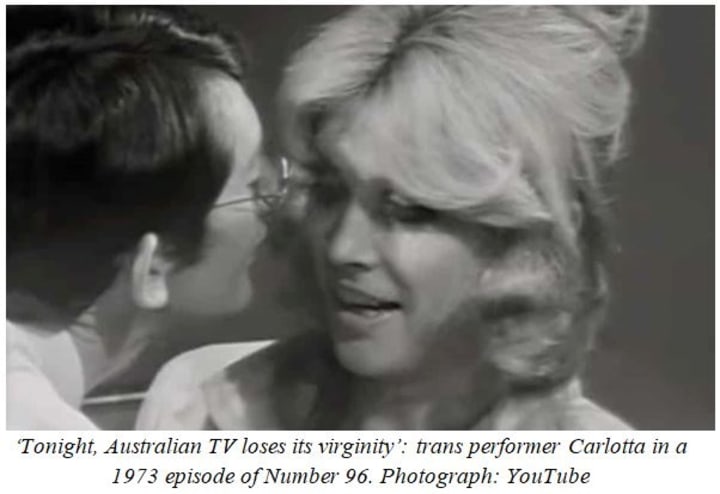 Sadly, however, many of these early episodes have not survived. It would be wonderful to be able to revisit them now, but I guess I will just have to be satisfied with the furtively gathered memories of a wide-eyed kid who had just found out that maybe he wasn't exactly the freak he thought he had been in danger of becoming!
THE BOX aired on our television screens between February 1974 and October 1977. It was an Australian soap-opera titled featuring sex, scandal and the political machinations of life working inside a television station. It was launched as a rival to the enormously successful NUMBER 96, which aired on a different network, and is perhaps best known as featuring Australia's first lesbian kiss between characters Vicki Stafford (played by Judy Nunn) and a sexy young woman named Felicity (played by 20-year-old Helen Hemingway) in 1974. There was also an openly gay and very flamboyant television producer, Lee Whiteman (played by Paul Karo), who fell for Wayne Hopkins (played by Bruce Kilpatrick), the son of the office tea-lady after his release from jail, forcing his mother to come to terms with her son's homosexuality.
In subsequent seasons the emphasis went from scandal to comedy and while it was still a great show for the time, that first season remains the most memorable.
I was around ten or eleven when these first two shows aired, so as you can imagine for a kid who was beginning to recognize and come to terms with his own sexuality, seeing queer characters on the television screen was a real eye-opener, in more ways than one.
After the impact of those shows in the 1970's it took a while for another show with regular LGBTQI characters to come along, quite surprisingly. There were obviously some shows where such characters made appearances in singular episodes, such as Division 4, Homicide, Cop Shop, but these tended to be few and far between.
Then in 1979 Australia was introduced to Wentworth Detention Centre and TV's first out butch lesbian, a character by the name of Franky Doyle, in a show known locally as PRISONER, or as Prisoner: Cell Block H outside of Australia where it garnered quite a following in the USA, England and many other countries.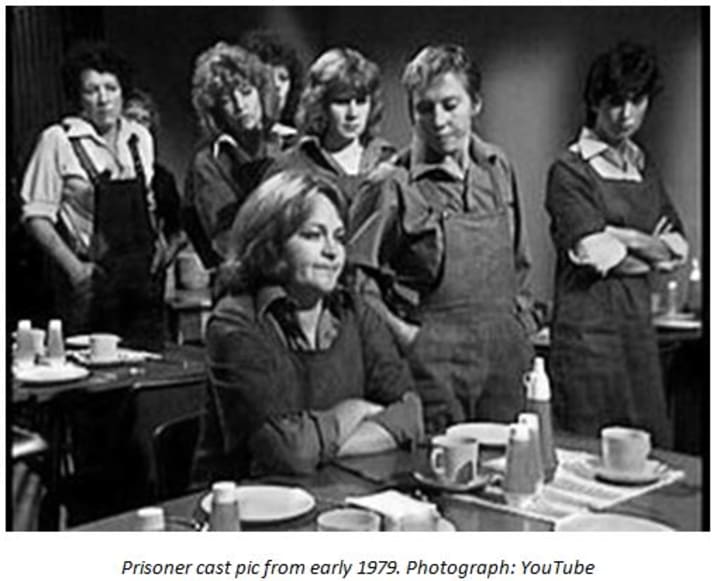 The show featured quite a bit of violence, along with a number of other lesbian characters, but it was Franky Doyle that it is probably best remembered for, whose on-screen death even inspired a group of American lesbian bikers to lay a wreath at their local Los Angeles TV station.
In more recent years the show has been re-booted, under the title Wentworth, with another lesbian character named Franky Doyle leading the way.
Two of Australia's longest running and most popular series, NEIGHBOURS and HOME AND AWAY, both of which have been hugely successful overseas, have also gone down the path of dabbling in LGBTQI storylines.
Of these, Neighbours would have to take the prize for best representing the genre, with regular and repeated queer characterizations, of all descriptions.
First appearing in 1995 the recurring gay character of Andrew Watson, portrayed by Chris Uhlmann, appeared for two years, while Sky Mangel, originally portrayed by Miranda Fryer from 1989 to 1991 and by Stephanie McIntosh from 2003 to 2007, was the show's first regular character to have a same-sex kiss (with Lana Crawford, played by Bridget Neval), which caused controversy amongst conservative groups at the time.
In 2010 a gay high school student became the series' first ongoing male homosexual character, played by James Mason. Introduced following requests from young viewers in the Neighbours website's online forums, the character's sexuality storyline was also based on the real life experiences of the show's writers and was better received than had been expected.
In 2018 Neighbours first-ever same-sex wedding took place, between Aaron Brennan (Matt Wilson) and David Tanaka (Takaya Honda), while the soap currently ticks about every box with the burgeoning couple of Indigenous PTSD-sufferer Nate (Meyne Wyatt) and buff Caucasian male stripper Aaron (Matt Wilson).
In 2022 the show has also introduced its first non-binary character, however it was recently announced that after thirty-seven years and almost eight thousand nine hundred episodes the show will be coming to an end in 2022.
Many of the past characters are set to rejoin the cast for the final episodes to celebrate what has been a phenomenal achievement.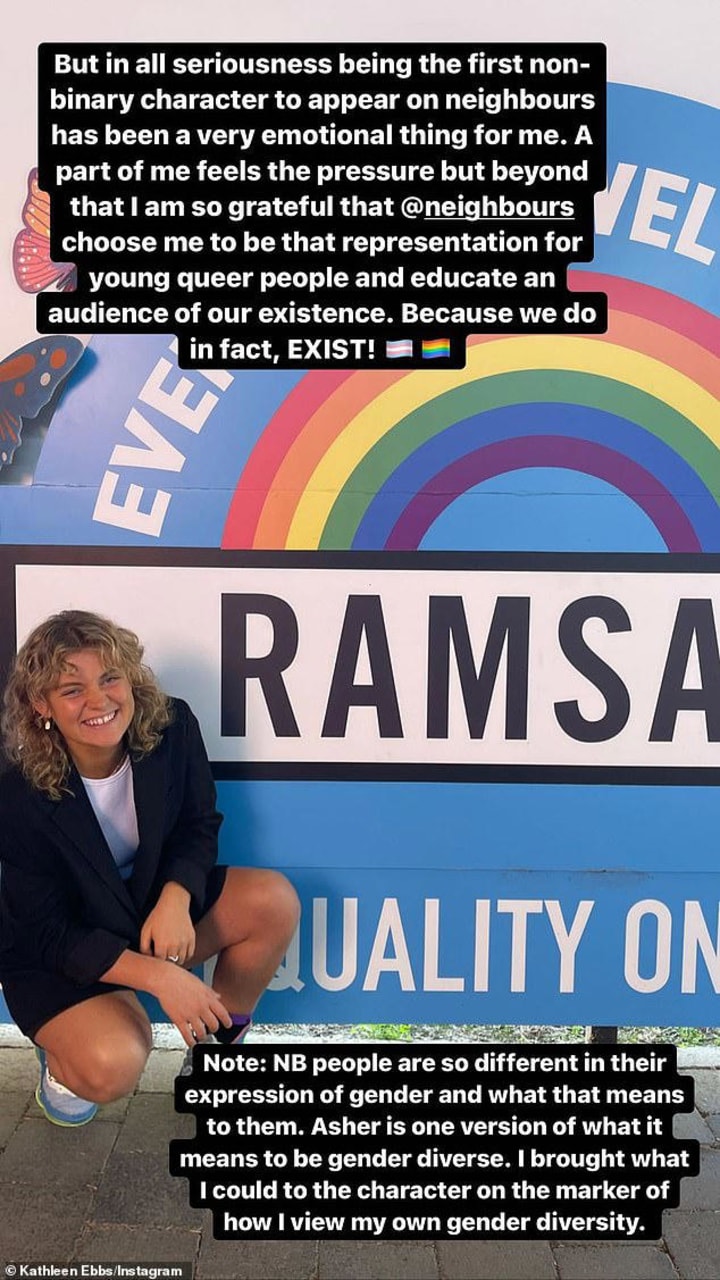 Home And Away, on the other hand, has largely shied away from having regular LGBTQI characters, with the majority of those storylines that have aired being focused on relatively minor characters or regular characters experiencing some sort of confusion. In 2009 the show first dipped their toe in the same-sex water with a lesbian kiss, however this proved quite controversial. It wouldn't be until 2018 when a gay male teen, Ty Anderson (played by Darius Williams) is introduced, however once again this proved controversial with various community and religious groups and the character was a relatively short-lived one.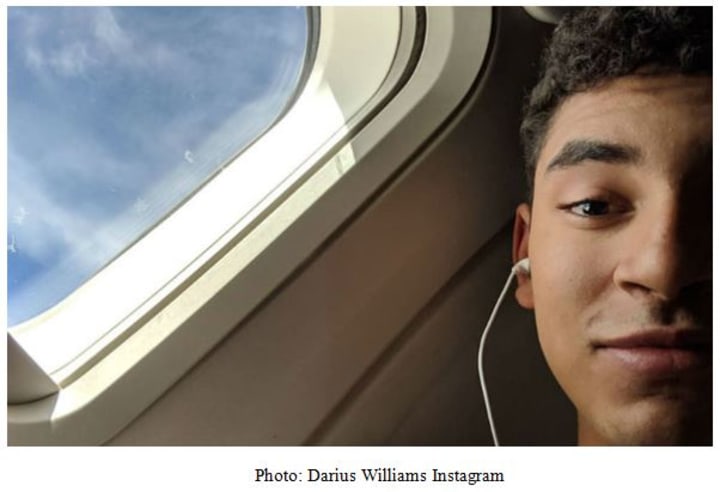 In researching this topic I have found that the list of Australian TV shows that have featured LGBTQI characters is a considerably longer one than I had first thought it would be, which I think just goes to show that Australian audiences, despite the occasional bouts of conservatism in the country, are slightly more liberal than in some other countries.
If one thing can be noted, however, it is that the number of shows that appear on this list has grown considerably in recent years, when compared to earlier years, which is surely a sign that things are heading in the right direction as far as having LGBTQI representation on our screens. Apart from those already mentioned, shows like House Husbands, A Place to Call Home, Please Like Me, Angry Boys and Deep Water have grabbed the attention of viewers, and with LGBTQI representation on Australian TV screens now on the increase it seems obvious that this is, in part at least, due to increased acceptance of LGBTQI issues within the community at large.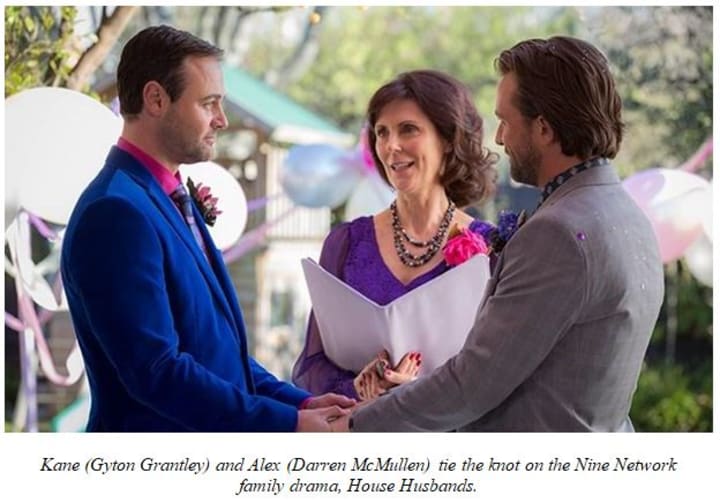 I am now looking forward to doing some research on LGBTQI representation on TV in other countries. I am sure that I will be surprised by the results, but I am confident this will only confirm that at one time Australia led the world in shattering television taboos about the LGBTQI community.
About the Creator
Aussie, Queer & Country
LGBT themed fiction with an Aussie flavour, reviews, observations and real life LGBT histories.
W: https://ponyboysplace.wordpress.com/vocal-media-index/
https://www.facebook.com/mark.p.peters/
Reader insights
Be the first to share your insights about this piece.
Add your insights