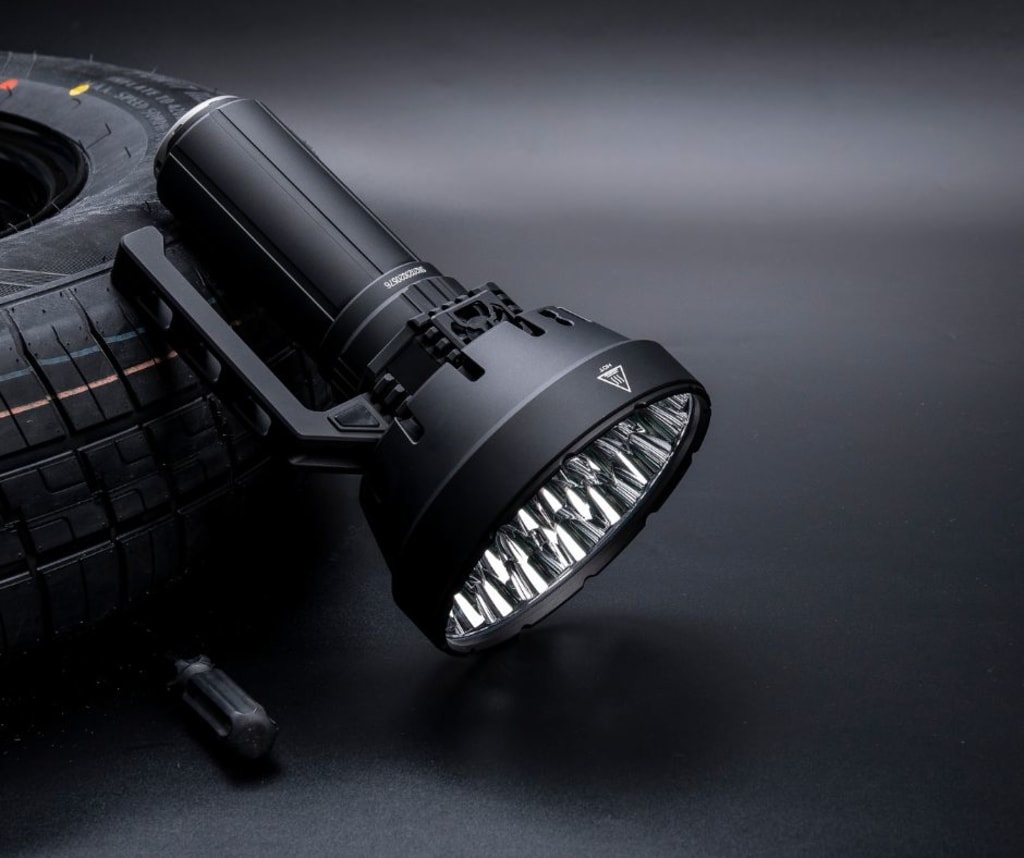 SENSATIONAL ADVANCED LIGHTING, CORONATION OF THE KING OF TORCHES
One of a never-before powerful enchant. Our first 120,000-lumen, 1,092,000 cd powerful torch roars with its magnificent. On its journey from concept to extreme luminous reality. It brings the ultimate brightness to your hand as a truly performance-oriented lighting solution, flooding extreme machinery through every LED, curve, and photon. We're excited for you to meet SR32.
Strictly arranged to design all the features, we are rewriting what best-in-class means for large-area illumination. Incorporating our learnings from Imalent MS18 - 100,000 lumens and SR16 - 55,000 lumens long-range flashlight, the SR32 is at the forefront of our exploration of ground-breaking portable lighting possibilities. Confounding expectations, SR32 is a long-range rechargeable torch that commands over 120,000 lumens.
SR32 is the ultimate balance of extreme performance, an evolution of the ground-breaking Imalent MS18. Combining a full aluminum alloy body structure with sophisticated functionalities. The result is a new kind of dominant illumination possibility.
LIGHTHOUSE- A LIGHTHOUSE TO BRING LIGHT TO THE NEXT GENERATION
The beating heart of SR32 is an all-new SMO reflector with 32 CREE XHP50.3 Hi LEDs mounted evenly at the center. This is the most furious, robust, and highest-performing design ever fitted into a LED torch, emitting 120,000 lumens and projecting over 1,092,000 candelas. The power of the new SR32 head design is intensified by 8 Sumsung 40T 21700 Li-ion batteries, integrated into a battery pack that supports 100W charging, the total charging period from entirely drained to fully charged is 1.5 hours. Besides that, the SR32 battery pack supports two-way charging, means it can power your electronic devices such as your phone.
Body Material
Built with aluminum alloy for maximum stiffness with type-3 matte hard-anodized treatment, SR32 gained an impressive amount of lumen output but was only 0.5 Kilograms heavier than the MS18. Taking learnings from our MS18 and SR16 and ensuring using the latest features, SR16 style metal handle, corresponding with an OLED screen and providing brilliant harmony between the user and SR16. This is complemented by a high-performance, newly designed cooling system that minimizes the noise, ensuring exceptional air circulation when needed and supported by uniquely developed Imalent built-in fans.
A muscular silhouette to suit a masterpiece. It combines extreme performance with exquisite design language and a practical, futuristic sculpture for the first one of its kind. The rugged, expressive, and muscular exterior has been designed to emphasize its epic presence while expertly improving the air circulation around the U-channels and bringing heat away from LEDs and electronic components. Not a single detail works in isolation; each and every feature are made to function in harmony.
The distinctive octagon cooling chamber feeds cool air directly into SR32's cooling module's intakes, while U-channels help drive heated air away from the core. The striking metal arm design also helps keep your fingers away from the torch's body, ensuring a pleasant experience while using the torch. This is the ultimate powerful torch designed for mass illumination.
Expecting Date Of Release
The SR32 is still under the final few steps of review. It might take a month or more before it's released. This article is written on Feb 18th, 2023.
Price for the Imalent SR32
The SR32 is the latest and most powerful LED torch in the world. It will most likely be more expensive than the previous brightest torch Imalent MS18 - USD 669.95. But considering Imalent's ambition to strengthen its reputation and market share in the powerful flashlight niche, the final price might not surpass its current price range by far.
https://www.imalentstore.co.uk/blogs/news/120-000-lumens-worlds-brightest-led-torch-sr32
https://www.imalentstore.co.uk/
Reader insights
Be the first to share your insights about this piece.
Add your insights