Heavy Metal Songs About Weed
Grab some (bud)dies and rock out to the top heavy metal songs about weed.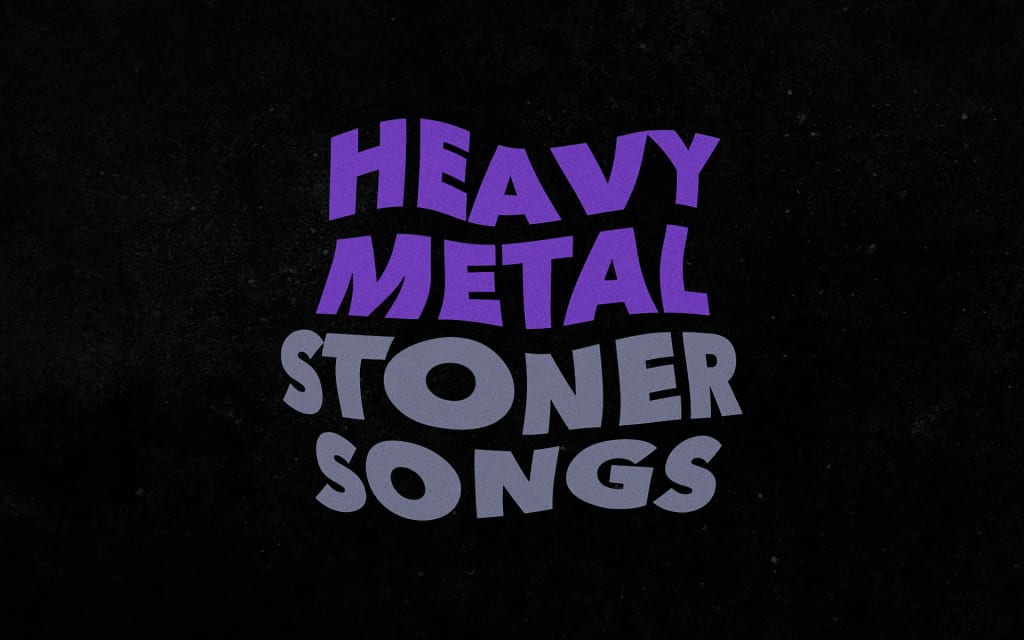 Whether you're taking hits from your bong, hitting your pipe, or smoking a blunt, you'll enjoy it more if you have the perfect heavy metal songs about weed during your smoke sesh. Metal heads everywhere know that the right tunes make the sticky icky even sweeter. There are some true classics on this list, giving you the perfect mix of songs you might know as well as some brand new favorites. So sit back, spark up, and check out our list of the top heavy metal songs about weed.
"Sweet Leaf" is often lauded as the heavy metal track for stoners, and a fair few would argue that the band practically created the heavy metal and stoner metal genres. With classic Black Sabbath riffs and Ozzy Osbourne's signature groaning vocal style, this song was an instant classic and no list of heavy metal songs about weed is complete without it. Most of Sabbath's early albums had a stoner feel, 1971's Masters of Reality being the finest example, and smoking weed certainly didn't seem to hurt their popularity. Perhaps Ozzy's only complaint would be that the world still hasn't quite caught on to his way of thinking. We feel your pain, Ozzy. One day, victory will be ours. And that day will be as sweet as Black Sabbath's "Sweet Leaf."
It's unsurprising that one of the greatest heavy metal songs about weed references Black Sabbath. But Pantera isn't exactly known for their stoner tracks, despite having a lead guitarist nicknamed Dimebag Darrell and several videos showing various band members smoking weed. In some ways, "Goddamn Electric" is the standard Pantera affair, complete with roaring vocals, a lightning fast drum line, and a killer solo at around the three minute mark. Despite all Pantera's signature instrumental style, it's lyrically where this song becomes pot-smoking gold. For example, Phil Anselmo belts out
And then you will know yourselfThe change in you is goddamn electric
in the chorus, which makes this an essential listen for any stoner metal fan. It's just a shame that Pantera didn't release more songs purely about weed.
Tool is certainly a band that is no stranger to drug references, and their hit "Rosetta Stoned" is no exception. This track is as eerie as it is calming, and features a sample of a doctor questioning his presumably stoned patient which culminates in a Maynard James Keenan stream of consciousness. These features make this song as trippy and confusing as many of Tool's songs, perhaps due largely to their love of DMT and other psychedelics. As a result, Tool manages to produce unique and highly abstract heavy metal songs about weed and other drugs which this genre simply couldn't do without. "Rosetta Stoned" is perhaps one of their best.
With a pun-riddled track name such as "Reefer Sutherland," did anyone expect Bongripper not to be a hit with stoners all over the world? "Reefer Sutherland" is slow but unrelenting in its build up and, with some genuine killer guitar riffs blended with a skull-bashing drum line, Bongripper achieves some truly heavy heights on this tune. It's an instrumental too, so it's good to jam out to if you want a break from screaming. Brongripper only formed in 2006, so they are a bit later to the game than the likes of Kyuss and Sleep. This may mean that their best material has yet to come out, and it's good to see that stoner metal is still being created. As long as they continue to produce albums with names like The Great Barrier Reefer, chances are they'll stay popular for some time.
Stoners know that smoking marijuana opens up a whole new realm of reality, one in which everything in the world starts to make sense. The song "4:20" by Six Feet Under celebrates the enhanced sense of reality that comes with being high. Boasting some eardrum melting screams and lyrics concerning the third eye and the soul, this is certainly heavy metal with an herbal twist. The band's line up includes Cannibal Corpse's lead singer Chris Barnes, making sure to pique the interest of any death metal connoisseur. The lead singer grunts through lines such as "The touch of velvet rubbed against my soul," and "Thoughts of things you've always known," which are sentiments every stoner can relate to.
Pantera isn't technically a stoner metal band. However, Pantera's lead vocalist Phil Anselmo and his super group Down certainly are. Featuring members of Corrosion of Conformity, Crowbar, and Goatwhore, Down sounds like Pantera on edibles. Anselmo grunts and screams "smoke" and "stoned," which will be music to the ears of any stoner with a penchant for metal. "Hail the Leaf" also features a bong rip which is so juicy The Beastie Boy's "Shake Your Rump" would nod its head in approval. Down is certainly a band which has contributed some heavy metal songs about weed that any head would love and that Dimebag Darrell would be proud of.
Considered the doom metal pioneers of the 90s, Sleep recorded their last crunchy, sludge-ridden album-long song "Dopesmoker" to critical acclaim, despite their record label refusing to release it initially. Lead singer Al Cisneros stated that weed was important to the creative process of the album and boy does it show. This album lives and breathes the stuff. The song/album is expansive and the lyrics trippy and profound, with a guitar tone Sabbath would approve of. Since their aim was to make an hour long album composed of this one song, this record is perfect if you're feeling too far gone to sit up and change the music.
Kyuss, like Sleep, was viewed as one of the bands leading the way for 90s stoner metal. Perhaps better known for guitarist Josh Homme's later project, Queens of the Stone Age, Kyuss has nevertheless produced some quintessential heavy metal songs about weed. Marijuana's influence upon Homme can certainly be seen in QOTSA. Rising to popularity at a similar time to Sleep, Kyuss' "Green Machine" sees a more conventional grunge-tinged approach to metal, including snarling lyrics and driving guitar riffs which Josh Homme will still be very proud of. The song is overall very catchy, to the point you'll probably find yourself tapping along throughout your smoke session.
The English quartet Electric Wizard has surely produced some of crispiest heavy metal songs about weed around and has been doing so since 1993. Distorted as much as your vision and general motor skills, Electric Wizard's "Dopethrone" is heavy from the opening demonic laughter. With vocals that are barely perceptible and drums that would kill your grandmother, it's necessary to crank this track up to 11. Electric Wizard owns the genre of doom metal and with lyrics ranging from cannabis to H. P. Lovecraft. They are certainly not short on innovation either. Just one listen to this 20 minute masterpiece is sure to make you agree.
With vocals like what you'd imagine your voice after smoking weed every day for 20 years sounds like, Weedeater's "Weed Monkey" hits all the right chords. With its slow, heavily distorted guitar and flattening drum line, the song has a raspier vocal style than its counterparts on this list. With few yet dark lyrics such as "All of your seas and rivers overflow with blood," this song will please anybody who likes their heavy metal gritty and sinister. Weedeater is still making music, too. They released their last album back in 2015, meaning the band will likely have slimy green-tinged records coming out in the near future.
It's not surprising that these songs made our list of the best heavy metal songs about weed. How could we not include bands with names like Bongripper and Weedeater, as well as songs like "4:20" and "Dopethrone"? And of course, we had to feature heavy metal royalty like Pantera, Black Sabbath, Tool, and Down. So grab some (bud)dies, grind up some green, roll up a fat one and crank up the volume. These seedy heavy metal tunes are sure to have you head banging along—if you can be bothered to move, that is.
About the Creator
Born in Kingsland, Arkansas. Spent way too much time watching TV. Daily toker. Still in Kingsland, Arkansas.
Reader insights
Be the first to share your insights about this piece.
Add your insights