What a weird day
A poem about the time I may or may not have met Kerouac and Cassidy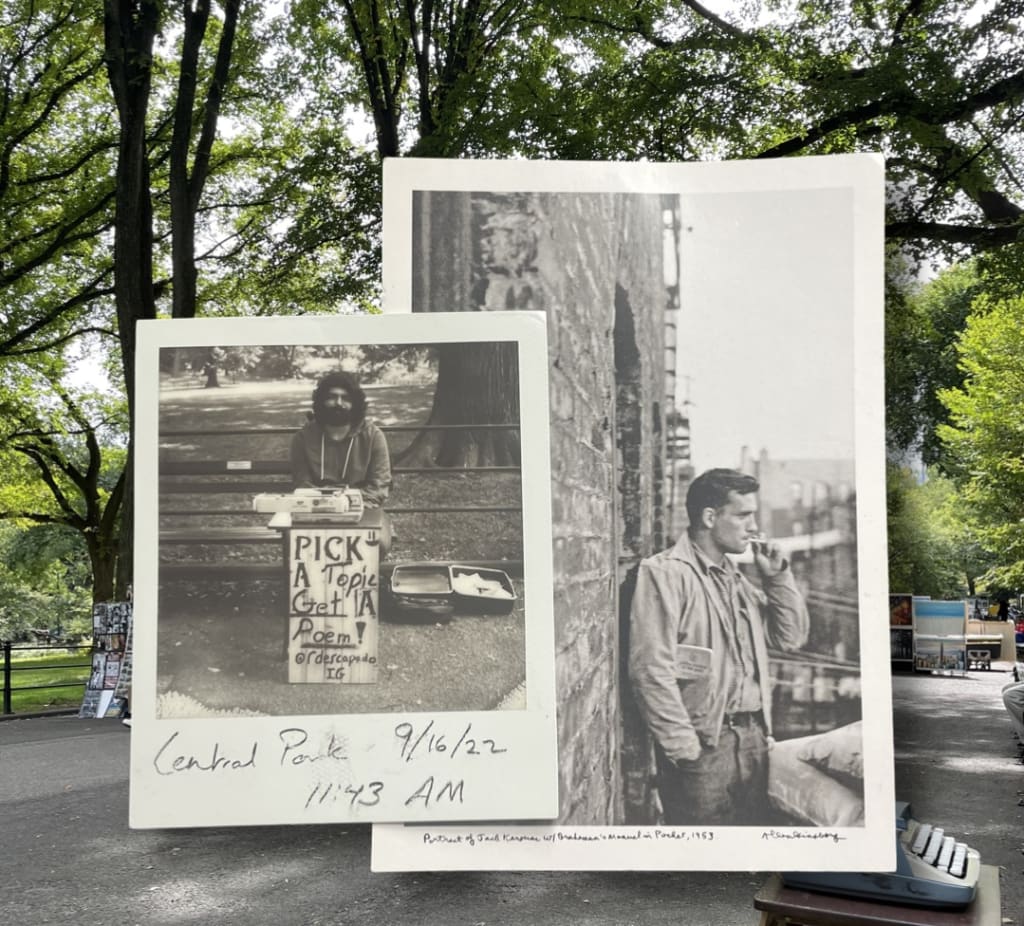 What a weird day
I met Kerouac once.
He was wearing a white and pink
Short-sleeved button-down.
I met Neal Cassidy once.
He stood with him- -
that fateful day.
He wore navy blue.
Before that...
A woman was dealing—
Dealing bad.
She needed a piece
Of my spirit.
and
I gave it away.
Told myself I had it to spare.
I always forget how deep my grave
Of grievance and despair.
Dragging the feet belonging
To a vacuum of a man
Dampening his revving rapture to relieve.
A stranger's hand in mind.
I had stepped into
An altered reality.
Not actually, but maybe.
I cut through a brick tunnel
something different on the other side.
Lugging my craft
In the heat of summertime.
There is a young boy and girl dancing
To the song
Of a musician trying to make it.
Don't bother asking,
yes, I am addicted.
But there they were.
Jack and Neal.
In plain sight before me.
Walking towards them.
Jack looked at me.
I said, "Are you..."
And Neal grinned.
A truly sinister grin,
one that was electric with truth.
He was restraining
holding tightly the reins of his heart.
Words will always dampen
a moment of proof.
Jack chuckled out the side of his mouth.
"Would you like a beer kid?"
I looked down, and they were splitting a pack.
I grabbed it
Shook their hands.
"Are you…"
"Thank you."
The only words I said to them.
That fateful day.
I have to stop writing this poem everytime.
I just stare out my apartment window.
Watch branches sway.
Listen to Jazz.
Presumably listening to jazz.
If you can listen to such a thing.
It's just sort of there
and you're with it.
The essence of the saxophone's swing.
"Would you like a beer, kid?"
I crossed the street-
And watched them walk away- -
Laughing and hugging- -
The back of their heads
More and more distant.
Until I take the corner- -
Until.
A n inferno behind the eyes
of red bricks once passed by.
I am alive again.
There is a sweaty beer
In my grip.
I think nobody
Will believe
My brief trip to the underworld,
nor do I care.
I have this beer.
This cold and sweaty beer.
In ones that wrote books--
books that set my heart on fire.
Now, in my shakey ones
the ones who try to create and aspire.
I tuck it in my bag
Later in my fridge.
Where it sits.
Waiting for the day
I publish my first book.
Or I have a kid.
Or the world is ending.
Or when it is saved.
Whichever moment is
bliss with jazz
I believe I will just know when, and
I will crack the beer's cymbal,
And I'll have a toast
With my dead friends.
I took out a pen and paper
tried to write this poem that day
but all I could come up with was this:
Oh, moon river
Please give me a kiss.
Oh, sunny day
Hold me tight.
What a weird day.
surreal poetry
fact or fiction
celebrities
art
About the author
Most know me as a poet sitting on a park bench in Central Park. Writing poetry for strangers. Before that I lived a life and learned a few things. Now I listen to what the world had to teach others. Believe in yourself and be honest. Okay.
Reader insights
Be the first to share your insights about this piece.
Add your insights