The Antique Rainbow Hand [La Main Arc-En-Ciel Antique]
By: Carlton A. Armistad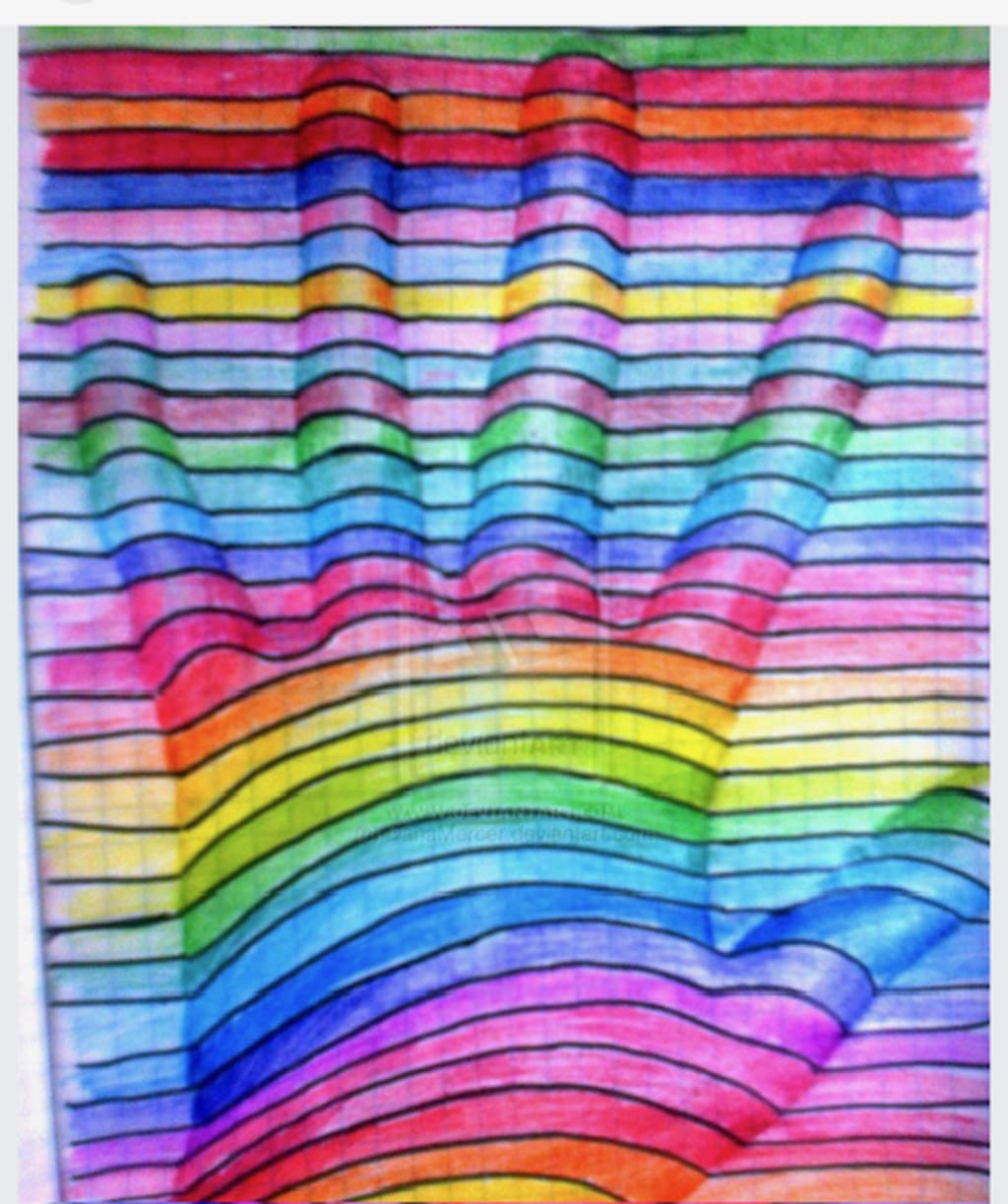 Image Courtesy of Pinterest, 2023
Verse 1.
Nestled comfortably on the window sill of my upper-east side Manhattan apartment
Bringing a cheerful mood to the street and the Café below where young lovers met
Placed intentionally between my prickly Cactus & exotic fuchsia Orchid for it's mesmerizing scent
Sculptured and crafted from my own hand, then jeweled and colored to reflect who I am, or was
Back then when I had the 'fight' in Me to make my night-time dreams a living reality
Siting here in my worn, Persian leather 1920's vintage sofa
Skin a resplendent nior porcelain, thoughts running wild as if for Me, this life is over.
Verse 2.
Alone, all alone in this sparsely decorated Penthouse I struggle to leave
Nothing makes sense in that downstairs Mad Hatters Tea Party to which the world cleaves
Once beautiful and filled with hope, now desolate and wasted, leaving most unable to cope
Back then, when it was truly good I strutted along, pink feather boa in hand in a
Ravishing sequined Dress worn with 7 inch Mink-pink Heels while 'Naomi-Campbell-walking'
Made Heads turn, passions burned as I left all the unfulfilled men gawking
Backless, and never a mess, my dresses were always a statement piece allowing me to release all my inner fierceness
Celebrated as a Manhattan Icon I was, and my Antique Rainbow Hand
Serving as Beacons of the City's diversity, community and fabulously fashionable wizardry.
Verse 3.
Parts of 'Our' world that exists today was created through the Rainbow hand's surviving our uprising
Stonewall Riots and the AIDS epidemic were relationship breakers and change makers for giving our Community its new Metrics
LGBTQIA+ celebrated all over the world with color Marches of Pride, in honor of those who sacrificed and died, and others who were denied
Love is Love, You gotta Love yourself, messages that have saved so many young lives and my Mental Health.
A whole generation of kids and young adults from the Queer Nation, able to see and forge positive and influential lives
All able to build modern-days husbands to Husbands and Wives to Wives.
No regrets for this journey and any of 'Our' Choices
As without fighting and protesting; against those who tried to silence our Voices.
Where would We be? Murdered, Mutilated, in prison and Manipulated
No-no-no, I couldn't and wouldn't let that be
Freedom is Mine for my Rainbow Hand & Me.
[The End]
About the Creator
Carlton A. Armistad is the pseudonym for Andrew R. Little. I prefer writing under this as it allows me to look at any body of work I complete separate to my personal day-to-existence, and safeguards my relationships and family.
Reader insights
Be the first to share your insights about this piece.
Add your insights