That Smile That Made My Cheeks Hurt…
A simple gift of verse.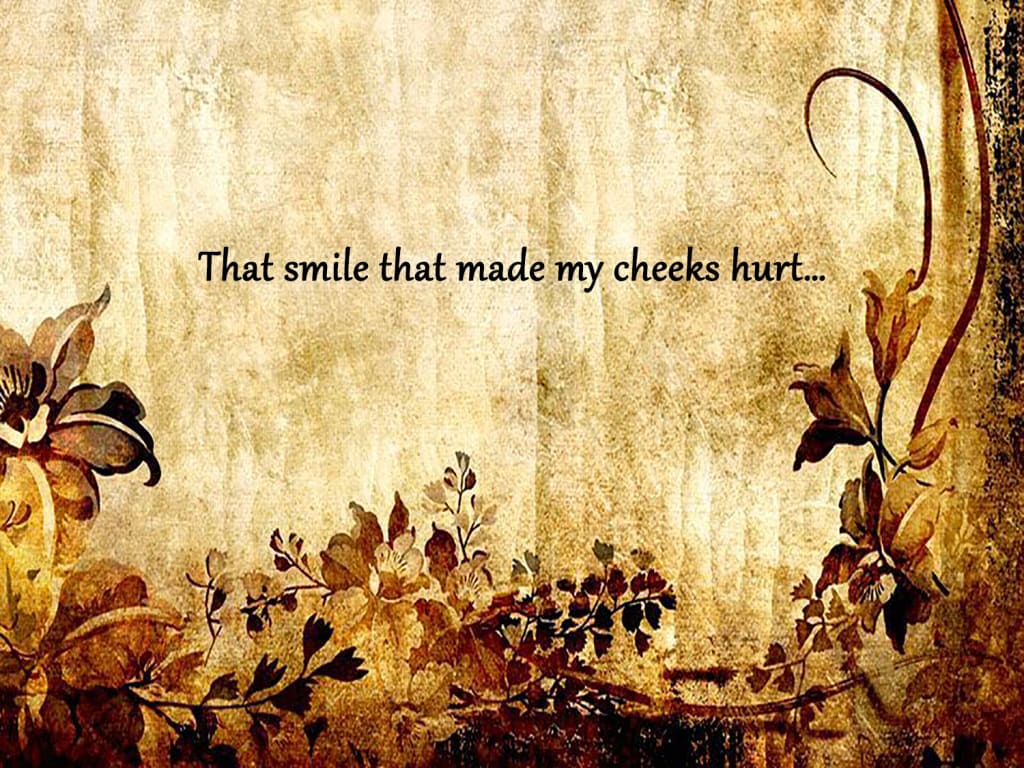 That smile that made my cheeks hurt…
Did you ever just meet someone and know that they were the one?
The one you've been waiting for?
The one that you're meant to be with?
I did.
From the first moment we saw each other,
there was an instant attraction,
pure connection,
and everything was perfect.
And that beautiful perfection happened so fast,
so strong,
so unexpectedly,
and so wonderfully.
I didn't question it.
I welcomed it.
Feelings and emotions coursed through my body –
just wanting to explode.
All thoughts were her. Us.
I couldn't eat.
Couldn't sleep.
I didn't feel good. Yet, I felt great.
My heart and brain were finally in sync.
Moreover, they were in sync with hers.
Every moment together was absolute happiness.
We couldn't ask for anything more.
Genuine I love yous were exchanged,
vows were promised,
children named,
and our whole lives were planned out in the skip of a heartbeat.
Talking every night until we could no longer keep our eyes open.
But trying for just a little longer.
And when conversation faded, it was ok.
No need for words, just being with each other was more than enough.
Last night we said our goodnights and I blew her a kiss to hold until we could be together again.
The new day would come soon.
But those moments apart are an eternity of longing.
I feel crazy.
My heart has so much love that there's not enough ways to express it.
But I want to.
I need to.
I write a poem.
Before I can give her my simple gift of verse, we are done.
No reason.
No explanation.
I never existed.
Without a word,
she is just, gone –
leaving me to wonder…
Why?
For a brief time, in a world of billions,
we had found each other,
but now I'm lost.
Crushed.
That smile she gave me,
the one that made my cheeks hurt,
is no more.
I'm numb…
What happened?
I don't understand.
I don't know what changed overnight.
And not knowing is unbearable.
The overflowing amount of love that filled my heart –
has been replaced by a cavern of empty pain.
Yes, I cry.
Deeply…
But, I breathe – nothing else I can do.
This heartache of hurt will eventually heal.
And I will move on…
Alone, again.
That smile that made my cheeks hurt…
About the Creator
Lon Casler Bixby is a published author: Fiction, Poetry, Humor, & Comic Books. He's also an award-winning photographer whose work has been featured in magazines, art & coffee table books, & in Art Galleries throughout the world.
Reader insights
Be the first to share your insights about this piece.
Add your insights