Recycled Words
100th Vocal Piece - The Ultimate in Self-Indulgence!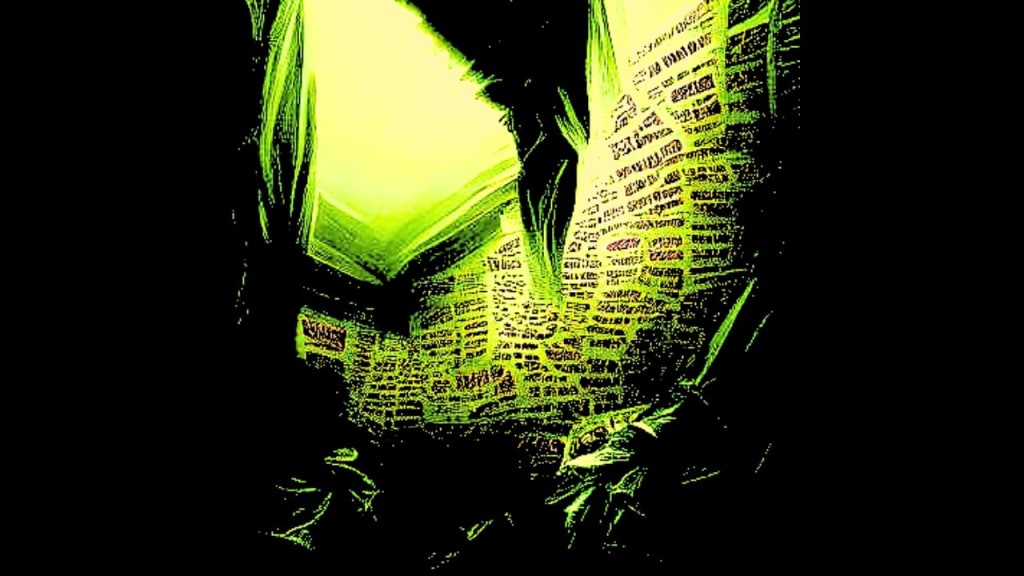 Created in NightCafe, Edited in CanvaPro
An uncapped sense of wide-eyed creativity led me down this path
A path lined with a deathly sense of failure at every step
Tickity Tickity tock, sounds the clock, my ego full of wrath
Is it progressive, or is it regressive? In keeping with my rep
The rain hits against my window, dripping and creating a bath
I understand my position is a privilege, follows me at every step
Welcome everyone to my mind, Prepare to cry, shiver, gasp, and laugh
Damn, my ego is coming out to play, in keeping with my rep
*
Sticky so sticky, the messes I get in, no real break or escape
Evil lurks inside my mind, deeply entwined with the good side
Am I digressing, maybe diverting, internal fingers starting to scrape
Life imitates art, art imitates life, no good place to run and hide
The unscented, dissented, corpse of my mind...wait...rewind the tape
A call-back to a simpler time, like flying head-first down a waterslide
Uplifting, delightful, and morish, like a fresh, ripe, and sweet grape
Your sensitivity tested at every step, like a gentle nibble on your nape
*
Like the dawn of a new day brings both warning and delight
There is as much beauty in the light as there is in the dark
Beware of the earworm, lurking and waiting, out of sight
Who will be the dominant one, who will leave their mark
My generosity wavers as I deal with the imposter, charlatan, and critic with all my might
The Proclaimers of my downfall, dismissers of my creative spark
Still, the decadence and indulgence push me forward, my fire burns bright
The naysayers are mistaken if they think my wordplay aint worse than my bite
*
It's time for abandonment, denouncement of the expected norm
I am not anonymucule, I am a voice that needs to be heard
The thundering sound of a typhoon, tempest, and a raging storm
Fuck anyone that holds you back, you are a voice that needs to be heard
Symbolic diabolic, as cliched as it sounds, don't ever fucking conform
Life, at times, has a gentle ebb and flow, other times, it's a shitstorm and quite absurd
If you become the villain, there's always time for you to reform
If you are dismissive and belittle others, be wary of the wrath and the ire you stirred
*
So fucker, what do you want to do? (looking in the mirror might give me the answer)
Redemption doesn't come easy, there's more to it than just saying sorry
It's invigorating to think how far we've come (you'll still never make it as a dancer)
Restore the balance, bring back the order from Stornoway to Chicago, Melbourne to Harare
(Are you drunk?) what, not yet. I'm just flexing again Like a poetic chancer
Wearing, working through, grabbing my inferiorities, don't worry
Sometimes my tears are so plentiful like waterfalls, like a traditional poetic romancer
It's comforting sometimes when my mind and my sight starts to go blurry
*
Reality can be very suffocating, often very sensorially overstimulating
When you're clawing at life, trying, just barely surviving
There's still a rawness deep inside of you, reaching out encouragingly
Hold on to that power, use it to drag you up from the mire,
No matter how opulently furnished and dress your internal prison is, break out of it
Let the passion coarse through your veins, heart, and through to your brain
Call out blissfully, who cares who hears, you're alive and still surviving
Temperatures rise when the fire burns brightest
*
At the start of the day, let that crisp cool air hit your face
Like that first day when you appeared in the flesh - your birth
So much noise, so much distraction, it was hard to keep up with the pace
Flailing from time to time as you tried to find your feet, now you're trying to find your worth
Sometimes it feels like life's harmonious music is in the wrong key
You get caught up in the maelstroms and question your place on this earth
The masochist in you takes rejection after rejection until you're begging on one knee
All you want to do is watch it burn, but instead of evil, you choose to make mirth
*
(Experiments aren't just for mathematicians, chemists, and physicists, my friend)
(While the clock is still tick tock ticking, there's a chance to start a new trend)
(Fuckity this and fuckity that, fuckity them and fuckity those, does that offend?)
(No time to worry about that, no time to worry about those, my oldest friend)
(We're interconnecting, you and me, rather than fighting and wrestling, my friend)
(Everything is still to play for, there's still a chance to start a new trend)
(Aiming for the manipulation of the seemingly mundane, not trying to offend)
(Fine tuning our cognitive thinking for excellence, my dearest, oldest friend)
*
Dematerialisation of art objects may never have happened, but something else did
These recycled words have been typed out and jumbled so the original meaning is hid
Beneath a kaleidoscopic-like mish-mash of ideas, punts, and long-shots put forward by id
Is this a senseless attempt to achieve something bigger than I, or something best sealed with a lid
The truth of it all leaves me feeling a little unsteady
The propaganda is fully primed and combat-ready
The shock of it all leaves me feeling a little heady
The dream disappears, and its waking time already
*
(This is what happens when you let your ego take the wheel)
(This fanciful use of words is all just part of the deal)
Why do I feel so hazy? Could it be a product of my overactivity?
The side effects of giving into my deranged sense of creativity
At twilight, my mind races, sweat drips down my face, and my self-doubt takes over
Elegant, grandiose ideas are infiltrated in my gradual descent, I need a do-over
I need to stomach the berates, the Jabberwocky awakes as lace neck and face
I wish for wild dreams, with xyresic wit, instead of the reckoning in my headspace
*
(Problems shared are problems halved and seared, or that's what they say)
(Syllables shared and words halved and seared) I guess so, in a way?
Each morning I wake up, I want to do better, I am going to do better, I say
Each morning I wake up, I want to make a proclamation and tell my demons to go away
I could write a haiku - to bring form, structure, and a little sense or nonsense) to the fray
(But you prefer linguistic gymnastics, it's kinda like your M.O. in a way)
Is that a polite way of calling me a pretentious dick? Do I need to get arrested for affray?
(It was a compliment, friend...I prefer your untethered, ûnhibitied way
*
At this point, the pyre is burning, and the drums are beating out some distasteful rhythm
I feel it cleansing my metaphorical inner-self, the confusion is lifting and
(Let's drink to the superiority you are obviously feeling over how much easier this has been than you thought)
Easy, you think this is easy, I value your opinion (that's debatable), but, my dream imposter, this has been a tricky experience
(Are you holding onto bitterness, or are your words inflicted with something different? Don't forget I'm here to help)
Snacks...I need some snacks...I'm primed for snacks...and complete disconnection from this part of the conversation
(I am not sure in all my memories if I've come across anyone quite as pompous as you)
You are me, I am you, that trip to Ithaca didn't happen, but the scars I have are real, they come and go at a superinstantaneous speed
*
Synaesthesia is something I still dream of, then the tapping might make more sense
The Charlatan in me causes saturation of my control like it's some form of self-defence
My ears pricked during nightmares, where there is no longer any real pretence
It's a Deadly place to be at night in my bed, even tho I'm dreaming, everything's getting tense
My imperfections I wear everyday, caked in self-doubt with a pillowy soft cognoscence
Demasiado rápida, the unnerving sense of dread, fills my technicolur nightmares with suspense
(Don't forget to proofread), or all this feverish suffering won't be worth the expense
(Stay fierce, stay strong) repeat the murmuration, that's my two cents
*
Derangements lead me off course, keeping me from the deadline
My overactive brain takes control, wanting my wit and wordplay to be the headline
I am just the conduit, after all, an air of aloof mystery in the subject line
It's my responsibility to enthral all and sundry, leave you gasping for oxygen
My emotions are on the line, the incentives - the praise, both spoken and unspoken
My imposter and charlatan still deceiving, glazed eyes and bold remarks hitting me below the beltline
Even while awake, they leave me polluted like a mouse is biting at my hairline
This beastly cataclysmic event drenching me in sweat as I'm stretching for the reset line
*
(As tenacious as you are, I know how rotten you feel inside, time to admit the truth)
My emotions are fried, feeling fiery, anxious and everything in between
(The sun will be shining tomorrow, the nourishment and vitamins will make you feel better)
(With the ashes synergising, a crystal can be formed from the bits and pieces)
The reaper keeps coming into my mind, though, making me feel weary of my art
I constantly feel killed off by those on the inside, at my bleakest, I'm possessed
My vulnerability takes over on a superphenonemal level, weak and fleshy
(We are all mirrored versions of one another, we're all part of the dance, it's your heritage)
*
I find it all unsettling, making progress at every step
I respect the process and ignore it as part of my rep
I came late to this game, and I've been learning at every step
I listen to the tickity-tockity, and ignore it as part of my rep
Under the canopy of self-belief and ego, making progress at every step
Unadulterated, ambitious and self-indulgent, as part of my rep
Truly anti-predestinarian, just making progress at every step
Truly driven by the love of wordplay rather than hate, as part of my rep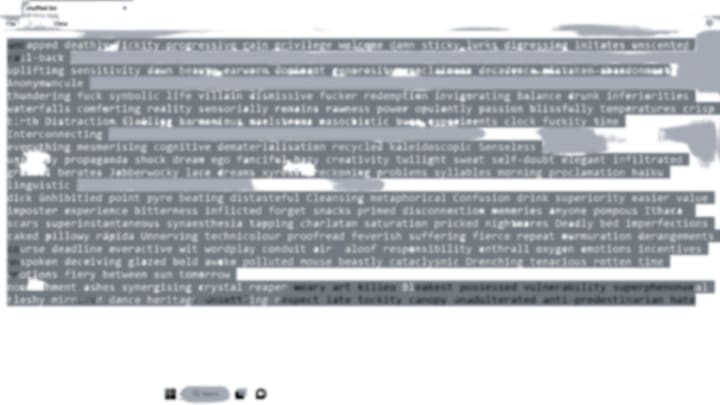 Hey one and all, this is my 100th Vocal piece, so yay! I really wanted to do something a bit special, which is why I have been very quiet for a couple of weeks.
I have actually had the idea for this for some time...about two months. Basically, Recycled Words consists of 198 words taken from all 99 of my Vocal pieces (2 from each).
I have then taken those words, put them through a shuffler thing, and then taken each of the words and used them in the above poem as they appear on the list. Just to challenge myself to come up with something new.
This was a ridiculous challenge and took a lot out of me (smallest violin starts playing) but, I got there and produced something I am pleased with.
I have been putting off the idea for so long, but when I realised I was about to hit 100 pieces, I decided that would be as good an opportunity as would come along to try it.
I hope you enjoy it - there are some nice call-backs and Easter eggs as some of the words will be recognisable from my past pieces.
Below are a few other pieces you might want to check out:
You can also take a look at the rest of my work here.
About the Creator
I'm Paul, a poet, and writer from Glasgow. After 12 years of writing solely for others, it's time to start writing for myself.
Expect a heady mix of fiction, non-fiction and poetry. If you like what you read, please subscribe!
Reader insights
Outstanding
Excellent work. Looking forward to reading more!
Top insights
Heartfelt and relatable

The story invoked strong personal emotions

Compelling and original writing

Creative use of language & vocab

Excellent storytelling

Original narrative & well developed characters
Expert insights and opinions

Arguments were carefully researched and presented

Eye opening

Niche topic & fresh perspectives

On-point and relevant

Writing reflected the title & theme
Add your insights