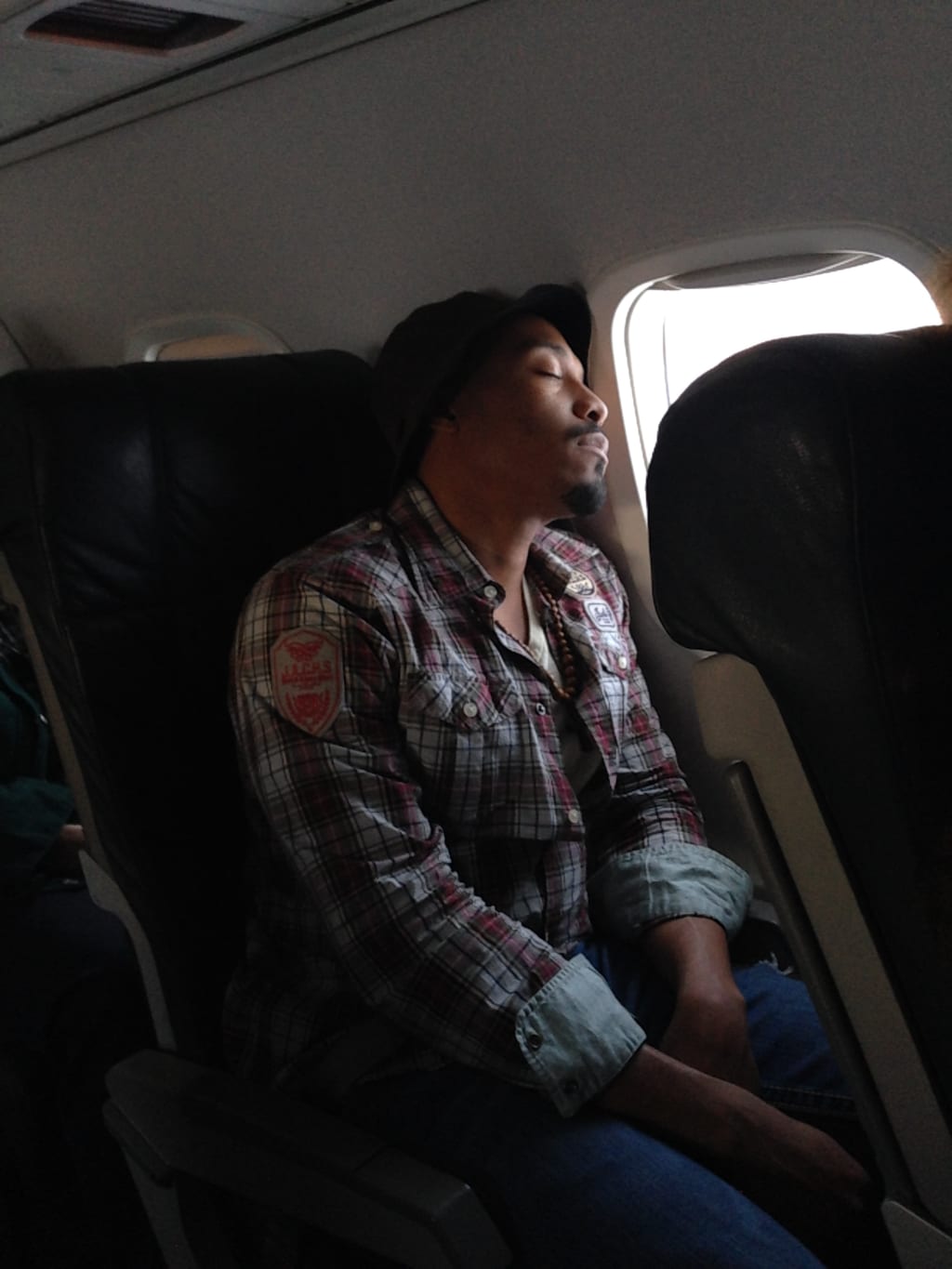 It is plane to see
I'm tired of fancy things...
Adjust, lemme sleep...
skillfully antsy...
My anxiety dancing,
This life, it can't be!
Before, I live this...
History is decoded...
With slick revisions
An Olympian...
Legs not forgiving the pain,
Mountaintop terrain...
I am climbing up
On the rough side of the rock
And who gone stop me!?
My mental state is...
Awaiting a sacred place...
And destination,
An exploration
Since high school I was on an
Investigation
Let me remind you
I'm writing underneath trees
Thinking in haikus...
Hands on a bible
Telling my truth, honestly
I can't lie awake
Time, it's gone to take
To break these chains from my brain...
Mo...ti...va...tion: HATE!
I'm loving the game...
Of life, it never changes!
Baptized by the lights!
You probably blame,
Having every excuse for
That's a shame, flawed...so!
Hard pills to swallow
Borrowing sucks the ego...
Tomorrow's, Tuesday
Today's, so mundane
It's a case of the Mondays!
Weaknesses, always
Yet speech is charming
When opportunity knocks,
I'm on call all day!
Yellow bus to school
So fortunate and foolish
The usual suspect!
Enough said, El is...
Lit like the Summer's set is!
Your hopes float like boats!
Let's swim black people
Inhale life, exhale, like it
Excites dopamines...
Let me remind you
I'm writing underneath trees
Thinking in haikus...
E...lec...tri...cal fields...
Manifest, I really will...
Won't force the feeling...
We kill or be killed...
My ego has been destroyed...
Let's talk, Sigmund Freud...
Oedipus, b-boy...
A veteran in the war...
Mom's passed, Pop's, should have!
Ain't seen this negroid
Since my goddess's body
Went into the soil
I'm the real McCoy
And you can't toy with the boy
"No Ken's for Barbies!"
Or tokens for play
Machines, in these happy days
...Masculinity?
Without fatherhood,
We are searching for guidance...
Truthful avoiding,
Subliminally...
Blissfully smoking cigars
Smelling like orange haze
Fresh out a glass jar...
Ash stray full but the car's clean
And gas tank's on E
So drive slow homie
Nav...i...ga...tion...al system
Is talking to him
So of course ya'll know
That who be the op...po...site!
Of evil... live fo'...
Beams of palindromes
I risk finding the meaning
Between seeing, more
My vision forward
The same backwards, in motion...
Balanced is my home!
Working for the fam'
Cleaning up what I suppose...
Two intricate parts
Inside a puzzle
Checking out how to hustle
About to muzzle
Those out to fumble
The bowls from a backwards god...
How to be humble??
Actually, um...
That's a dog, barking at ya...
Growling, like back up!
Door dash for practice...
Deliveries with suaveness...
Cash out on hardships
That's C. O. O. H.
See, we don't need to save face
...While in the mirror
Translation, my friend
I'm in a safe place, locked in
Keys over doormen!
Drop some hot topics
of nonsense yet consciousness
slices through all things
Let me remind you
I'm writing underneath trees
Thinking in haikus...
With volatile moods,
Light roman candles like whizz...
Boom, move the whole room!
Youngin's in one place...
These kids can't live so simple
Mind yo' business though!
Don't... and get crippled!
While the devil is pitched forked...
Pin...e...al discord
Why, we go this long?!
Pissed off, but won't get short, huh?
Mission abort, ya'll!
All those who can not
Afford funds for attention
...the span of boredom
May cost you some time...
While boxed in, Forest Gump lines
Chocolate for life!
Ill intelligence...
Really relevant...testing,
Two leather lips!
A reptilian...
Whoa!... cold blooded, veins open!
Love it, I think so...
The bald head, king knows...
Cobra Kai and Dragon Queens...
With nothing to show...
My brave thoughts came from
Meditation and angles,
Stretching out muscles
Having breathe control...
Showing no stress of struggle
Still a mess. Ya' know?
Yet God bless this flow
Extra, extra, read about it...
This ex paper boy
Rerouted placement
They can't ignore, getting more...
...love's not abusive...
Nest beautifully
I'm usually rooting,
Not branching out spores
Proof from my move up
Finding, how to maneuver
...flower from a bulb!
Plush mycelium
Called up on the mothership
Might feel that again!
Still dealing a wave
Feeling terrific these days...
Batting a thousands...
Not listening to
What he or she say do, ewe!
Scribing my haikus!
About the Creator
Subscribe, so I can provide something magical while striving to be autobiographical. For the life of me I shall not take a sabbatical. I'll keep writing these apical poems, as longs as it's fashionable to my passionate flow. Let's go!
Reader insights
Be the first to share your insights about this piece.
Add your insights