My Forever Person
Through it all...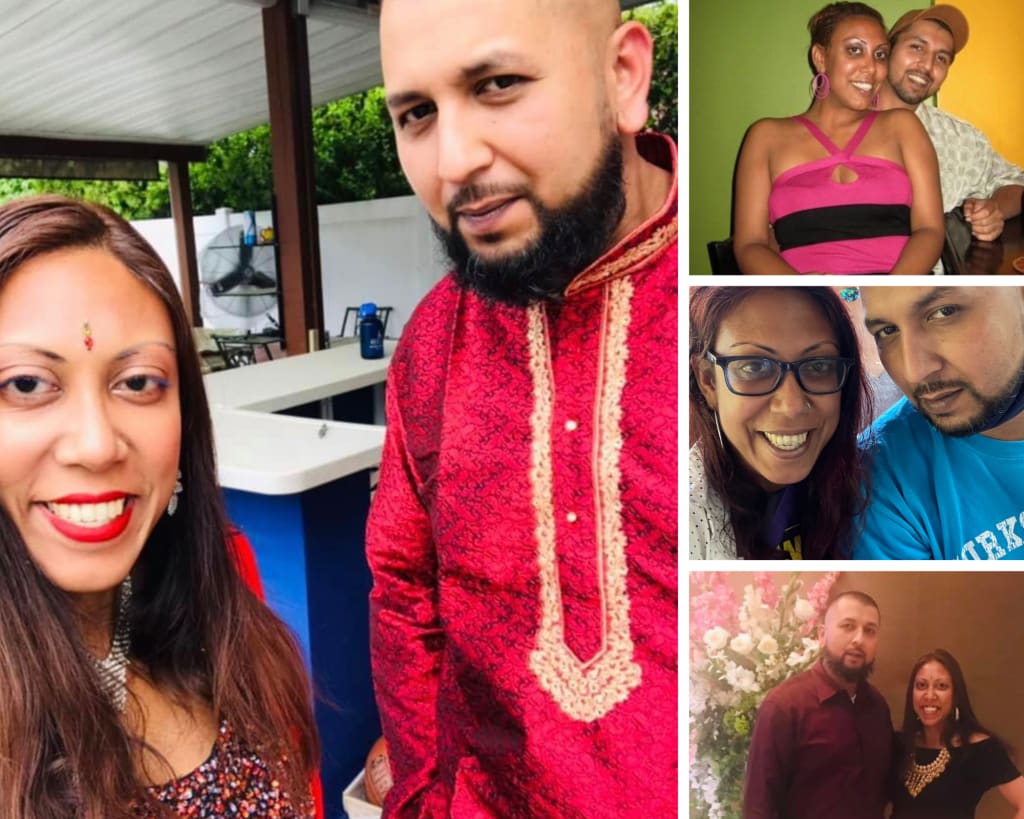 Our story began as young kids, who were friends always laughing, rejoicing and finding comfort in one another.
We were innocent, young, vulnerable and never had an inkling of the paths we were about to cross.
The destiny we were going to create, was unfolding like pixie dust and fairytales.
A dream becoming reality. A force so strong to overlook.
Cheerful fantasies of the existence of two souls, together creating magic.
Changes that innocently rocked our world, unexpected and smothered in tenderness.
It was a playful friendship. It was a real friendship. He's always been real with me.
The days couldn't come fast enough, and the looks were never long enough.
Tricks and twists fixed by days. Bubblegum love as honest as it comes.
Soaring high as kids and kings, it was surely a reason to live on edge.
Watching the grin of my heart widen with every step of his hold.
I knew that he would always be in my life in some way, I just didn't know then that he would be my guardian angel and savior.
As that friendship blossomed, so began the story I am to tell today. The story of love, soul, dependence, timeless beauty and imperfection.
Imperfectly flawed, but delicately symphonized.
When he moved next door to me, he was young and immature just as me.
His innocence was delicate yet with a fragrant of warmth and mist.
A boyish look with heartful eyes and intense fire connected to empathy, compassion and kindness.
Leaving behind a sorrowful memory that tainted and stained.
Courage and strength, ripped through his bare soul.
I could see it in his eyes, the pain he was holding back. He never was one to show his true feelings. But somehow, I always knew how he felt, even that first day I saw him.
People come, go, live and love. Some create our future, others determine it forever.
Through him, I believe I learned what friendship was.
Through him, my forever person was born.
Friendship is deep and loving throughout the thick and thin. When it was overcast and gloomy, friendship brought sunshine and blue skies.
Friendship was grooving to BET and MTV music videos as we drank snapple ice-tea and ate Doritos.
Friendship was riding our bikes through the neighborhood, feeling the air through our fingertips.
Friendship was buying the latest CD and rushing home to listen and bob our heads.
Friendship was a late night beeper page and a pay phone call to just say hi.
Friendship was listening to him tutor me in math and realizing how incredibly smart he was.
Friendship was passing each other in the halls of our high school and quickly stealing a glance.
Friendship was fighting over the remote or pretending not to care if he was with a girl who was a "friend."
Friendship was being immersed in his company and hearing is voice that excited me.
He was everything a friend could want and need. He was my air to breathe, my flower to smell, my picture to frame, my perfection.
Whenever he entered a room, my heart skipped a beat. Whenever he left the room, my heart fluttered.
I always had knots in my stomach and I would look to see if he was coming back.
We rode our bikes like two little innocent kids around the neighborhood.
We hid and smoked cigarettes and coughed together as we lightly inhaled.
We skipped school and went on many adventures that would only carry our love story further.
Smoke filled cars, hidden in the shadow, police and fear, doubts of our horrors.
Adventure seekers, timid but ready. Nothing could take us, we were up.
The year the Yankees won the World Series. I remember it clear as day. It was loud, crowded and filled with fans throwing beer cans and bottle and I was a little scared.
I remember as we weeded through the crowds, his hand was slipping away from mine, but he quickly grabbed it back, as he always has and will.
He always grabs me back and protects me. This has never changed.
We laughed so much that day, we ate, drank and hoped not to get caught of course. I knew that day, he would be my forever person.
But what goes love, comes pain and dissapointment.
We never saw eye to eye, never agreed on anything.
Opposite we were, loud screaming there was.
We were in my black Acura parked next to the deli. It was late and dark. The streets were quiet and still.
It was just me and him, as it always is. But this time it was different. He was upset and intent.
His eyes glanced from me to his sleeve, frayed at the ends. He looked me in the eye and said that was it, he had it.
We were over. He said it with force and power. As he spoke my heart began to melt. I was so hurt and I felt betrayed.
The tears quickly flowed and the pain swelled. My sobs, cries and begging set in. But he wouldn't budge.
It was really over.
A forever person is someone who may come in and out of your life for periods, at all times.
Maybe that person disappears for a bit, but he or she always returns.
Maybe that person gets lost for a bit and forgets how to find you, but they always return.
The forever person is always stagnant and always a permanent structure, no matter where you are in your life. They are the forever person. He is my forever person and I am his forever person.
My forever person happens to be my soulmate, my best friend, my everything. To have a forever person like that, only means you have struck gold. I struck gold and I'll say it over and over again.
Forgiveness in a breath, healing in a moment.
Beginning again with fresh intent, only regrets of lost time.
Faith hidden cries and empty tries, a feeling of hope that almost hurts.
The day arrived we meet again, reconcile and move ahead.
If only I knew the sickness before us, maybe I would of spared him.
Nevertheless, here we are. The two and only two that matter.
As our relationship grew to a higher level that only we understood, it soon became more than what we both understood.
It was a blossoming love that felt so unreal, yet natural. I could picture our future together already.
I could see him celebrating many occasions with me, lifetime of memories and events. It was like I already knew it was him.
Our love story is an amazing journey filled with so many ups and downs.
In true sickness and health, a man has never been so much by my side.
My forever person is the only I can see.
My forever person is just as clear as it was back then.
Never looking back, but falling forward into my forever person.
About the Creator
The impossible is always possible! I'm a parkinson's warrior and advocate and I will never give up fighting. Published Author, Global Summit Producer/Speaker, Health/Beauty Entrepreneur, Podcast Host, Simply Real
Reader insights
Be the first to share your insights about this piece.
Add your insights