Mom Clothed in Sun
I needed her more than I could ever know.
By bavitullo on Pixabay: https://pixabay.com/users/bavitullo-2845723/ Image Link: https://pixabay.com/photos/pregnant-mom-son-pregnant-photos-1866000/
The time that my rage had consumed me entirely
I had felt like I was a beast covered in ashes
My wrath burned like the stars that birthed new elements in the forges that are fiery
You were there to help guide and protect me from my own spiritual & emotional lashes
|
You had always raised us to be kind and nice
You had taught us to be compassionate, and to not allow our hearts turn to ice
Even at times when I would feel that my heart had turned to stone
You would comfort me, and remind me that I'm not alone
|
Even though there are times in which I feel unloved and unselected
You ensured me that we were always in care and protected
Even at times when we feel like the world is uncaring and beyond unfair
You would always make sure that we were more than capable of self-love and care
|
From all the times that we would ride in the cars and sing
Like a guardian angel, you protected us with your wings
You sacrificed your body, wealth, health, and a lot to give us the best
You also helped prepare us to fly and leave the nest
|
Tears of pain were shed, but also joy when you birthed us into this world
You clutched us tightly to your heart, as in the fetal position we remained curled
You nurtured and nursed us with love and milk that flowed from your breast
To you, we're the richest treasures of your life, yet you don't keep us locked up in your chest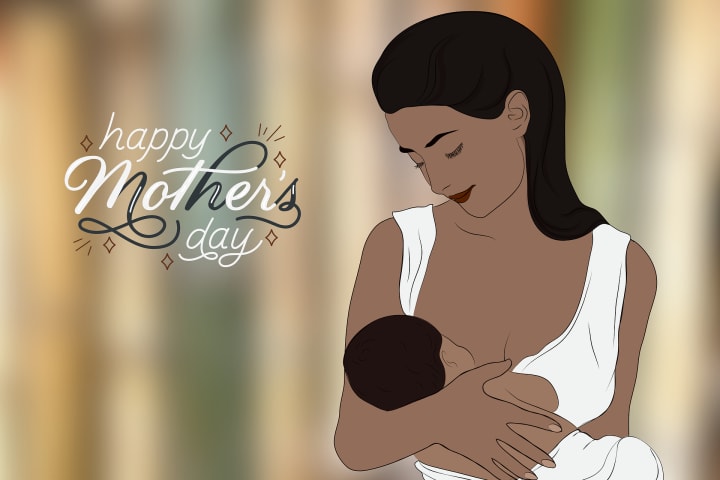 |
You kept us safe and taught us about the many dangers
From the harm that we can cause ourselves to being wary of strangers
You taught us how to learn how to be generous with love, and not to fear connection
Your generous love came from a cupped hand, not a closed fist of over-protection
|
You did more than merely pray for the safeguarding and growth of our souls
You wanted to make sure that we were people that never felt empty, but always whole
Though at times our chalices did feel like they had several numerous large holes
Whenever we were feeling empty, you'd help to make us full
|
You helped us achieve more than just an academic, scholarly, education
You helped us to speak our minds through the proper use of conversation
You taught us how to work with others to achieve goals through cooperation
You helped us to develop discipline even when low on motivation
|
You stood with us, and kept loving us even when we lied
You helped us to improve our morals and integrity and not have too much pride
You held us and comforted us when our tears would run as we cried
You took all of the pain and hardships with smiles and well in stride
|
I have to say, that I'm more than grateful to have you as my Mom
You taught us how to rejoice and be glad, your life is like a sacred Psalm
You taught us how to listen to our consciences and to do good with no qualm
You helped us to not just manage, but to channel our emotions and to remain calm
|
I have to say, if life is a game, then I believe that you've truly won
Though, since we have your ambition, I know that you're not done
I am glad and more than grateful to be your child, to be your Son
I should learn to express my gratitude more, for I am blessed with a Mom Clothed in Sun
Reader insights
Nice work
Very well written. Keep up the good work!
Top insights
Heartfelt and relatable

The story invoked strong personal emotions

Compelling and original writing

Creative use of language & vocab

Easy to read and follow

Well-structured & engaging content
On-point and relevant

Writing reflected the title & theme
Add your insights