Magic was a Cup of Water

Runner-Up in From Across the Room Challenge
A poem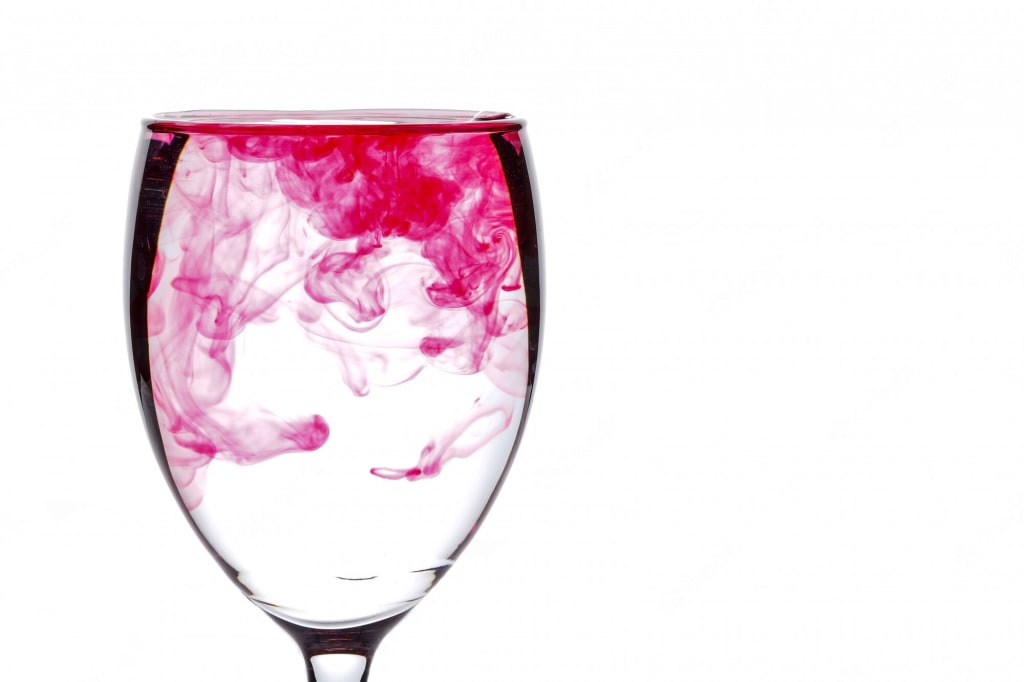 Magic was a cup of water.
I'm seven again–the age when September had meaning.
Sugar teeth as currency, twenty dollars from ear to ear.
My tongue traced each tooth, violently wiggling with promise–
back and forth, seesaws and swings.
Finally, a stone would roll onto my sticky palm.
A white pearl to sink under my pillow, until I drifted away
to sound of mom reading the Princess and the Pea.
I kept out a cup of water, never to drink.
"For tooth fairies wish to meet you, but since they can't,
they dip the hem of their dress into the water,
so you can see the color of their gown when you wake," mom would say.
I'd wake to magic–not a payday.
Before flipping my pillow to the dark side of the moon, I would lift my glass to the sun.
Sometimes, green, like the grass dad would cut, single blades bleeding into the sidewalk.
Other times, red, like the apple left forgotten for days on Mrs. Henry's desk.
Or that morning, purple, like the prom dress I wouldn't own for years.
I'd leave the glass out for days until dust would collect on the surface
and dad would throw the food coloring tap water down the sink–
asking me what my dollar would buy.
Five-cent candies–a bag full–maybe with a few pieces of Double Bubble thrown in there.
And I would chew, chew, chew,
days away
until another started to tilt–
one by one, until my childhood disintegrated
.
It's funny how magic changes as you age, yet always feels the same somehow.
For magic was a cup of water.
I'm seventeen again–when next September would be the death of me.
Twenty dollars, to buy a secret, and a mickey, from my older brother
so I could taste college in our basement, as we celebrated the tassels that moved from east to west earlier that evening.
Each sip left sugar on my straightened teeth and stoked fire in my belly.
A few tipsy shots left teardrop-shaped stains on the innocent purple silk of my dress.
In a room full of friends and strangers–it is like he found me.
He held me in his gaze as Stephanie intruded with another rant about Ryan.
I nodded along,
wishing that he and I could be alone so we could read the history pages on each other's skin.
The crinkles by his eyes, in an unabashed smile, asked me to run away with him before we exchanged names.
My tongue licked my vodka lips, wondering what his tasted like.
It wasn't about beauty or the curiosity of how much his hands could touch,
it was because one look
was like meeting an old friend again after missing them for too long–
the perfect balance of apprehension and peace.
His voice was like a familiar bell ringing on the hour, as the hourglass sand slipped through our hands.
We danced. We talked. We drank. We sang. We got sick with what could have been–as if we were leaving years behind,
and even worse, our future too.
Then the party was over as quickly as it started and our spinning heads led us to the sink.
He held my hair as I spilled my guts, and still kissed me after–just as feverishly and all-consuming as he did before.
Then we poured tap water into glasses and drank to mute the morning headache.
He said we would meet again next summer. When our planes and schools would bring us back home.
But until then,
I kept his half-drunk glass of water by my bed for days
while my hope sank into my pillow, fighting for sleep
so I could see the fairy dust outlines of my dreams bringing him back to me.
And when I would wake–his kiss still on my lips and his name echoing my thoughts–
I would hold his glass up to the sun, his lips still imprinted on the edge like a shimmering promise,
and the water was
pink.
performance poetry
About the author
Reader insights
Outstanding
Excellent work. Looking forward to reading more!
Top insights
Heartfelt and relatable

The story invoked strong personal emotions

Compelling and original writing

Creative use of language & vocab

Excellent storytelling

Original narrative & well developed characters
Add your insights