In an enchanted wood
Poetry story about a enchanted wood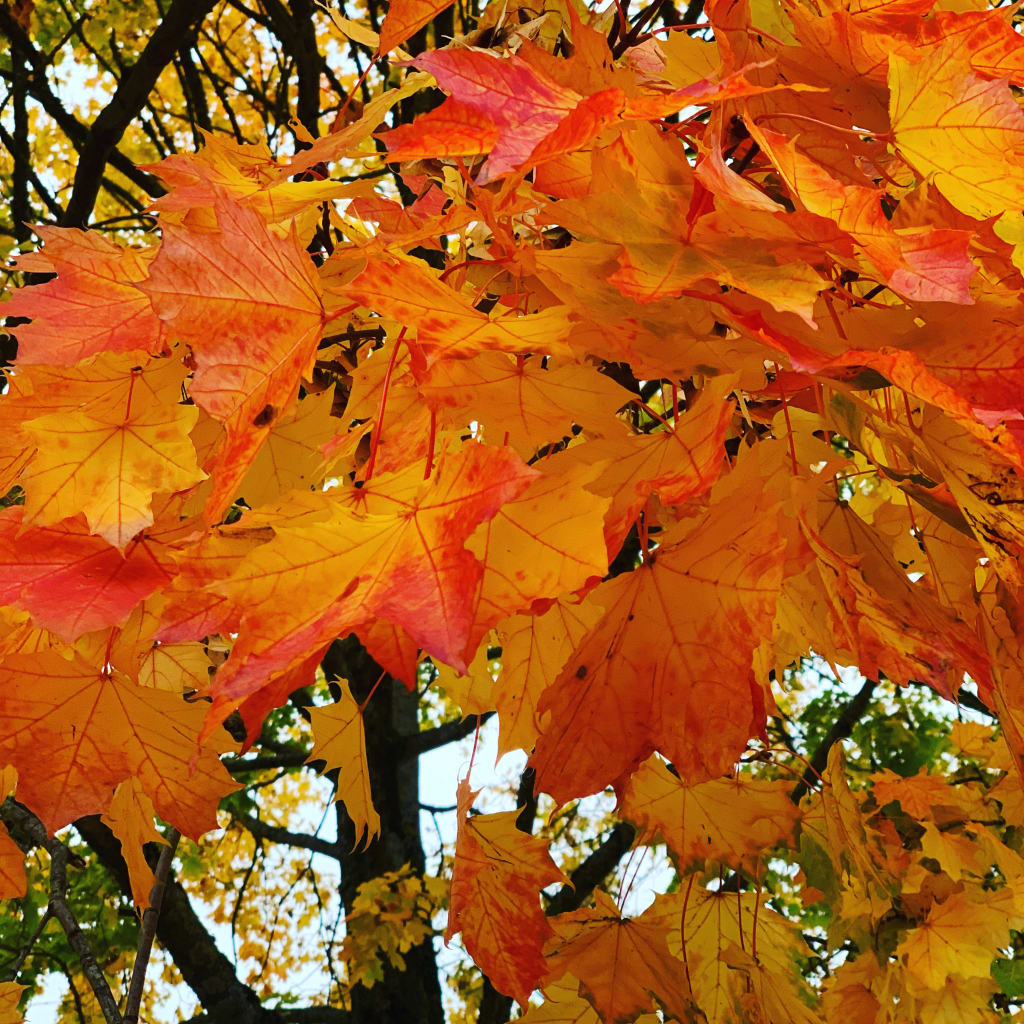 Autumn leaves of the enchanted wood
In an enchanted wood,
which has to be seen to be understood,
owls howl,
wolves growl
and yet we all seem to dream about this forest.
In daydreams and in all walks of life, of fairies nature's florists
of tree spirits called dryads, which talk through their branches
Life moves, talks, sways and dances.
Spiders hide in shadows with stories to tell
In the deep and dark their numbers swell
the ghosts of men slumber in the winters breeze
their old coughs hang on the wind as it begins to freeze.
In spring nature is reborn anew
the greenery bursts forth and grew
and by summer it's roots
bears all types of exotic fruit
which is eaten in turn.
The sun feeds leaves, a sun which is far away enough not to burn
In the river the new fish learn
to swim up stream
the wood's guardians watch in prophetic dreams.
The wolves keep nature's balance
the lord of the forest calls for their counterbalance
he knows they rule wisely
but he knows they could take over his eyes be
ever watchful as they are wiley
he believes
but he is deceived as they are loyal
by the magpies which peck at his soil
who tell lies because they want the wolves treasure and gifts
yet plainly the magpies are not always to be trusted and cause rifts
where ever they go they can also give good omens as we know
for the forest is enchanted and all creatures speak and follow.
The Lord of the forest sits in his gnarled throne
waiting for his lover to return
but she was lost to the earth
killed by a conniving wizard who was their adopted son from birth
who used to fear all the creatures near and far.
He was bewitched by the jewels underneath the forest earth.
Envious of their power and worth.
By Daniel Hooks
If you like my poetry please visit
www.alienpoet.com
About the Creator
A poet, activist and story teller who currently battles with a severe mental health problem.
Facebook Alienpoet
Reader insights
Be the first to share your insights about this piece.
Add your insights