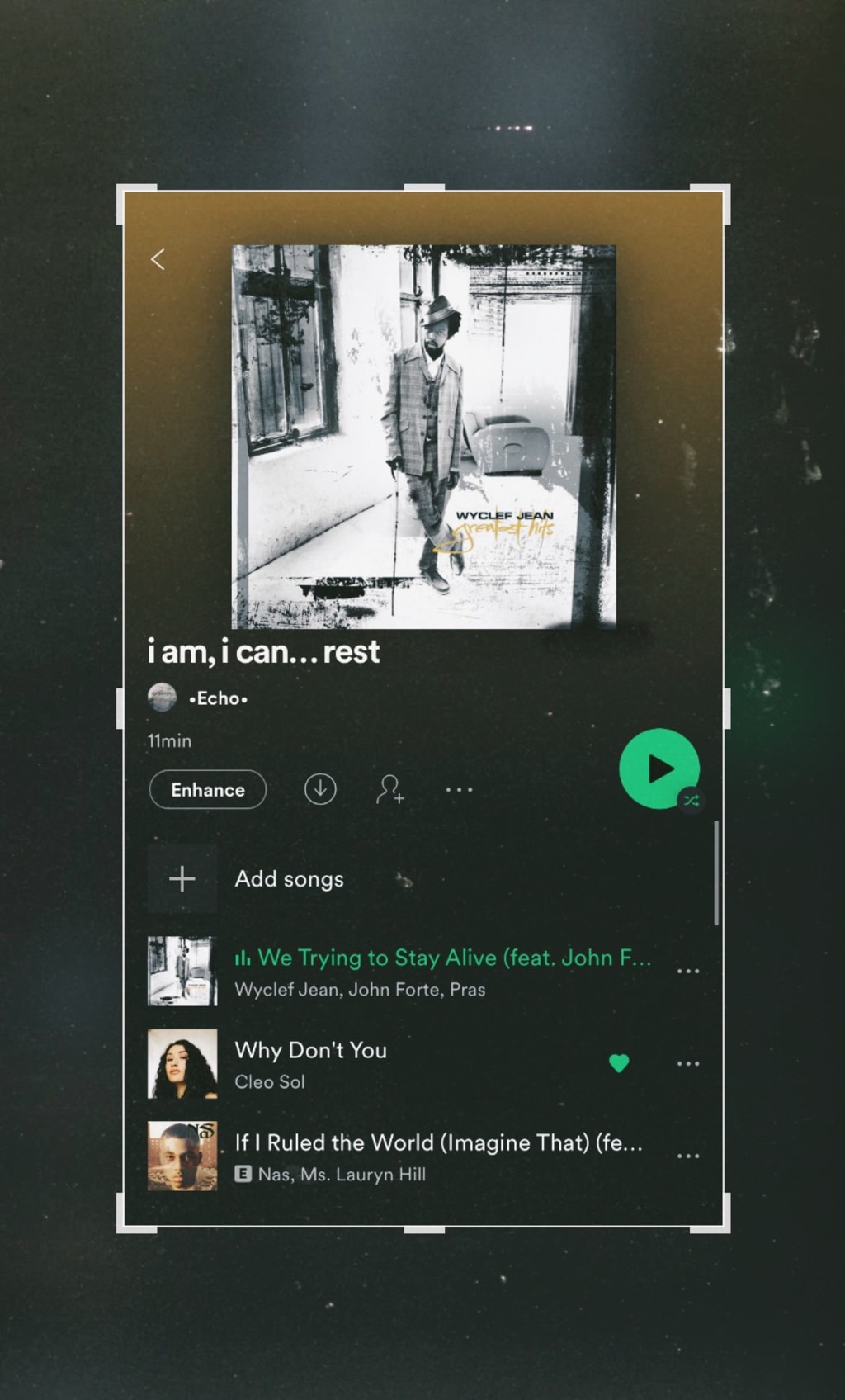 one minute you're bumping to your fave•the next you're having a capitalist/existential crisis
i am. i can.
ableist myth. ableist mantra.
i got this.
i don't need you. or them. or us.
or anybody and their bids.
__
for connection. for distraction.
i am. i can.
i got this.
__
let's pretend. in my defense.
i work hard. all by myself.
bootstrap mentality. that shit crazy.
__
stand. you're on.
your own two feet.
on this land.
though four hold your table to eat.
no one is an island.
__
riff raff. rich rags. rich gags.
is the sound on this thing on?
are we going to live long?
__
"material girl living in a... don't be mad cause you're broke. let me clear my throat" - wyclef jean
"why don't you just let go, and quiet down your ego. don't complain about finance..."- cleo sol
"if i ruled the world… i'd free all my sons, black diamonds and pearls" - ms. lauryn hill (the original Ⓛ)
__
who's in charge of the playlist today???
heavy handed with the downloads nay?
rest. rest. silence___________ . rest.
all roads to freedom.
no kingdoms.
__
rest and play. a little impractical i say.
all my life i've known money rules.
the world. old ways in a new day.
doesn't make much sense to me. which way…
to paradise?
__
oh you came?
for the ice? that's nice.
burned bills. burned bridges.
burned oil spills. burned skills.
burnt out? lights out.
__
rug burn hospitality. that shit crazy.
__
i am and i can.
surrender this hourly penance.
rest as resistance.
new myth. new mantra.
i got peace. i got bliss.
__
let's pretend.
interdependence. weaving intersections.
where i can't and you can.
or you can't and i can.
__
not always willing. not always able.
yet a full life. shared and stable.
__
and even if we don't get to live long.
to trade all the i am's and i can's
all the i have's and i do's
for simple stillness, a simple sweetness,
a brief, sacred birdsong.