I Am A Black Man
And Yet, I Am Still More Than That
When I was born, the nurse took me to the back room.
My father followed, a man in hot pursuit.
He wanted to bathe me, as I was purely new.
He wanted to bond with me, as I was being formed, his love continued expanding as it grew.
However, the nurse seemed perplexed, his reasonings of why he was there she never knew.
|
Now, sit down and listen, for the words I will tell you will drive you mad.
Sit down and listen, as I relate to you the story told to me by my Dad.
Sit down and listen to what he heard from this lady.
As he approached her to bathe me she said, "but sir. This is a Black baby."
|
Yes, yes, as I relate it to you
Not even an a full day into my lifespan was I already disparaged within my youth
The truth is simple, plain and clear, I will not dispute
Yet, her tone angered my father, this her answer he would not salute.
|
"Yes, this is my son," he told her from across the room.
"But sir, he was born from a Black Lady."
"Yes, and she is my wife. I had just watched his birth, as she had pushed him out of her womb."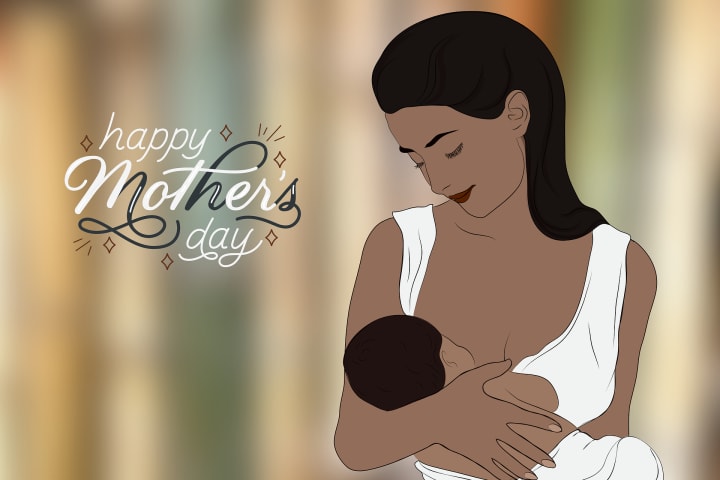 Infuriated was he at her understanding
Yet, he got to bathe me, as my father's implication was more than reprimanding.
|
Yes, I am mixed, yet I am not called that
Having grown in this world, that's something I've learned to not despite
My Mother worried for me, for the color of my skin
My Father told her, "Yes, but he will be Black for the rest of his life."
|
For I am more than just the melanin in my skin
I am more than just the blood that courses through my veins, from my Kin
I am more than the stereotypes that others want me to fit
I am more than the intelligence they think I have, when they are shocked about my wit
I am more than just the curly black hair that sits atop my head, forming an afro when it grows, softer than lamb's wool as it curls
I am more than the wealth I accumulate, from gold to silver and wisdom like pearls
I am more than my ancestry from Africa and Europe respectively
I am more than my genealogy that makes me up collectively
I am more than what I have the ability to do, I am more than what I can
I Am A Black Man
|
All throughout my life
I have sensed that I have never really seemed to fit in
All throughout my life
People wanted me to either be like the others or with them
All throughout my life
I lived in more than two worlds
All throughout my life
People wanted me to choose a flock, and become one of the birds
|
For one foot in each, yet my mind ever present in all three
I was instructed on how to navigate, how I would be viewed in one world, and how the other would have me perceived
I was taught how to deal with the walls and the waves that would crash
I was taught about how to deal with, and to grow a tough hide against the backlash
|
Whether the words of disparagement would come from those of a skin tone of my father's or my mother's
I learned to not allow outside opinions trying to take control of my self-autonomy, doing more than to smother
I learned about how to handle the fright and fear that came from those who are White
I was taught to love my the color of my skin and its numerous shades, in how to take such delight
From those who are Black I've learned how to deal with our own internal fighting and verbal bash
I've learned to become indifferent from teasing tormentor's, and to hold myself above the internal Blacklash
|
Like a phoenix rising from the ashes
I refused to allow them to define me
I refused to allow people to pick a side, to pick their side, to side with them with what they perceive in their mind
I refuse to be bullied and scrutinized by those who cannot think for themselves as they dance like bees but sting like wasps, as the mob mentality, is the hive mind
|
I am part of a people
I am part of multiple groups
I have family and friends from varying cultures, that make my blood a mixture of American Soup
Though heritage and legacy throughout history at times may have been washed and forgot
I am still blessed to have been born into the family that I have, I am thankful for my lot
|
In all of my patience has my strength also grown
These have been virtues given to me to be practiced, the seeds my family has sown
I've come to learn to be comfortable in the body I have, it's the only one that I own
I've forgiven myself for my own self-image issues, to my body I did atone
|
Yes, there are differences
Yes, there will be different actions for different instances
Yes, there will be different responsibilities and I will not pretend that I have not witnessed them
Yes, there will be varying interactions with which I will need witnesses
Yes, there are behaviors that I have picked up and learned to use especially in the environment of businesses.
|
I know that I am Blessed
I know that I am Privileged, in comparison to others, some More So, and some Less
I know that I am more than what people see
I know that I am more than what is expressed on the outside
I know that I am more than what is internalized in my mind's eye
I know that I am more than what I make, what I type, what I write
I know that I am more than from who beget me from of humans that did create
I know that I am more that which I create
|
Still, I continue to struggle with growth of who I was, who I'm becoming, and who I am
Yes
I Am A Black Man