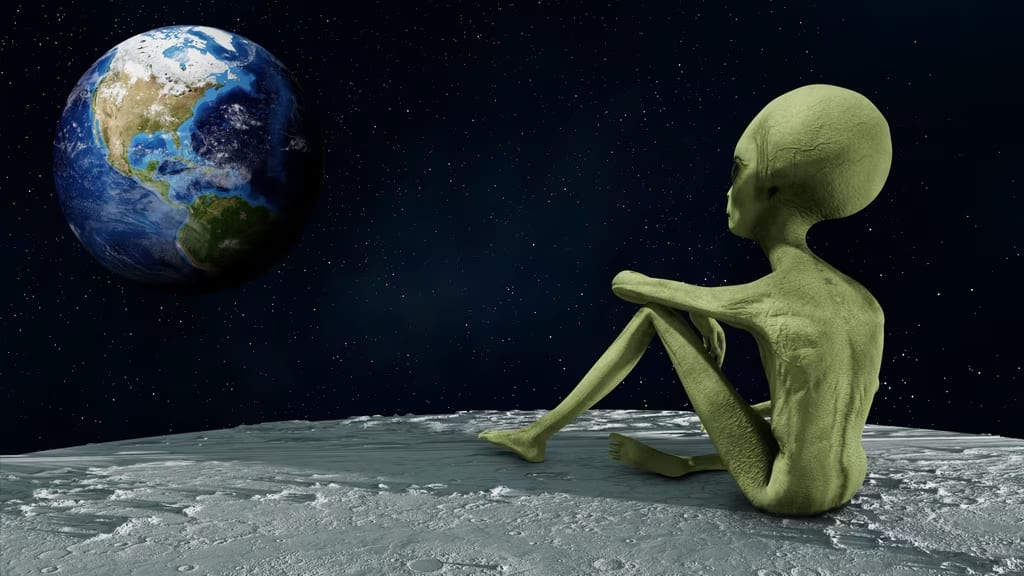 In a world of blue and green,
An alien visitor was seen.
His eyes wide, curious and bright,
Earth's wonders gave him quite the fright.
"Come with me," I began to say,
"I'll show you Earth the human way."
First, we tasted chocolate sweet,
He danced around, tapping his feet.
Then I showed him our vast blue seas,
With dolphins leaping, full of glee.
His antenna quivered in surprise,
At the vast ocean 'neath the skies.
We ventured to a bustling town,
With towering buildings all around.
He gazed up high, then down below,
Amazed at our world's vibrant flow.
To a concert, the music loud,
He marveled at the dancing crowd.
The rhythm, beats, and melodies,
Made him float, feeling the breeze.
The night sky with stars so clear,
I pointed at constellations near.
He chuckled, "We have those too!"
In a galaxy of a different hue.
We lay on grass, soft and cool,
Listening to a nightingale's yule.
"This Earth," he whispered with a sigh,
"Is a wonder, under this sky."
As dawn approached, it was time to part,
With memories etched, close to heart.
He boarded his ship, to the stars so high,
With a tear and a wave, we said goodbye.
Now when I gaze up, to the great unknown,
I wonder if he's there, all alone.
Remembering Earth, with its charm so vast,
And our shared moments, forever to last.
Reader insights
Be the first to share your insights about this piece.
Add your insights