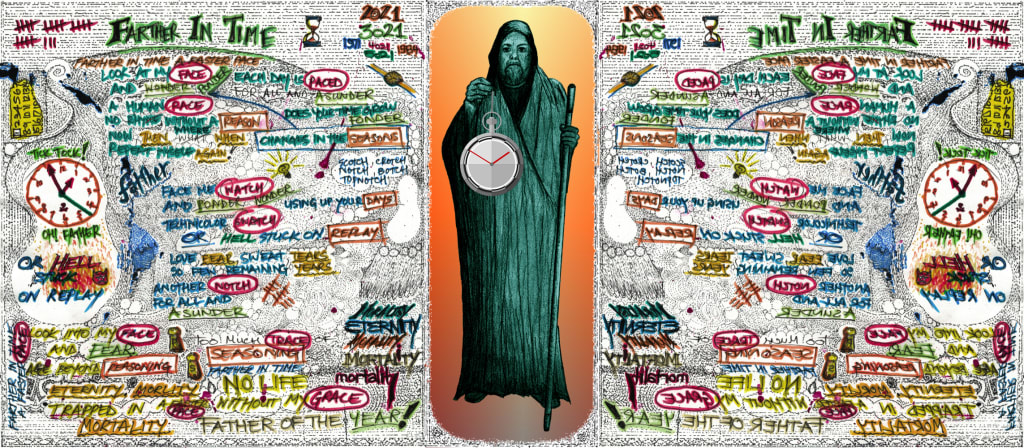 Poetic Licence by Tim StiX
Look at my face
And PONDER . . .
Changing of the Seasons
A human race
At gale pace will breeze on
Now, then, where, when
Repeat myself again
Each Turn in space
Does your Time grow fonder

Face me, watch
And WONDER . . .
Using up your Days
A Technicolor swatch
Or Hell stuck on replay
Love, fear, sweat, tears
So few remaining Years
Another Notch
For all and asunder

Look into my face
And FEAR . . .
Age beyond reasoning
Farther in Time, a faster pace
Too much trace of Seasoning
Eternity, morality
Trapped in Mortality
No Life without My grace
Father of the Year!

Epilogue
I may be computable
But I'm certainly unbootable
One-eyed and irrefutable
I am Father Time . . .
. . . Immense and immutable
TICK TOCK!

Tim StiX March 2021
Tim StiX is The Sober Bard on Vocal
About the Creator
Tim StiX alias Tim Styx. Manic Master of The Internet of Things and The Sober Bard.
www.TimStiX.com
Reader insights
Be the first to share your insights about this piece.
Add your insights