Fantastically Executed Poetic Savagery
Beers Fills Her Poems with Flight, Song, and Death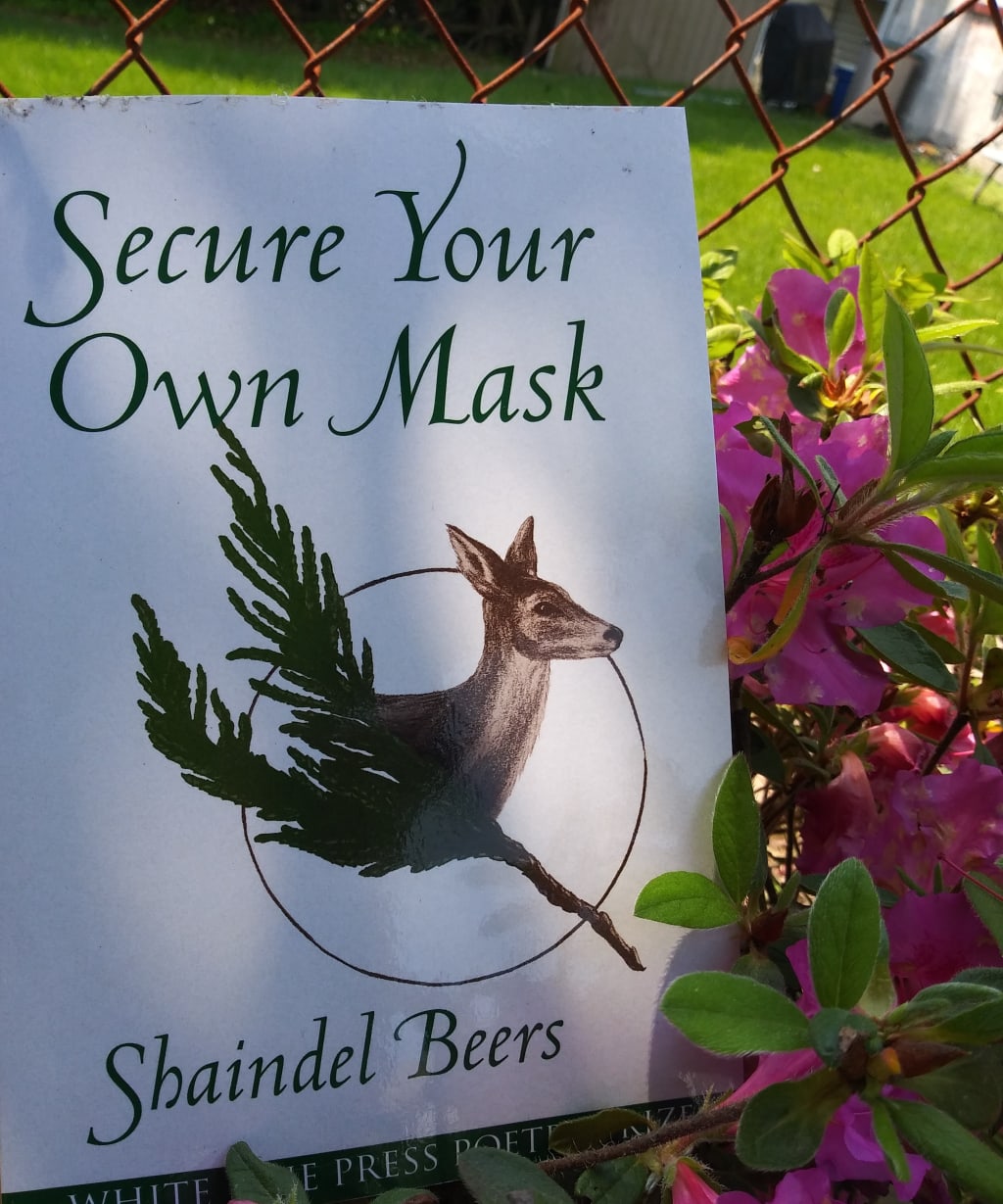 Heed the title Secure Your Own Mask and follow its instructions, readers, before cracking the spine of Shaindel Beers' fantastically executed poetic savagery. Her 2018 collection, published through the non-profit literary publisher White Pine Press, is chock full of writing talent and insight into the inseparable swirling atoms of beauty and cruelty that are nasty, necessary components in this thing called life.
There is a great affinity for those soaring creatures of the air in this collection and Beers studies them in addition to thrusting deep into the refuse of humans' ill will towards each other. Beers celebrates birds in all their shapes and sizes, in all their predatory splendor. Characters transforms into beasts of flight as "...lost sailors' wives..." turned into albatrosses, even her young son's vocabulary teems with the names of feathered neighbors.
In "The Mechatronic Bird Falls in Love with the Real and Vice Versa," her readers bear witness to the peregrine falcon's growing envy of the plastic owl's ability to scatter pigeons. Their eyes scan the lines of the lovelorn cuckoo who pines for the beautiful ruby-throated hummingbird from the confines of his clock, his wooden prison, and at last, Beers presents to them the horrific fate of the decoy duck. Although this poor subject "...wants to warn the approaching female, / Don't come close. My kind of beauty is no good for you," he is a pawn. He was created as the harbinger of her doom; "It is a terrible job being a tiny hollow god / of destruction." Beer's verses bear a constant attraction to flight and song and death.
She goes on to pay particular attention to the pelican, and out of all the the thirteen ways Beers records how to look at this former symbol of the afterlife, the best way may be the eighth way. Although humans do seem to "...have trouble accepting..." the true workings of nature, "cannibalism, for instance...", Beers scathingly exposes the hypocrisy of human society. "We act horrified / because we like to forget / that we are exactly / the same."
Her stark take on the absurd reality of this mortal coil is at once searing and refreshing. In "Is it Human?", Beers recalls her online interactions with individuals labeling themselves neo-Nazis, but it is the lines of a prior poem which haunt this piece's reading. "The monster is a merely a victim / who didn't know change was coming, didn't want the bloodlust, was just / an actor being human, which is / always a process of losing humanity..." How many monsters have been made by accident or choice on this grand stage of nothing? The innate nature of the human animal to make itself a monster, or rather to reveal its true, violent self, through the shedding of the more polite societal constructs is nothing if not maddening in its pointlessness.
Beers elegantly sings in "...the panic of birdsong..." and speaks as if her native tongue were "...the language / of plant odors" throughout her poetry in Secure Your Own Mask. She writes for the "...goddess of bicycle rides to waterlily covered lakes", "not the Little Match Girl but the whole fireworks / factory ablaze." Her work is sustenance for those among us who at times have "...trouble being human," who would benefit from the reminder that "there's no Heaven, no Hell, other than what we make / for each other". She dictates to her readers in "Left and Leaving, 2016," stating, "There is no happily every after -- the fairy tales / are lies. We only each have what we were able to cling to."
_________________________________________________________________________
Interested in sponsoring a free review for a poet? Donate here!
If you're a poet who would like a free review, click here!
About the Creator
Welcome! I provide free book reviews for modern poets! At the end of the year, 10% of all earnings and donations will be given to a non profit organization. This year you will all be helping Lambda Literary! Thank you!
Twitter: @poetryberry
Reader insights
Be the first to share your insights about this piece.
Add your insights